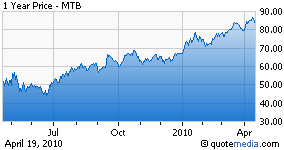 M&T Bank's (NYSE:MTB) first quarter earnings of $1.23 per share left behind the Zacks Consensus Estimate of 97 cents per share. Earnings more than doubled from 59 cents per share earned in the prior-year quarter, aided by an expansion in net interest margin coupled with lower credit costs.
Net interest income (NII) came in at $562 million, up 24% year-over-year. The growth in NII was primarily due to a 59 basis-point expansion in the net interest margin, which improved to 3.78% from 3.19%. This improvement, which is steady from the past several quarters, was attributed to a higher level of average earning asset, coupled with lower rates paid on deposits and borrowings, and continued inflow of non-interest-bearing deposits.
Non-interest income increased 11.2% year-over-year to $258 million. The uptick was due to an increase in service charges on deposit accounts, trading accounts and foreign exchange gains, partially offset by mower mortgage banking revenues and brokerage services income. Operating expenses increased 12% year-over-year due to FDIC assessment charges of $21.4 million, higher compensation expense and other cost of operations.
Credit metrics improved during the quarter, witnessed by a 34% decline in provision for credit losses to $105 million and a 5% reduction in net charge-offs. However, non-accrual loans as a percentage of total loans remained high at 2.60% compared with 2.05% in the prior-year period as a result of weak economic conditions. Though it appears that the consumer and the residential real estate credit trends have stabilized, they are yet to improve.
Total assets increased 5.4% year-over-year to $68.4 billion at the end of the quarter, while shareholders' equity increased 15% year-over-year to $7.9 billion. Return on tangible common equity, which has been trending upwards for the past five quarters, came in at 17.34%. Book value per share grew to $60.40 from $56.95 in the year-ago period. The efficiency ratio (which measures the relationship of operating expenses to revenues) improved to 55.9% from 58.7% in the year-ago quarter.
Despite the ongoing economic turmoil, M&T Bank has been maintaining an increasing trend in its NII for the past couple of years. The acquisition of Provident and Bradford in the Mid-Atlantic region has proved to be meaningful, both in terms of the customer base and profitability. Though the financial condition of the economy is stabilizing, the pace of recovery is slow. As a result, we expect both loan and overall earnings asset growth at M&T Bank to be in the low single digits.