Over the last two years, many investors have become acutely aware of the significant differences in the growth profiles of the world's developing economies relative to advanced nations. Historically perceived as risky investments, emerging markets have now been firmly established as the primary source of global GDP growth, creating a surge in interest among U.S. investors. As these investors continue to cure themselves of the "home country bias" that has dominated asset allocation strategies historically, many are looking to Asia as a way to beef up exposure to emerging markets (see Five ETFs For an Asia-Centric World).
But there is a lot more to emerging markets exposure than China and India. In addition to looking to the east, U.S. investors are also looking to the south for exposure to rapidly-growing economies. Latin America is full of resource-rich countries positioned to grow rapidly as both domestic and overseas demand continues to rise. Most investors maintain moderate exposure to Latin America through BRIC funds or diversified emerging markets ETFs. But for those looking to overweight Brazil (see Brazil ETFs: Best Of The BRIC) and other South American economies, there are a number of ETF options available.
Total Latin America ETFs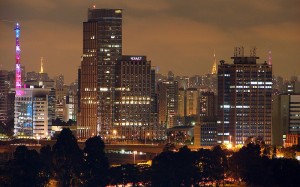 For investors looking to gain broad exposure to Latin American economies, there are a handful of ETFs that diversify holdings across the region's largest economies. The three primary broad-based Latin America ETFs include:
iShares Latin American 40 Index Fund (ILF): This ETF tracks the S&P Latin America 40 Index, a benchmark that measures the performance of equity markets in Mexico, Brazil, Peru, Argentina, and Chile. ILF makes big allocations to the materials and financials sectors, including significant weights in mining giant Vale and energy firm PetroBras.
SPDR S&P Emerging Latin America ETF (GML): This ETF is similar in many ways to ILF, but offers greater depth of exposure. GML currently invests in about 80 stocks, and gives the largest weightings to Brazilian and Mexican equities. GML is also heavy in the materials and financials sectors.

Market Vectors Latin America Small Cap ETF (LATM): Whereas ILF and GML are dominated by mega-cap equities, this ETF invests exclusively in small cap stocks. The underlying Latin America Small-Cap Index has a weighted average market cap of just $1.4 billion, significantly smaller than most of the components of the large cap ETFs.
Latin America ETFs
ILF
GML
LATM
Number of Securities
34
102
81
Brazil Allocation
62%
44%
43%
Mexico Allocation
23%
34%
23%
Other Countries
15%
22%
34%
Expense Ratio
0.50%
0.59%
0.63%
As of April 2010
It's important to keep in mind that the country allocations displayed on ETF fact sheets only convey the market where the stocks are traded, and may not reflect the geographic diversification of the underlying holdings. Many companies that operate primarily in smaller and less developed Latin American countries may be listed on the Brazilian or Mexican stock exchanges in order to facilitate foreign investment. So although these Latin American ETFs appear to be concentrated in just a few countries, the effective exposure often includes several additional economies.
Country-Specific ETFs
For investors looking for more targeted access to Latin American economies, there are a number of country-specific ETFs available. Investors won't find an ETF offering exposure to Latin America's third largest economy–the hurdles associated with investing in Argentina are too great–but most of the other major regions are well represented:
Short/Inverse Options
For investors with a higher risk tolerance and a less optimistic outlook for Latin America, there are a number of inverse and leveraged ETFs targeting Latin American equities:
Leveraged & Inverse ETFs
Region
ETF
Exposure
Brazil
ProShares UltraShort MSCI Brazil (BZQ)
-200%
Mexico
ProShares UltraShort MSCI Mexico Investable Market (SMK)
-200%
Latin America
Direxion Daily Latin America Bull 3x Shares (LBJ)
300%
Direxion Daily Latin America Bear 3x Shares (LHB)
-300%
For more guides to ETF investing, sign up for our free ETF newsletter.
Author's Disclosure: no positions at time of writing.