Studies show that long term, buy-and-hold investing in low volatility high-yielding stocks will, over time, outperform all other forms of investment -- be it bonds, gold or other commodities. My goal here is to guide as many people as I can to the truth of high yield, high-quality investing. I'd like to begin with what I believe to be one of the best foundations of a high-yield dividend portfolio, Prospect Capital Corporation (NASDAQ:PSEC).
This company is a BDC, a business development corporation that operates as a lender to small companies that larger banks refuse to lend to. The loans are typically high interest, between 12% and 14%, and vary from $10 million to $250 million. What separates PSEC from its 30 or so BDC competitors is its management's strong record of tight lending discipline, meaning that it strives to lend only to well-run companies that are unlikely to default.
Take, for example, the 2008-09 financial crisis. At a time when it seemed another Great Depression might be imminent, PSEC's non-accrual rate, or loans that were being defaulted on, peaked at 5.8%. Compare this to some of their competitors who had default rates of 50%+, some of which went under. According to Grier Eliasek, president and COO, today its non-accrual rate is just 0.3%, and since 2008, not a single one of its loans has failed to pay on time. This kind of tight loan discipline by management is why I believe PSEC is best-of-breed in the BDC segment, as it should be given management's 25-year history of excellent performance.
Another major advantage that PSEC has over its competition is that its borrowing costs are relatively low, at 5%-6.25%, and fixed in the form of corporate bonds. Meanwhile, the loans it provides have a 90% floating rate (according to CEO John Barry from the last conference call, linked to above), meaning they will increase when interest rates gradually rise.
This brings me to the strongest reason to start off one's burgeoning income portfolio with PSEC. Legally, BDCs must pay out 90% of the income as dividends (most pay out 98%). This means that the share price tends to not appreciate much, since all the income is flowing through to us (the owners) in the form of dividends, which are paid on a monthly basis. But PSEC is well situated to take advantage of rising interest rates and, over the next three to four years, dividends may be able to rise at a rate of 5%-10% annually.
Indeed, since going public in 2004, PSEC has grown its dividends by 14.3% annually from $.1/share per quarter or $.4/share per year to $.11/share per month or $1.33 per share/year.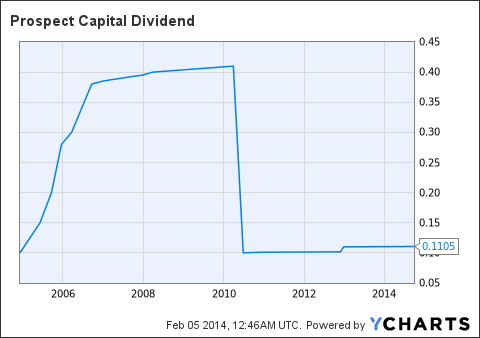 PSEC Dividend data by YCharts
This would mean that one could expect the share price to appreciate by about that much, as well as, since high-yielding investments typically maintain a stable yield, in this case between 10% and 13%. Thus, a potential total return of 15%-24% annually over the next three to four years is a distinct possibility. But, as with all investments, there are downsides as well as up. I'll now speak on those so that the reader may have a complete picture as to this company.
Due to the nature of BDCs, they must raise outside money to increase the investment portfolio. This is done primarily in two ways: selling bonds, which pay a fixed rate (recently of 6.25%), or selling additional shares. This last part is what gives many pause, having the ownership diluted through printing of new shares. But the nature of high-yielding investments such as BDCs -- as well as REITs and MLPs -- makes this a necessary evil, and why investors should only focus on the best-of-breed companies in these segments with management that has proven they know how to grow its investment portfolios as well as the book value of the company (meaning the value of the loan portfolio per share).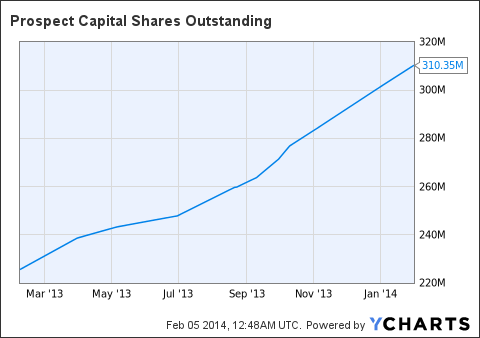 PSEC Shares Outstanding data by YCharts.
PSEC has increased share count by 60% in the last year, but it has more than doubled the size of the investment portfolio to a hearty $5 billion, or $16/share. As CFO Brian Oswald explained in the recent conference call, "it's been five years since we sold a share under NAV."
What he means by that is that any time PSEC issues new shares the shares are always priced at the market, and above the net asset value, or book value of their net investments. In other words, if the values of PSEC's loans are $10/share, and PSEC issues shares that people buy at $11, that is $1/share of instant net benefit to shareholders -- think free money. That $1/share, if used to fund further investments are instantly accretive to net interest income or NII, which is used to pay the dividends.
The last time PSEC sold shares under book value was in 2009, during the financial meltdown. And, as COO Grier Eliasek explained recently in the Q2 conference call, that was because a failing competitor was looking to sell itself and PSEC saw a chance to buy high quality assets for pennies on the dollar. But because the credit markets were clamped shut, the hard choice was made to dilute shareholders to buy assets that would yield to strong dividend growth in the future, which the Patriot Capital Funding acquisition has done.
Recently management has diversified into real estate, to the tune of $144.5 million into rental homes and used car loans through the $350 million buyout of Nicholas Finance, which has an existing loan portfolio of $290 million from 1600 dealerships in 15 states. The bottom line to PSEC is that this purchase means a 15% increase in earnings per share which should provide a $.05-$.11/year increase to the dividend, which amounts to about a 3%-8% increase from this deal alone.
Now, anytime management decides to diversify out into non-core businesses it's good to be skeptical and keep a close eye out, because they may be wandering out of what Warren Buffett (history's most successful investor) calls their "circle of competence." But this is again, why I point the reader's attention to PSEC's best-in-class management team, which not only helped the company survive the great financial meltdown but prosper when others went out of business or still flounder to this day.
One other thing to note is that recent loan origination, or new loans added to the portfolio has declined a bit. Some have stated that the recent diversification into real estate and auto loans is a sign that management is running out of good loan candidates. The risk here is that management may become desperate to keep the high dividend and start making riskier loans to riskier companies, and when another recession hits, these loans will default and PSEC would be forced to slash its dividend and the share price would collapse.
Historically, PSEC's loan portfolio has yielded between 12% and 14%, and in Q1 it was 12.5% and according to the recent Q2 conference call it now stands at 12.9% right in the middle of the spectrum. PSEC's management is confident that approximately 13% overall yield on the portfolio should be able to be maintained.
The reason management believes they can maintain that high yield is because of their recent diversification into rental homes and auto loan financing. (Actually they already owned a car loan finance company called Nationwide Access and who operates in 12 of 15 states that Nicholas Finance does, making for good synergy opportunities.)
Finally, management shed new light on one further aspect of their planned diversification strategy going forward, online, direct to consumer lending. According to the COO during the most recent conference call, gross yields on direct to consumer loans are 13%, with an estimated 5% loss, or 8% gross profit. Because their debt/equity is now .48 (they are targeting .7-.75), they can lever these loans 3:1 and achieve 24% net yields. PSEC expects to achieve around 20% yields off the Nicholas Financial acquisition. Similarly, leverage will be able to magnify steady real estate yields into the kind that will not only sustain the current dividend, but grow it at its historic rate.
I am a firm believer in betting on the jockey not just the horse, meaning find a solid company run by trustworthy and supremely competent management, who in this case I believe have earned the benefit of the doubt. Is there a potential management may start making shakier, less secure loans? Possibly, but historical evidence points to the contrary.
While I will monitor the company's future loan origination and loan portfolio yield, as well as future diversification efforts for mismanagement, I believe that management's goal is to turn PSEC into the (NYSE:O) of BDCs. For those that don't know, O is the ticker symbol for Realty Income Corporation, a real estate investment trust that has become synonymous with rock steady and safe monthly dividends. The company is the nation's largest and most diversified REIT and that diversification is what lets O shareholders sleep easy, knowing that their dividends are about as safe as treasury bond payments (or if the recent US near debt default is any indication, perhaps safer).
Indeed my belief in PSEC's empire building goal was recently verified by the company president during their last conference call. To paraphrase Grier Eliasek, PSEC's goal is to maintain a diversified, large and flexible capital reserve so that when the next downturn in the business cycle occurs, as it will, in 2016, 17, 18 or 19 (usually on a 10-year cycle) PSEC will be the one with the largest funds, ready to snap up amazing opportunities to grow into the future, as they did with Patriot Capital funding during the last financial panic. Today PSEC is the second largest BDC, but I firmly believe management has set its mission on making it the largest in the country and, as such, the most diversified, with greatest long-term stability of a growing dividend.
In addition to the above fundamental analysis, I believe that PSEC is currently historically undervalued, with a current price/book of 1.1, where historically it averages 1.5. Indeed, a brief look at technical indicators (which track price momentum) shows RSI and slow stochastic dipping into the 20s and 30s with signs of turning around. In simple terms it means that this fundamentally great company is cheap and poised for a turnaround after a very bad January for the general market. With a current yield of 12.2% and 5%-10% increase in dividend likely within the next year or so, I feel that investors seeking a reliable, safe and high monthly income of 1% (12.2% annually) have little to fear from buying at prices below $11/share.
So in summary, I view PSEC as a supremely well-run company, dedicated to reliable, high-yielding monthly dividends, that is in the process of diversifying and empire building, led by management that has 25 years of proven performance under their belt, and that is aiming to become the largest and first name in the BDC sector. The recent market decline means that PSEC is undervalued and a good long term, high-income buy.
Disclosure: I am long PSEC. I wrote this article myself, and it expresses my own opinions. I am not receiving compensation for it (other than from Seeking Alpha). I have no business relationship with any company whose stock is mentioned in this article.