With 2014 on the horizon, it is time to look forward upon the gaming giants for the coming year. Specifically, I will reveal my expectations on the financial results to be released this month.
Electronic Arts (NASDAQ:EA) is severely undervalued, and will deliver great financial results in May 2014. Activision Blizzard (NASDAQ:ATVI) on the other hand, used to be a pillar in the game industry; a company to reckon with. Unfortunately, the future is dim for ATVI and its financial results on the 6th of February 2014 will disappoint most. Hence the title: "Gaming Stocks Will Greatly Diverge".
Until this day, both stocks tend to move strongly together and maintain a high correlation: When EA goes up, ATVI goes up; and when EA goes down, ATVI goes down. For example, on a common day EA goes up by 2% then ATVI goes up by 1% (as the beta of EA is stronger). This effect will reverse.
The current price movements are quite in line with the positive correlation thought, as can be seen from the figure above. Here, the correlation coefficient equals 0.43. My expectation is that the correlation will become negative from now on - stating that EA and ATVI will move oppositely from each other. Hence I will explain both sides of the story: EA's upside and ATVI's downside.
Electronic Arts' Upside
My expectation is that EA's full year results will be astonishingly positive. EA has made further commitments to deliver both a large portfolio of great games on an even greater amount of platforms. I will explain both arguments in the next paragraph.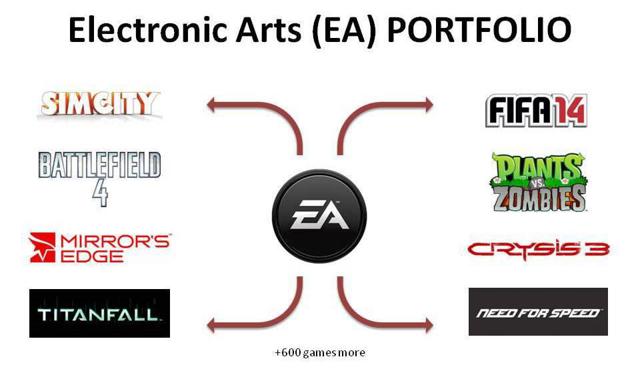 EA has managed to deliver worldwide successes this past year, and it will continue to do so in 2014. Its portfolio extends in great depth with games such as "Need for Speed", "SimCity", "FIFA", "Battlefield", and subsequent expansions. Not to mention "Madden NFL", "Plants vs. Zombies" and "Crysis 3". Many different genres, while still maintaining its individual high quality. To name a few (upcoming) successes:
High sales figures of "Battlefield 4" as a launchgame of the PS4 and Xbox One, selling near ten million globally.

SimCity has great sales figures (~3 million) despite its shortcomings[2].

Need for Speed Rivals outperforms expectations.
Besides EA's regular games, "FIFA 2014" and "FIFA FootballManager 2014" obtained sky-high sales figures.
A new "next-gen EA" title is upcoming. Between the ranks of EA there are rumors of a hidden gem waiting to be told. Still unannounced.
On terms of platforms, the amount of games recently released by EA in the Apple store (NASDAQ:AAPL), Facebook (NASDAQ:FB) and Google store (NASDAQ:GOOG) is gigantic. For example, they currently manage 295 games on Mobile devices (and still they are increasing their market share on a monthly basis). This way, they are exponentially increasing the amount of potential buyers far beyond common gamers. Ironically, the 'Dreamcast', a flopped system, is the only gaming system on which EA released zero games. EA clearly strives to long-term success.
"Electronic Arts is the best diversified gaming publisher worldwide"
People in general tend to look only at the top 3 of the sales charts. The truth is however, there is great power in the masses. It is surprisingly profitable to have ten solid games - generating a lot of revenue - in comparison to one blockbuster title. Yet the quality, and more importantly, the brand of these games is still unwavered and well-positioned for the future ("Mirror Edge", "Starwars Battlefront", "Titanfall" and "The Sims" to name a few AAA-games to be released in 2014)
Overall, Electronic Arts is greatly diversified by a large portfolio on many platforms. It is severely undervalued with only 8 billion market capitalization (especially compared to ATVI's 12 billion market cap). I expect a Full Year Non-GAAP EPS of $1.43, +0.13 above the current guidance. My estimate for EA's share price for mid 2014 would be $31 per share.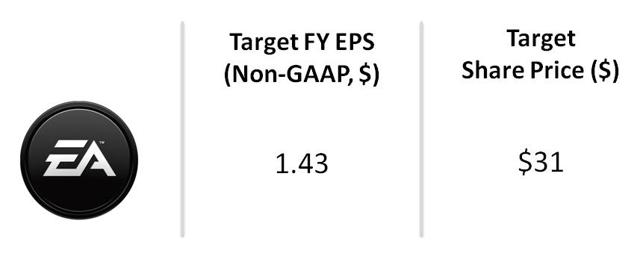 Activision Blizzard's Downside
On the flip side, ATVI's Full Year 2013 results will greatly disappoint: high marketing costs, low sales and dropping subscribers. The reasoning is shown below and is based on my expectations and logical arguments:
High marketing costs of the publisher are evidently as it is shown worldwide on every media. Expect a figure near 300 million.
Low sales revenue of Activision's flagship "Call of Duty: Ghost". No decent sales announcements have been shown to this date, reviews are low and large discounts are given everywhere. Expect

quarterly revenues lower than 2,100 million[3].

Dropping World of Warcraft subscribers as no new content has been released since august 2013. Expect a drop of at least 1 million subscribers since last year, below 6.6M currently.
In sharp contrast to EA, many of ATVI's key brands have fallen sharply. Namely, the decline of "Call of Duty" has been set in motion, alongside its earlier decline of "World of Warcraft" and "Diablo". Other titles such as "Transformers" and "Fast & Furious" should not even be mentioned. And with only five4 main franchises, ATVI is not even close to the amount of diversification of EA. It is instead surrendered to the results of its major franchises.
"ATVI's 'Call of Duty' decline has been set in motion"
Being overly reliant on a few franchises can be an excellent strategy, however, not when these are crumbling under pressure. Call Of Duty sales figures of 2013 are very likely to be under 15 million (VGChartz). Personally, I will be surprised if the game sells more than 4 million copies in 2014. Keep in mind that the current stock price valuation is based on the growth in revenue from the previous installment; which sold more than 23 million copies worldwide. Unfortunately, other franchises also suffered. For example, the game "Skylanders" was very popular but its current growth has stalled by competition of Disney (NYSE:DIS) and others. This, along with the previous reasoning are warning signs for me that ATVI might not live up to its current revenue expectation.
"Well then, what about future games? 'Destiny', 'Heartstone' and 'Diablo: Reaper of Souls' are great upcoming games!"
The future games of ATVI might be decent, but they will not live up the current unrealistic (sales) expectations. The upcoming game "Destiny" is not part of the popular Massive Multiplayer Online (MMO) genre as it is thought to be. Instead, it is more similar to the genre of a dungeon crawler. Hence it will not be the massive multiplayer experience as some might expect. In short, I would not like to place a bet on the unrealistic expectations of a single franchise. For me, its destiny of failure is set.
A potential upside for ATVI might be "Heartstone", a small free-to-play trading care game placed in the "World of Warcraft" setting. The game's closed beta is soaring in popularity. One of its monetizing ways is to purchase in-game cards. However, if ATVI would keep releasing stronger cards it would greatly anger the community. When the hype has settled, it is still an unpopular genre and likely not large enough to generate game-changing revenues in the coming year.
Either way, the current EPS estimate of $0.73 for Q4 is far too high. Primarily given the upcoming failure of the "Call of Duty" franchise, the falling "World of Warcraft" subscribers and the outrageous marketing costs. Hence I expect a Q4 EPS of $0.56 and a share price of $14 dollar per mid 2014.
Gaming stocks will greatly diversify in 2014
With the new next-gen consoles of Sony (NYSE:SNE) and Microsoft (NASDAQ:MSFT) the playing field for 2014 is set. Playstation 4 has taken the lead, with the Xbox One being a strong second. Nintendo (OTCPK:NTDOY) is suffering greatly, but has great potential to recover. An interesting and turbulent year is upcoming. How will the game publishers react, and more importantly, how will you position yourself?
Sources:
All images in this article are self-created based on publicly available material by the respective publisher. All copyright on logos, brands and names belong to its respective owners.

SimCity is a classic franchise with a new installment released in March 2013. It has publicly announced that it sold over 2 million units in its first three months of its release. It is plausible to assume that 3 million units sold have been reached by now.

ATVI has only announced that it made a $1 billion sell-in to retail stores. This sell-in remark was well explained by fellow writer Paulo Santos. My personal opinion is that if the new "Ghost" installment was a success, more positive figures would have been released by now.
ATVI's five heavily dependent franchises include "Call of Duty", "World of Warcraft", "Skylanders", "Starcraft" and "Diablo".
Disclosure: I am long EA. I wrote this article myself, and it expresses my own opinions. I am not receiving compensation for it (other than from Seeking Alpha). I have no business relationship with any company whose stock is mentioned in this article.