Confidence has found its way back into Apple (NASDAQ:AAPL) after its recent earnings report pushed it down under $500 momentarily. The major focus on Apple during earnings was its lackluster iPhone numbers - the company posted numbers that fell below what analysts were estimating, 56 million phones sold.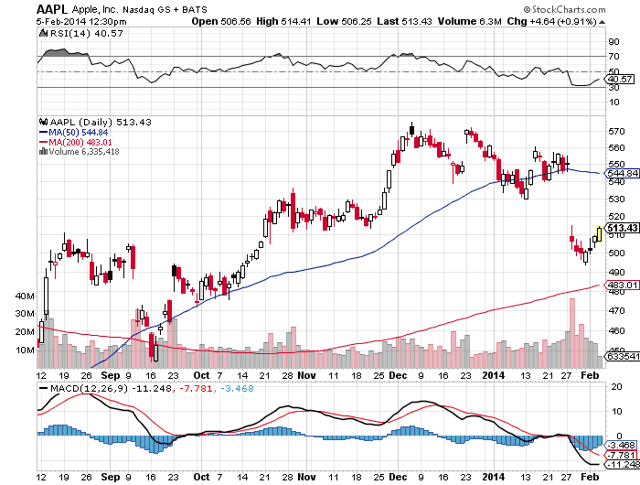 With regards to iPhone, it's been a mixed bag of trial and error for Apple since releasing the original iPhone. As generation after generation of iPhone passed, the company found itself trying to figure out how to branch out and innovate on the original concept. One of the most recent products of this innovation was Apple's introduction of the 5C/5S lines.
Put simply, Apple was caught off guard when it introduced the 5C and 5S lines of the iPhone. I remember, after analysts left and right were shrieking at the company to introduce a lower cost phone, that the reception for the 5C was tepid at best. Incidentally, what wound up happening was that people continued to go for the top line phone - buying the 5S in excess and surprising the company.
It was reported Wednesday afternoon that Apple has planned to restart manufacturing the iPhone 4, which it had discontinued when it introduced the 5C and 5S line. Quartz.com reported:
Would you pay $320 for a four-year-old smartphone? Apple seems to believe that aspiring consumers in emerging markets will. The company has reportedly restarted manufacturing the iPhone 4, which it discontinued with the launch of the iPhone 5s and 5c models late last year. So says the Economic Times, an Indian business newspaper, which cites "three senior executives with direct knowledge of the company's plan." Apple will sell the iPhone 4 only in India, Indonesia and Brazil, according to the report.
The Quartz article goes on to note some of the roadblocks that come with selling phones in emerging markets: namely, no contracts and full pricing on phones.
The obvious reasoning to continue making the 4, versus the 5C, is the amount it's going to cost Apple. Taking a small step back here and producing phones that are tailor made for the audience they're going for (considering the audience is big enough) - seems to be the right move for Apple here - especially as much as iPhone drives Apple's stock.
The move reminds me of the strategy that BlackBerry (NASDAQ:BBRY) is starting to employ. Part of John Chen's MO is to go after emerging markets to help grow the company. When they engaged Foxconn (OTC:FXCOF) - which also works with Apple - the focus was to get low cost phones for countries like Indonesia. BlackBerry also noted that they would be coupling BBM with Android phones in these same countries.
The point of moving into these emerging markets, where in places like India it's estimated 225 million smartphones will sell in 2014, is to get the brand in people's hands.
BlackBerry is using this strategy to reestablish itself to people that haven't been on the forefront of the smartphone wars. It's like those old CBS reruns - if you haven't seen it, it's new to you!
As someone who is long BlackBerry but uses an iPhone 4 on a daily basis (along with an Android phone), this is a peculiar story to me and one that is going to telegraph growth for both of these companies. Whomever is capable of locking up the masses in these emerging markets stands to monetize it well.
For Apple, relaunching the iPhone is the cost effective way to do this. For BlackBerry, it's an opportunity to breathe new life into a brand that is viewed as past its prime elsewhere in the world.
Between Apple's recent foray into China, coupled with this focus on emerging markets, it could present the boost the company needs to its iPhone metric in coming quarters. Of course, Apple has to continue to innovate and introduce newer iPhones for its top tier markets as well.
I'd encourage investors to look at traction in these markets to foreshadow sales for each of these companies going forward. I'll be paying close attention to the traction of smartphone sales in emerging markets. Best of luck to all investors.
Disclosure: I am long BBRY. I wrote this article myself, and it expresses my own opinions. I am not receiving compensation for it (other than from Seeking Alpha). I have no business relationship with any company whose stock is mentioned in this article.