Royal Dutch Shell (NYSE:RDS.A) offered investors a sense of reality when the European oil major delivered a shock profit warning and ultimately disappointing results in January. Other oil- and gas companies, both in the US and in Europe, sold off sharply as well as more companies of the energy sector presented fourth quarter results. ExxonMobil (NYSE:XOM), Chevron (NYSE:CVX) and ConocoPhillips (NYSE:COP) have all corrected 9-11% since the beginning of the year as higher exploration costs, a flat oil price and a challenging refinery environment dragged down the sector.
However, as a long-term investor I think differently about falling stock prices. In fact, as soon as stock prices of my investments fall by a meaningful extent, I immediately try to purchase more. If I did my due diligence and bought a company at $50 why wouldn't I want to buy more of the same company at $45 or $40? Usually, this kind of approach goes against conventional thinking particularly when considering modern portfolio theory. The basic rationale for any of my investments is: I want to buy at a price that's so attractive that I would never want to sell the shares to begin with. This approach might be controversial -- not everybody is a contrarian investor after all -- but it clarifies one's thinking and allows the implementation of a rigorous investment plan without consideration of the usual distracting noise.
I have favorite equity investments in nearly every sector. Telefonica (NYSE:TEF) is a growth- and dividend machine in the telecommunications sector, Realty Income (NYSE:O) is a first-class, high-yield, superbly managed real estate investment trust, Citigroup (NYSE:C) is a high-potential banking franchise due to its international consumer business and BP (NYSE:BP) is my favorite oil- and gas investment that I clearly want to hold for the long-term.
BP is an international oil and gas major that serves the entire oil and gas value chain. From extracting oil and gas out of the earth to processing and blending hydrocarbons to marketing of fuel products, BP is a full-service provider with exploration assets around the world. BP started to attract the spotlight after the Deepwater Horizon explosion in the Gulf of Mexico in 2010 caused the largest oil spill in history. Since 2010 the company is actively involved in solving its legal issues and compensating businesses for economic harm sustained.
The chart below shows that BP still hasn't fully recovered from the aftermath of the oil spill. BP currently trades at $46.27 while the oil company traded at about $60 pre-crisis.
(Source: Yahoo Finance)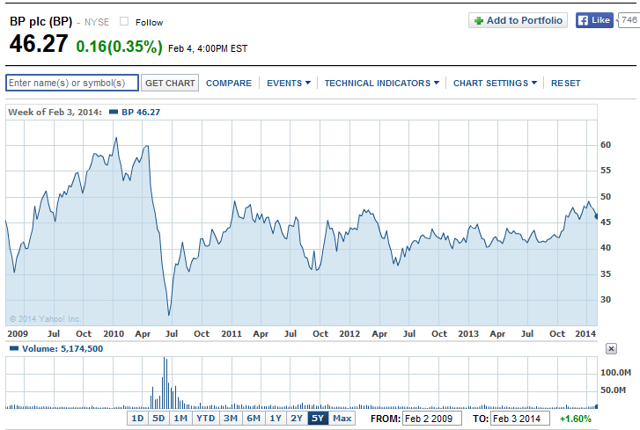 Long-term demand trends
In my articles about oil and gas companies I have often related to the favorable long-term demand trends that support investments in fossil fuel exploration companies. BP publishes an interesting booklet called "BP Energy Outlook 2035" about global energy demand and consumption (booklet can be found here) that highlights the promising growth prospects of fossil fuels.
Not surprisingly, the majority of demand growth comes from developing countries. In particular, China and India are the dominant drivers of projected energy consumption even though India's dominance is expected to increase until 2035.
(Source: BP Energy Outlook 2035, page 26)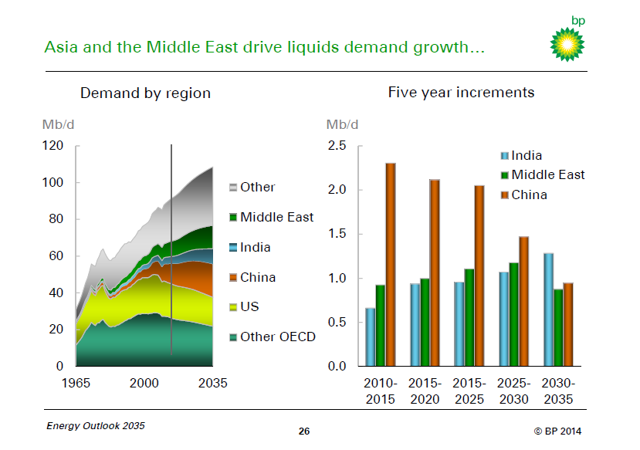 BP's in-house publication quite accurately underscores my previous assertion about the attractiveness of conventional oil- and gas equity investments which will benefit from increasing energy demand in developing countries (source: BP website):
The Outlook reveals that global energy consumption is expected to rise by 41 per cent from 2012 to 2035 - compared to 52 per cent over the last twenty years and 30 per cent over the last ten. Ninety five per cent of the growth in demand is expected to come from the emerging economies, while energy use in the advanced economies of North America, Europe and Asia as a group is expected to grow only very slowly - and begin to decline in the later years of the forecast period.

The Outlook shows global energy demand continuing to increase at an average of 1.5% a year to 2035. Growth is expected to moderate over this period, climbing at an average of 2% a year to 2020 but then by only 1.2% a year to 2035. 95% of this growth is expected to come from non-OECD economies, with China and India accounting for more than half of the increase. By 2035, energy use in the non-OECD economies is expected to be 69% higher than in 2012. In comparison use in the OECD will have grown by only 5%, and will actually have fallen after 2030, even with continued economic growth.
Short-term bumps
While any specific quarter can be a setback in terms of financial performance, the important thing is, that BP is a globally diversified, cash flow-strong energy company facing favorable supply/demand dynamics.
Investors who followed the earnings reports of other multinational, large-cap oil and gas companies last week would not have been surprised that BP also reported weak quarterly results. Lower production due to divestments and lower refinery margins let to a 38% lower underlying replacement cost profit before interest and taxes compared to last year although income from Rosneft helped offset some of the declines in BP's upstream and particularly downstream business. Fourth quarter production excluding Russia decreased 1.9% y-o-y, however, production actually increased on an adjusted basis by 3.7%.
(Source: BP fourth quarter 2013 investor presentation)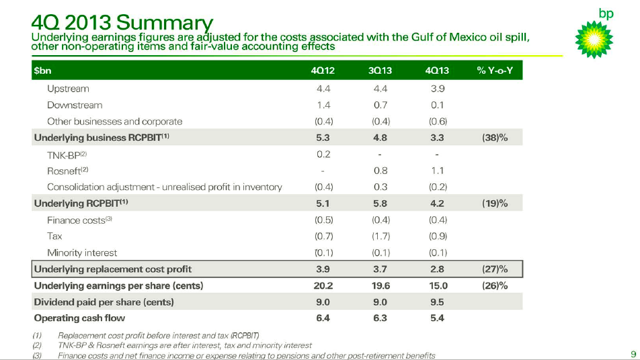 In addition to lower quarterly profits, investors are still concerned with BP's litigation costs with respect to the Gulf of Mexico oil spill. In 2013 BP added $470 million to the cumulative recognized charge of $42.7 billion of which $190 million originated in the fourth quarter of 2013. BP couldn't reliably estimate the liability stemming from remaining business economic loss claims which would lead to additional charges to BP's income statement. This creates short-term risk for BP's share price but I am confident that the company will work through the issue and provide updates in the near term.
(Source: BP fourth quarter 2013 investor presentation)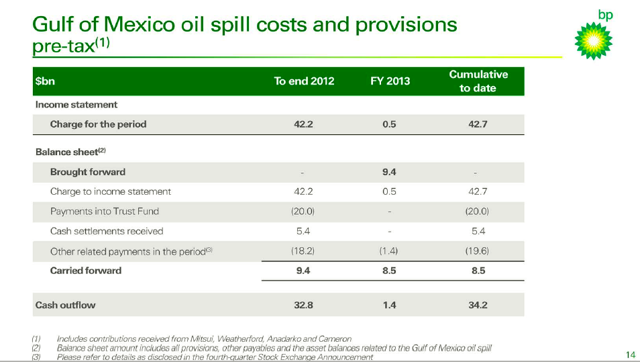 The cheapest among the cheapest
Cheap is not everything when it comes to investing but the price is ultimately what you pay and the intrinsic value is what you get in return. Ignoring price but considering value doesn't make any sense. Correspondingly, the main reason why BP is such an attractive long-term investment is its low entry P/E ratio of 9.12 (earnings yield of 11%). While all companies in the oil- and gas peer group are decent investment candidates due their low valuations, BP has the largest upside potential once the company achieves clarity with respect to additional litigation and settlement charges.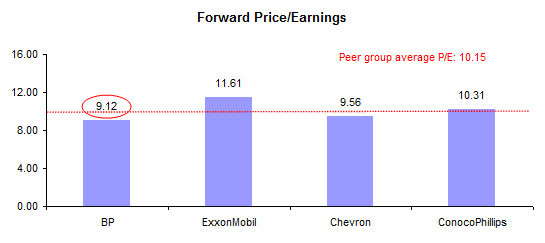 As a result of its low valuation, BP offers investors one of the highest dividend yields in the sector. BP currently pays investors 4.93% which is about as good as the high yields coming from real estate investment trusts.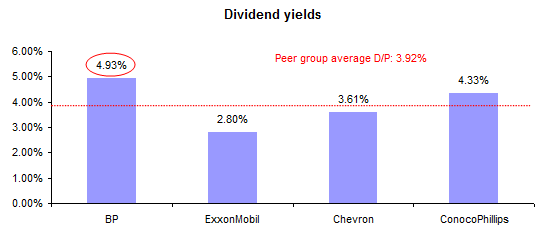 The table below summarizes key valuation metrics for BP:

Conclusion
The entire large-cap oil- and gas sector is trading cheaply compared to its long-term earnings and cash flow prospects. With large chunks of future energy demand coming from emerging markets, international oil and gas companies with access to increasingly scarce energy reservoirs will benefit the most. In addition, BP has great upside potential when the company achieves clarity with respect to additional oil spill-related charges that continue to create short-term uncertainty.
BP trades at a depressed multiple of just nine times forward earnings even though the company is heavily focused on shareholder remuneration. BP has repurchased $5.5 billion worth of common shares throughout 2013. Moreover, BP announced a $10 billion divestment plan last year in order to step-up its shareholder remunerations. I estimate that the company will use about 80-90% for share buybacks and the remainder to increase the quarterly dividend. Long-term BUY on favorable supply/demand dynamics, depressed valuation, high dividend yield, share buybacks, potentially increasing dividend stream as well as overblown fears about oil spill settlements.
Disclosure: I am long BP, RDS.A, O, TEF, C. I wrote this article myself, and it expresses my own opinions. I am not receiving compensation for it (other than from Seeking Alpha). I have no business relationship with any company whose stock is mentioned in this article.