By David Russell
Volatility has been drifting higher as DeVry (NYSE:DV) approaches its next earnings report, prompting one trader to write puts on the education stock.
optionMONSTER's tracking systems detected the sale of about 4,000 May 65 puts, mostly for $0.85, against open interest of 452 contracts. The trades, which resembled similar activity earlier in the month, pushed total options volume in the name to 13 times greater than average.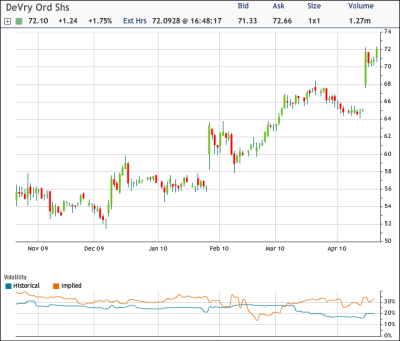 DV rose 1.75 percent to $72.10 yesterday and is up 27 percent so far this year. The shares ripped to an all-time on April 13 after Credit Suisse upgraded the for-profit education industry, citing an improved regulatory environment.
DV's next earnings report will be released after the bell on April 22. Implied volatility has climbed to 34 percent in the name after dipping to 30 percent in late March--the lowest level in more than three years.
Volatility often falls after results are announced, and yesterday's option trader apparently wants to take advantage of that same trend. The strategy also stands to benefit from the fact that time decay will accelerate as expiration approaches on May 21, reducing the value of the contracts sold short.
The risk to the trade is that DV will drop on the earnings news, which would increase the price of the puts and force the trader to buy the shares for $65 if they fall below that level.
(Chart courtesy of tradeMONSTER)