It wasn't that long ago that this company was better known for a somewhat successful horror slasher series (Saw I - Saw 3D) along with a string of budget movies starring an enduring elderly female character by the name of Madea (portrayed by Tyler Perry).
But today, the studio is the mother ship of 28 TV show series on 20 different networks, a $1 billion-a-year home media entertainment business, and movie and television rights to more than 15,000 titles including two of the most successful tween fiction franchises of all time: Twilight Saga and The Hunger Games.
Yes, Lions Gate Entertainment (LGF) has come a long way from being a small independent studio that started in Vancouver, Canada back in 1997.
During the late 1990's and early 2000's, LGF revenue streams were mainly from producing and distributing small, limited release films as well as movies that catered to the Latino community.
In 2000, the Company produced 20 movies that grossed just $33.1 million at the box office.
Over the next decade, however, Lions Gate saw their revenues steadily grow with more successful productions and a series of strategic studio acquisitions.
Then in 2012, everything changed.
(click to enlarge. source: Yahoo Finance)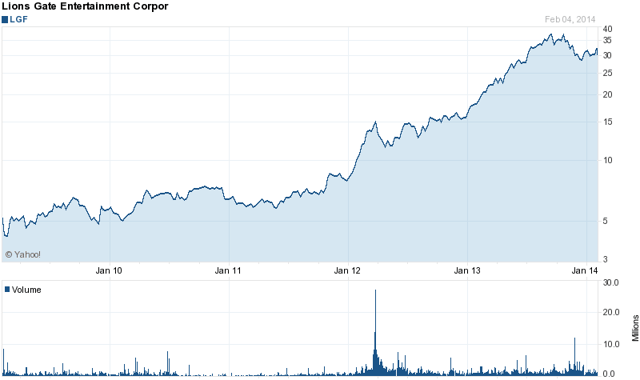 First, LGF acquired Summit Entertainment in early January. This was the company that made the previous Twilight films.
Next, the Company released The Hunger Games in late March, the studio's first major blockbuster. It was a global box office smash, pulling in nearly $700 million worldwide.
Then in mid-November, Breaking Dawn - Part 2 was released which was the first (and last) Twilight movie under the Lions Gate label. It would go on to gross nearly $830 million.
By the end of 2012, Lions Gate had generated $1.2 billion in box office receipts, catapulting them into the top 5 grossing studios that year for the very first time.
2013 marked the second year in a row that the Company would top the $1 billion mark, thanks largely to the success of the second installment of The Hunger Games: Catching Fire.
Over the course of its short history, LGF has also built a strong reputation in the industry by producing such critically-acclaimed films as Affliction (Best Supporting Actor Oscar: James Coburn), Monster's Ball (Best Actress Oscar: Halle Berry) and Crash (Best Picture Oscar), among many others.
But with box office success firmly in its repertoire, the last two years have helped to solidify Lions Gate as a bona fide Hollywood entertainment powerhouse.
Now its triumphant wins to date are setting up LGF for a very profitable Fiscal Q3 report on February 6th - which could give the company plenty of firepower heading in to 2014.
Catching Fire ended 2013 by grossing $409.4 million domestically. As of today, it has grossed $859.6 million worldwide -- surpassing Breaking Dawn - Part 2 -- and is en route to breaking a string of box office records by the time its theatrical run comes to an end.
However, LGF's stock is currently down 21% from its pre-Catching Fire buzz, which could signal an opportunity to buy.
In the previous quarter, LGF posted $0.19 EPS and revenues of $498.7 million. Analysts are expecting Lions Gate to post $1.01 EPS for Fiscal Q3 with the impressive numbers Catching Fire brought in after Thanksgiving.
If LGF meets or exceeds analysts' estimates come February 6th, it's likely to spark a rally that could last the course of the year.
For one, 2014 will be bookended by a third Hunger Games movie called Mockingjay - Part 1, which is expected to surpass the bar that Catching Fire set.
The studio will also plans to release a number of modestly budgeted yet reliable movies including another Tyler Perry film and the Expendables 3, along with a much-anticipated Johnny Depp thriller called Transcendence. These projects are likely to turn a decent profit considering the track records of the franchises and/or the star power behind them.
There's also great optimism for their TV business as well.
While their motion picture segment generated $1.1 billion as at December 31st, their TV business actually made more than $1.3 billion last year.
LGF has a devoted following for hits such as Mad Men, Nashville, Anger Management and Orange Is The New Black.
Adding to that is the growth of subscribers to their premium channels, EPIX and TV Guide Network (TVGN), as well as broadcasting revenues from their 15,000+ title library.
For longer-term investors, LGF is launching another dystopian book adaptation franchise called Divergent on March 21st.
If moviegoers prove that their appetite for Hunger Games-like movies is still strong, the deals Divergent Parts 2 and 3 could be slam dunks well for LGF all the way through to 2016 (however, keep in mind that if this new franchise doesn't spur moviegoer interest, the opposite could be true so keep a close eye on this release).
Looking at Lions Gate's flight path, they are now nipping at the heels of studio behemoths Time Warner (TWX) and Disney (DIS) who generated $5.04 billion and $4.73 billion in revenue, respectively in 2013. Though these were record revenues, it's easy to forget that it's taken these companies 9 decades to achieve this level of financial success.
Disclosure: I have no positions in any stocks mentioned, and no plans to initiate any positions within the next 72 hours. I wrote this article myself, and it expresses my own opinions. I am not receiving compensation for it (other than from Seeking Alpha). I have no business relationship with any company whose stock is mentioned in this article.