By Ivan Y.
Xinyuan Real Estate (NYSE:XIN) is a stock that I have held for almost three years now. I was initially attracted to it in 2010 because it was selling below its tangible book value. Today, that is still the case even though the stock has roughly doubled. In the past 2-3 years, XIN has made steady profits, and as a result has been able to grow its book value from $518 million in 2010 Q4 to $917 million in 2013 Q3 (a 77% gain). By almost any valuation metric, XIN is a cheap stock:
Price / book = .36
Price / earnings = 2.6 (based on last 4 quarters)
Dividend yield = 4.3%
However, despite the cheap valuation, XIN is a stock that is riskier than it appears on the surface. In this article, I will outline several issues that investors should be aware of before they invest in this stock.
#1 The company does not have a permanent CFO. The former CFO, Tom Gurnee, retired last September and the company chose Kevin Wei to replace him. In mid-November, the company announced that Wei would resign the next day due to personal reasons. It is not clear what led to his resignation. Some have speculated that it was because he performed poorly on the conference call. Some have speculated that he didn't agree with some aspect of the company's accounting. It is all speculation and we frankly have no idea.
Now, almost three months later, the company still has not hired a permanent CFO. Gurnee was good for the company despite his prior association to Longtop Financial. He provided an American face that represented the company and served as the spokesman for an otherwise Chinese management team. On a couple of occasions, I emailed him directly with a question and he actually responded.
#2 The company's auditor, Ernst & Young Hua Ming, has been suspended by the SEC. In case you missed the news, four Chinese auditors were suspended by the SEC about two weeks ago because they did not comply with SEC investigations of Chinese companies. According to the judge, these firms "acted willfully and with a lack of good faith". It looks like XIN may need to dismiss E&Y and hire another auditor for 2014.
#3 The dividend is not as good as it seems. A 4.3% dividend sounds great, but unfortunately it isn't as good as it appears. And that is due to the ADR custody fees that are charged. What is an ADR fee? These are fees that are charged to your broker and then passed on to ADR shareholders like XIN investors. You can read this if you want to learn more about ADR fees. You can read page 42-43 of the most recent prospectus (filed on November 18, 2013) for a detailed explanation of ADR fees specific to XIN shareholders. Based on the cash that has been deducted from my brokerage account, the ADR fee is quite significant. However, the amount that is deducted seems to be inconsistent so I can't calculate a specific percentage.
#4 The company does a poor job of keeping foreign shareholders informed. Take a look at the English version of the company's website and you will know what I mean. It looks like it hasn't been updated since November 2012.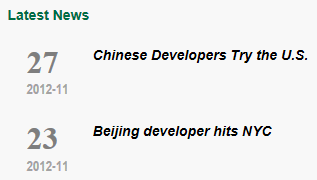 I guess nothing happened in 2013. The homepage is beginning to look like an abandoned home in Detroit. They don't even bother to update the development projects on their site. By looking at their site, one would have no idea that they even have a major project in Beijing that recently began pre-sales. On the other hand, the Chinese version looks like it has a lot more information. Does the company care about their foreign investors?
#5 The stain from numerous fraudulent Chinese companies trading on U.S. markets means that XIN may never be treated fairly by the market and given a fair valuation. Quite frankly, I don't blame the market for not fully trusting XIN and penalizing it because it is a Chinese company, because of the egregious frauds that other companies have committed. I think there's an old joke about the accounting practices in China. Every company keeps four sets of accounting records: one to show the government to minimize taxes, one to fool the stupid American investors, one to show the wife to make her happy, and one that has the real numbers. Anyway, here is a sampling of some Chinese companies and their misdeeds.
Shall I continue? Fraud is not the only risk in investing in a Chinese company. Another problem with Chinese companies is that some of them will go "dark", which means that they stop filing financial documents and stop all communication with shareholders. Why do they do this? Maybe it's to cover up fraud. Or, if they are clean, perhaps they are fed up with low stock prices and/or don't want to pay the auditing fees. You can find some of these stocks over-the-counter such as Weikang Bio-Tech (OTC:WKBT) and Advanced Battery Tech (OTCPK:ABAT).
Final Thoughts
XIN is both a deep value and a speculative stock. Its value is obvious. One look at the company's book value should tell you how deeply discounted the stock is now. However, XIN is also a speculative stock due to not only the five issues I outlined above, but also due to the fact that there is an enormous housing bubble in China right now. XIN has an aggressive growth strategy where they are spending hundreds of millions of dollars to acquire land use rights. As an example, the company paid $197 million for two land parcels in Jinan, China in 2013. The bubble will burst eventually, and if it happens before the company is able to sell their developed and undeveloped housing units, then look out below.
Disclosure: I am long XIN. I wrote this article myself, and it expresses my own opinions. I am not receiving compensation for it (other than from Seeking Alpha). I have no business relationship with any company whose stock is mentioned in this article.