In August, 2013, shares of DryShips, Inc. (NASDAQ:DRYS) were trading below $2. However, in the final days of 2013, the stock surged to about $5. That is a huge move in just a few months which shows how rewarding it can be to invest in low-priced stocks. More recently, the shares have experienced a sharp decline to about $3.25 due to the market pullback and a couple other factors. Investors who missed the huge run to about $5 may now be wondering if the recent pullback is an ideal buying opportunity so let's take a closer look: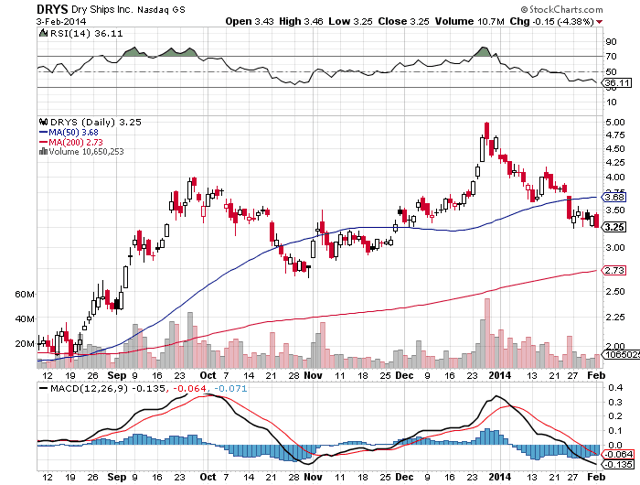 Click to enlarge
The chart above shows the significant rise this stock enjoyed into late 2013, and the decline it has experienced in 2014. It now trades below the 50-day moving average of about $3.68 per share and above the 200-day moving average which is around $2.73 per share. There appears to be at least two major reasons why this stock has declined in the past few weeks. One is obviously the market pullback which has taken some major indexes down by about 6 to 7%. The other reason is concerns over the Chinese economy, which is why the Baltic Dry Freight Index has been dropping, as shown in the chart below: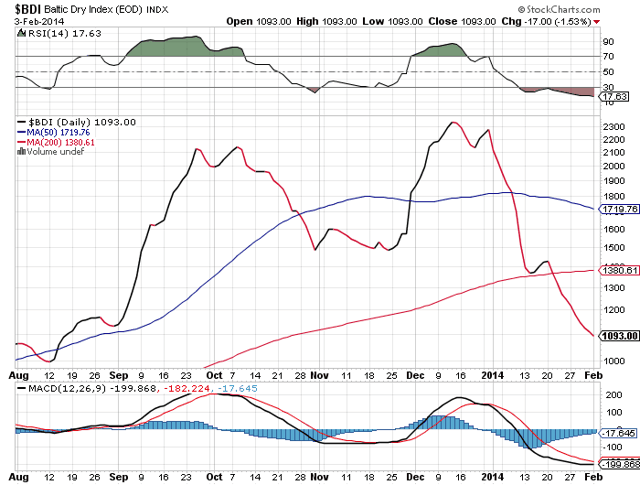 Click to enlarge
DryShips Inc. owns and operates a fleet of 42 dry bulk carriers which includes "Panamax", Very Large Ore Carriers or "VLOC's", Capesize, as well as tankers. It also has a majority owned subsidiary, Ocean Rig UDW, Inc. (NASDAQ:ORIG) which operates offshore deepwater drilling rigs and drill ships. While the dry bulk shipping business can be great when the global economy is booming, it can be very tough in downturns. That is why this stock can trade with so much volatility, along with the Baltic Dry Index. Demand for iron ore and other commodities can greatly impact shipping rates, which is why recent concerns about the health of the economy in China is a potential downside risk for this stock.
When looking at the charts above, it is clear to see that while the Baltic Dry Freight Index is now trading well below the 50 and 200-day moving averages, shares of DryShips are still trading above the 200-day moving average of $2.73. If the Baltic Dry Freight Index does not rebound soon, I believe DryShips shares will continue to decline until it reaches that key support level. That could mean there is a significant amount of potential downside left. Another potential risk to consider is the debt load. According to the latest data, this company has about $506 million in cash and around $5.3 billion in debt.
Consensus earnings estimates are for a loss of 27 cents per share in 2013, and profit of 27 cents per share in 2014. That puts the price to earnings ratio at about 12 for 2014. While the stock might be worth its current share price if it actually does earn 27 cents per share in 2014, that remains to be seen, since a lot can happen to the estimates. It's clear that the stock was quickly "re-rated" higher by investors in late 2013, because they saw an improving trend in both earnings estimates and in the Baltic Dry Freight Index. In hindsight, it appears that investors got a little too optimistic on this stock and the sustainability of the big gains in the shipping index. Even after the recent pullback, I believe there is still too much potential downside because the slower than expected growth in China could last a while, and also because DryShips stock is still above the 200-day moving average. After a sharp market pullback, many stocks are already trading at or even below the 200-day moving average and I believe DryShips should also be at that level.
For these reasons, I don't think it makes sense to buy the pullback in DryShips, Inc., unless it hits the 200-day moving average, or unless the Baltic Dry Freight Index rebounds soon. The other reason I would not be prepared to buy this stock yet is because I see much better values in the stock market. For example, I recently wrote about Vantage Drilling (NYSEMKT:VTG) which could be a better alternative for DryShips investors to consider. Just like DryShips, it trades well below $5 per share and it provides offshore drilling (as does DryShips' subsidiary). Both of these companies are also expected to see revenue growth and also have similar earnings per share estimates. The big difference is that Vantage Drilling has not yet been re-rated by the market even though its revenues are poised to surge in 2014 due to new contracts. At just around $1.67, Vantage Drilling is trading for about half the share price of DryShips. This fact is even more remarkable, since it is expected to 34 cents per share in 2014, which is considerably more than estimates of 27 cents per share for DryShips.
In summary, I believe it is too early to buy the pullback in DryShips, Inc., especially since it remains above the 200-day moving average. I also remain concerned about the exposure to China and the Baltic Dry Freight Index. Finally, in terms of relative value, DryShips does not appear to be that cheap. I see other low-priced stocks which appear to offer potentially less risk, and what appears to be even more upside. That is why I don't think DryShips shares are cheap enough to buy yet.
Here are some key points for DryShips, Inc.:
Current share price: $3.30
The 52 week range is $1.65 to $5
Earnings estimates for 2013: a loss of 27 cents per share
Earnings estimates for 2014: a profit of 27 cents per share
Annual dividend: n/a
Data is sourced from Yahoo Finance. No guarantees or representations
are made. Hawkinvest is not a registered investment advisor and does
not provide specific investment advice. The information is for
informational purposes only. You should always consult a financial
advisor.
Disclosure: I am long VTG. I wrote this article myself, and it expresses my own opinions. I am not receiving compensation for it (other than from Seeking Alpha). I have no business relationship with any company whose stock is mentioned in this article.