By Bryan McCormick
US stock index futures are up half a percent across the board at the time of this writing, about as much up as they were down yesterday morning.
Asian markets were flat to positive overnight, which had kept a lid on US futures. Poorer-than-expected results from International Business Machines (NYSE:IBM), currently down about 2 percent in the pre-market, had also helped keep futures lower.
It was the reopening of a significant portion of the airspace in Europe after five days of closure which helped send stocks up about 1 percent in the eurozone and UK markets after a flat start. Crude has rebounded sharply as well, after having been hit hard by the suspension of air travel.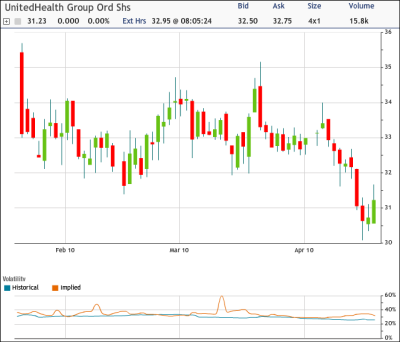 Commodities are generally higher this morning, including industrial metals and materials. The materials, energy, and financial sectors had been the weakest at the start of the yesterday's pre-market. This rebound may help repair some of that damage, though the financials are not responding well in US trading so far this morning.
Goldman Sachs (NYSE:GS) announced good earnings, which had sent the shares up nearly 3 percent in the early going, but the stock has given back most of those gains. That reversal, along with results from other financial such as U.S. Bancorp (NYSE:USB), which are also trading down, has helped trim advances in the financial sector from 1 percent to less than one-third of a percent.
In sum, the outlook is somewhat of a mixed bag this morning. Healthcare may be stronger today on the back of better results from UnitedHealth (NYSE:UNH), which is up some 5 percent.
For today, the key report after market close will be from Apple (NASDAQ:AAPL). As a very heavily weighted tech stock, its results will have major impact on the indexes, one way or the other. Better-than-expected results could help sentiment more broadly, though the shares have already anticipated very good news.
Among the key earnings reports for tomorrow are Altria (NYSE:MO), Amgen (NASDAQ:AMGN), Freeport-McMoRan Copper & Gold (NYSE:FCX), Lockheed Martin (NYSE:LMT), McDonald's (NYSE:MCD), Morgan Stanley (NYSE:MS), St. Jude Medical (NYSE:STJ), Boeing (NYSE:BA), United Technology (NYSE:UTX), Wells Fargo (NYSE:WFC), and Qualcomm (NASDAQ:QCOM).

Disclosure: No positions