TeliaSonera (OTCPK:TLSNF) announced its fourth quarter 2013 and full year 2013 results on January 30, 2014. Overall, these results were remarkably good given the challenging conditions in the market over the past year. The company enjoyed almost flat revenues year-over-year, although the fourth quarter was somewhat weaker. The company did see some signs that could be encouraging for future growth, particularly its growing subscriber count. There are also other things that could be good for the company's future that are revealed by this report, once we look behind the headline numbers. However, for now at least, investors can be quite pleased with the stability shown by this Swedish behemoth over the course of a difficult year.
As usual, I would like to share some of the highlights from the company's fourth quarter and the full year before getting into the meat of my analysis of them.
The company had net sales of SEK 26,503 million in the fourth quarter. This represents a decrease of 2.1% over the prior year quarter.
The company's addressable cost base was SEK 7,466 million in the fourth quarter. This is an increase of 1.0% over the prior year quarter.
TeliaSonera's reported EBITDA decreased 3.0% in the fourth quarter of 2013 compared to the prior year quarter to SEK 8,728 million.
The company's fourth quarter operating income declined fairly substantially year-over-year, from SEK 7,826 million to SEK 4,560 million. However, much of this was due to non-recurring items. Excluding these items, the company's operating income declined 7.0% year-over-year.
The company's net income in the fourth quarter was SEK 2,190 million. This represents a decrease of 68.2% compared to the prior year quarter.
TeliaSonera's net income works out to an earnings per share of SEK 0.51 in the fourth quarter. This is also a decrease from the prior year quarter's EPS of SEK 1.59.
As I stated in the introduction, these numbers look quite weak at first glance. In the fourth quarter, TeliaSonera reported a net sales decline of 2.1% year-over-year. However, this was not due to any weakness on the part of the company. As I have written about in my previous articles on TeliaSonera, the company operates in several countries, many of which are emerging nations, which have a much lower mobile penetration rate than we have in Western nations. These emerging markets' presence is a significant growth opportunity for the company and a major part of my investment thesis for it. However, emerging markets have suffered greatly in the financial markets over the last several months and many of them have seen the values of their respective currencies decline. This affects TeliaSonera as it does business in those countries and is paid by its customers in the currencies of each respective nation. However, the company needs to convert all of the foreign currency that it collects back into Swedish krona for reporting purposes. As the foreign currencies have declined in value, they convert into less krona than they did six months or a year ago. Thus, the company's reported sales go down even if it collects the exact same amount of currency that it did previously. In fact, this was the case as the company's sales in local currencies during the fourth quarter were almost flat compared to the prior year quarter, declining just 0.2%.
These currency fluctuations were also the reason for the company's year-over-year EBITDA decline. If the company's EBITDA is measured by local currencies, on a country by country basis, then we see that it actually increased by 0.1% on a year-over-year basis.
In the second quarter of 2012, TeliaSonera received a massive dividend from Russian telecommunications giant Megafon totaling SEK 11,726 million. This dividend was one of the largest contributors to the company's free cash flow in 2012. The company received this dividend again in 2013. However, it was much smaller, totaling SEK 1,940 million. The receipt of this much smaller dividend is the reason why the company saw its free cash flow decline on a year-over-year basis, going from SEK 23,740 million to SEK 16,310 million. Megafon's dividend last year to TeliaSonera was a special, one-time event that was paid due to the resolution of a dispute and so the smaller payment this year was entirely expected so there is nothing to worry about here. The company's lower year-over-year free cash flow is also nothing to be worried about. Once the dividends that TeliaSonera received from Megafon are excluded from the company's results, its free cash flow actually increased on a year-over-year basis, from SEK 12,014 million to SEK 14,370 million. This is a sign of operational strength, not weakness.
In my previous reports on TeliaSonera, I have stated that the company's operations in the emerging markets of Central Asia are going to be the drivers of its forward growth. Many of these countries do not yet have the same penetration rates of mobile services that Western nations enjoy but these services are catching on quickly. Thus, those companies that already have an established presence in these nations, such as TeliaSonera, have a first mover advantage. We can see TeliaSonera's growth potential in these nations in its fourth quarter results. The company saw its revenues derived from mobile data grow over the fourth quarter in every Central Asian country in which the company operates, except for Moldova, which saw only a slight decline.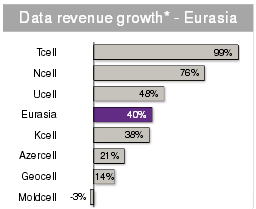 Source: TeliaSonera
However, in a few of these countries, particularly Georgia (Geocell), the growth in mobile data revenues was offset by declines in the company's traditional wireline businesses. However, the net effect was still positive with the company's Central Asian operations experiencing 7.7% revenue growth in aggregate year-over-year.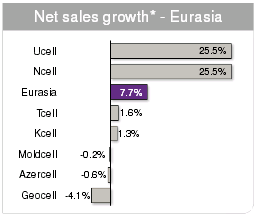 Source: TeliaSonera
In previous articles on TeliaSonera, I have discussed the strong opportunities that the company has to grow its revenues and profits in Nepal and Uzbekistan and we see that playing out here. The company grew both its Nepalese- and Uzbekistani-sourced revenues by 25.9% year-over-year as the chart above shows. I have also discussed Kazakhstan as a significant growth market for the company in previous articles. This proved to be the case in both the fourth quarter and in the full year 2013 as that country delivered the second highest level of subscriber growth, after Nepal. The total number of subscribers that the company has in the country increased by 56,000 in the fourth quarter alone and by 800,000 in 2013.
Regardless of the company's growth prospects, one of the primary reasons to invest in a telecommunications company is to receive cash flow in the form of dividends. TeliaSonera shines here, too. For 2013, the company increased its dividend to SEK 3.00 per share, an increase of 5.26% over its previous level. This increase continues the company's recent history of consistent dividend growth, although its long-term record is somewhat more spotty.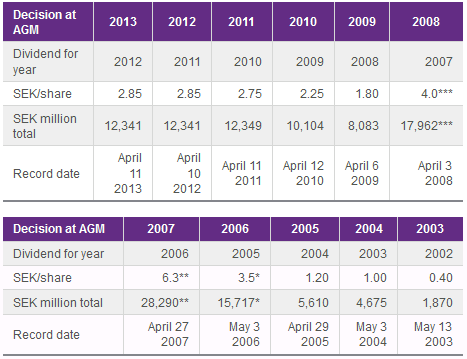 Source: TeliaSonera
The reason for its spotty history of dividend growth is that the company has the stated policy of paying out at least 50% of its net income to investors in the form of a dividend. This policy results in a dividend that fluctuates with the company's net income but generally trends upward as it grows. This policy differentiates the company from American and some other European companies that set a fixed dividend and rely on share growth to a greater extent than TeliaSonera to allow investors to share in the company's profits. Unfortunately, as we have seen in the past few weeks, share price appreciation cannot always be relied upon as a method to share profits with investors. At the time of writing, TeliaSonera trades at a price of SEK 48.35 on the OMX in Stockholm. Therefore, this increased dividend gives the company a forward yield of 6.20% (before the Swedish withholding tax of 15% for U.S. investors) for an investor purchasing the stock at today's prices.
Disclosure: I am long TLSNF. I wrote this article myself, and it expresses my own opinions. I am not receiving compensation for it (other than from Seeking Alpha). I have no business relationship with any company whose stock is mentioned in this article.
Additional disclosure: My long position in TeliaSonera consists of the local shares traded on the OMX in Stockholm and not the OTC shares that trade in the United States.