Affordable Care Act's Impact On Job Creation
The Federal Reserve has desperately been trying to step back and allow the economy to take center stage. Unfortunately, just as the Fed has started to taper their monthly bond purchases, the global economy has hit a rough patch. In the United States, government regulation impacts hiring decisions and earnings. The CBO says a recent piece of legislation may hamper economic growth, causing some more sleepless nights for Fed officials. From Bloomberg:
Obamacare will reduce the hours Americans work by the equivalent of 2 million full-time jobs in 2017, the Congressional Budget Office said, sparking renewed Republican criticism of the law and a fresh defense from the White House. The total number of hours worked will fall about 1.5 percent to 2 percent from 2017 to 2024 as a result of the health-care overhaul, the CBO said yesterday in a report. The reduction, about twice the agency's estimates in 2010, is due "almost entirely" to low-wage employees who may choose to give up extra hours of work to avoid losing subsidies or tax advantages under the law, the report said.
How Is That Fractal Analysis Holding Up?
In an October video, we covered a potentially bullish development in stocks from a long-term perspective. Given the stock market's recent plunge, you may be wondering how the "fractal" analysis is holding up. As you can see in the updated version of the breakout chart below, recent declines have done nothing to negate the bullish potential of the chart looking out months/years from now. It is not unusual for markets to "retest" bullish breakout levels. A retest of the 13-year breakout levels would mean the S&P 500 would have to return to 1,560ish or so. That sounds harsh and possibly unbelievable to some, but we have to respect it as one of many possible market scenarios.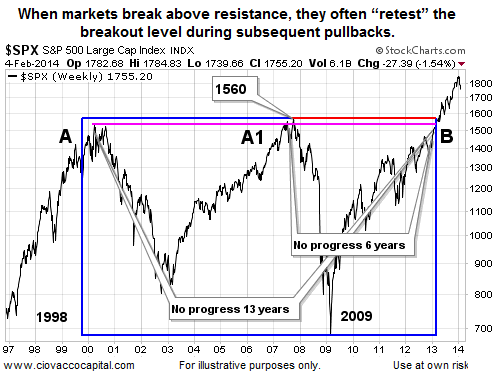 Deepening Sense Of Economic Doubt
Someone who works outside of the financial markets may be thinking, "Why did stocks make a sudden and sharp about-face?". From The Wall Street Journal:
A series of sudden, unfavorable events has in just a matter of weeks changed bright optimism about the pace of growth in the global economy this year to a deepening sense of doubt. The warning signs are plentiful: Tumbling stock prices around the world, disappointing economic reports in the U.S. and China, hasty interest-rate increases in major developing countries including Turkey, India and South Africa, and whispers of disappointment in corporate earnings conference calls. They are combining to send a signal that the global economy might not be on the strong footing it appeared to be at the start of 2014.
Trendlines Can Give Clues
We often refer to support levels as "possible support' since leaving the possible out can allow for biased self talk, such as "stocks will hold at this trendline". Trendlines can be very useful in terms of understanding where buyers may step up to the plate, but trendlines can be broken as well. The chart below tells us support could reasonably come in between current levels and 1,700ish. If 1,700 fails to hold, the A-B trendline below hits the probability radar.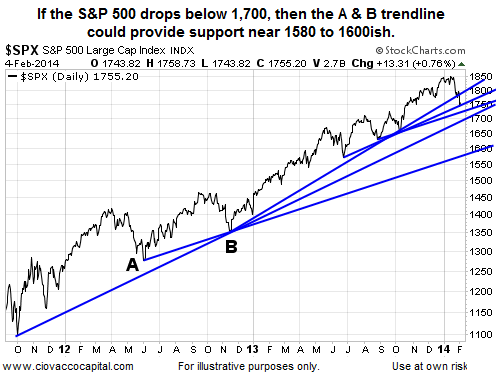 Investment Implications
As outlined on January 24, the market's pricing mechanism called for risk-reduction steps almost three weeks ago, which aligns with the following investment tenets of success:
The market will guide us if we are willing to listen with an unbiased and flexible ear.
There is no need to predict anything to prudently manage risk.
If the second point above has you asking "what about 1987 or the 2010 Flash Crash?", 1987 is addressed here and the Flash Crash is addressed here. The market has told us to cut stock exposure and increase bond exposure over the last three weeks. Since our market model requires, by firm rules, that allocation adjustments be made in a timely manner, we have followed the market's risk-reduction signals without hesitation. Consequently, we entered this week with a defensive and flexible portfolio consisting of cash, bonds (NYSEARCA:TLT), U.S. stocks (NYSEARCA:SPY), and technology stocks (NASDAQ:QQQ). Even after Tuesday's dead cat bounce, TLT was beating SPY by 1.74% this week (before Wednesday's opening bell), which means listening to the market has helped us prudently shift our portfolios to remain aligned with a more risk-averse and less favorable environment for investors.
Disclosure: I am long SPY, QQQ, TLT. I wrote this article myself, and it expresses my own opinions. I am not receiving compensation for it. I have no business relationship with any company whose stock is mentioned in this article.