Both charts below paint views of what drove, and continues to drive, U.S. single family home prices over the long term. It is actually a 50-year view. Not shown is the U.S. median index from 1963 to 1976. That period is less volatile than any other is since 1976.
Chart 1 displays changing new home prices relative to personal income, the arbiter of home values. It is an historical affordability or value index. Median sale price is divided by per capita income for the U.S. and its regions for the last 38 years. An index of 6.5 means one dollar of income buys six and one-half dollars of the median price of a new home.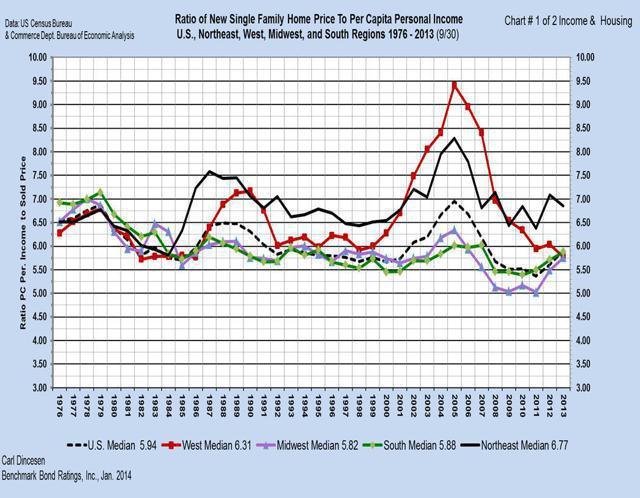 Since the mid-70s, trends in per capita personal income (Chart 2) and the two post war real estate bubbles (Chart 1) can be readily seen, as well as higher volatility in income adjusted value.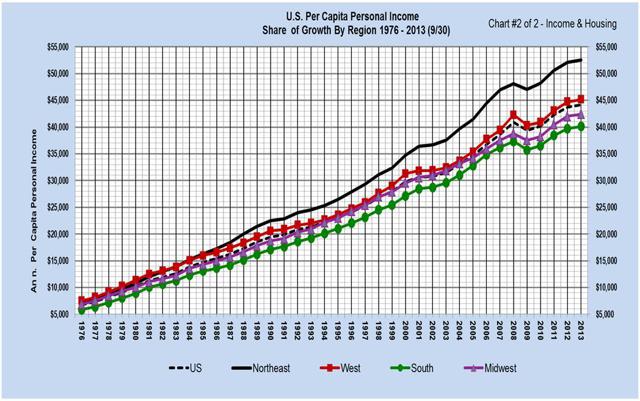 Patterns of recovery vary by region. Homes in the Northeast, which excludes D.C., Virginia and Maryland, retained a greater percent of income adjusted peak price than any other region while the West lost the most.
The West is the only region where the ratio is currently below its long-term median. A look at per capita personal income by U.S. region, Chart 2, helps see what underlies some of the variances depicted in Chart 1. It may also dampen a view that the best home values for buyers are in the West because affordability or value is the highest since the mid-1980.
Because of its outsized population and continuing growth, personal income in California has trended down to the national average. Nonetheless, it is a fact with investment implications. All else equal, higher income per person is better than less, irrespective of the presence or absence of income redistribution.
California accounts for about 80% of the West Region. Whether that region can host another housing bubble or achieve an index level significantly above its long-term median appears doubtful in the intermediate term.
The Northeast index has stabilized at a level above its 40-year median. The other regions, except the West have recovered to their long-term ratio medians. The Northeast's growing share of per person income and a ratio that is above its long-term median appears to make homes in Northeast the best value for buyers seeking medium and long-term price appreciation.
The South and Mid-West appear to have a fairly valued stock of single family housing with average prospects for appreciation.
I am particularly bullish about how the U.S. economy will perform over the next two years and the positive role the housing recovery will play in it. The press and many economists have been too pessimistic about economic recovery for too long. Unemployment is a lagging economic indicator.
Everyone knows that besides the recession's intensity and length, or because of it, government hiring has not recovered as it has in all past economic downturns and it will not any time soon. It does not take a genius to figure out that it takes much longer to find employment in the private sector if you are a former long-term government employee. There are about 3 million people in that category alone. As well, housing is still a little more than half its pre-bubble size.
In conclusion, it appears that single family homebuilders particularly those with a strong presence in the Northeast will outperform general equity averages for the next two years. The charts also suggest value (income/price) can change a great deal in a short period. It makes sense to time home purchase or sale when that option is available.
The disclosed position in HOV is the result of assembling the above charts, not the other way around.
Disclosure: I am long HOV. I wrote this article myself, and it expresses my own opinions. I am not receiving compensation for it (other than from Seeking Alpha). I have no business relationship with any company whose stock is mentioned in this article.