Caterpillar (NYSE:CAT) released fourth-quarter results, and while the performance was better-than-feared, it still wasn't pretty. Revenue dropped 10% in the quarter, but management was able to edge out an $0.08 adjusted profit-per-share increase from the same period a year ago thanks to aggressive cost cutting. Still, it wasn't much to write home about, especially given the sharp drop in sales of new and relatively high-margin machines for mining equipment, which punished full-year results.
We think Caterpillar's dealer network is a significant competitive advantage. The company's reach is phenomenal, with about 50 dealers in the US and over 140 outside of the US (serving over 180 countries). But near-term trends do not at all look favorable for the firm. Industry surveys indicate that total mining capital expenditures will fall another 20% in 2014 from 2013 levels, which when finalized will likely be roughly 5%-10% below 2012 spending. Demand for mining equipment is not expected to improve anytime soon (see here), and the company will have to keep costs in check and remain steadfast in preserving cash flow.
That's exactly what it's doing. During 2013, the company set a record for operating cash flow, focused on its balance sheet, and helped improve its market share position. Machinery & Power Systems (M&PS), non-financial, operating cash flow for 2013 was a record $9 billion, a $4.8 billion increase from 2012 levels. Capital expenditures declined to $2.5 billion in 2013 from $3.35 billion in 2012, implying significantly better free-cash-flow conversion, particularly given the net income declines. Manufacturing free cash flow was $6.5 billion in 2013 (or about 11.7% of sales) compared to $850 million in 2012 (or 1.3% of sales). Better inventory management, enhanced cost controls, and lower capital spending represented the large drivers behind the better free cash flow performance.
Caterpillar also noted that "excluding the impact of cost absorption (its) manufacturing costs and SG&A and R&D expenses were favorable by $1.2 billion compared with 2012." This has been a big, but necessary, reduction in costs to ensure that its bottom line doesn't plummet as rapidly as the top line (it is de-levering operationally). The company also announced that it would accelerate buybacks into the first quarter of this year and issue a new $10 billion stock repurchase program. Though we like the idea of supporting its equity in the open market, our view is that share buybacks at the current share price level will be a value-neutral proposition (see here). We'd be in favor of the company holding onto cash until the top line starts heading north (until we know it won't need the cash) and/or when the firm's shares become significantly underpriced (a value-creating opportunity).
Management had to say the following about its outlook for 2014, which is about in-line with our expectations:
"We expect sales and revenues in 2014 to be similar to 2013-about $56 billion in a range of plus or minus 5 percent. To provide a better understanding of our expectations for 2014 profit, we are providing our outlook with and without anticipated restructuring costs. During 2013, we worked on a large number of restructuring activities. Some actions have already occurred, some have been announced and are in process and some are anticipated in our outlook for 2014. In total, we expect the cost of these restructuring actions in 2014 to be about $400 to $500 million and estimate a 2014 after tax impact of about $0.50 to $0.60 per share. With sales and revenues at $56 billion, our profit outlook for 2014 excluding restructuring costs is $5.85 per share, and including restructuring costs of $0.55 per share, our profit outlook for 2014 is $5.30 per share.

We see some signs of improvement in the world economy, which should be positive for sales in our Construction Industries and Power Systems segments. However, despite our expectation that mine production will continue to increase, we expect mining companies to further reduce their capital expenditures in 2014. As a result, we're expecting sales in Resource Industries to decline modestly. We've already taken a number of restructuring actions to help improve our financial results and expect to take additional actions in 2014. We continue to be cautious and are making the tough decisions necessary to better position us down the road when economic conditions improve and our sales rebound."
Valuentum's Take
Caterpillar is a strong company with a solid brand name and a significantly improved free-cash-flow focus (particularly with inventory management). However, its operations are cyclical, and profits can move around quite a bit through the course of the economic cycle (see image below). Given recent performance and the outlook for mining capital spending, we're surprised the stock hasn't fallen further. We're not looking to catch a "falling knife," and we think a better price could be had before we would consider entering Caterpillar's shares in the portfolio of the Best Ideas Newsletter.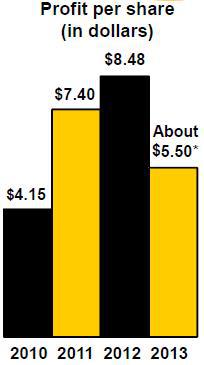 Image Source: Caterpillar
Disclosure: I have no positions in any stocks mentioned, and no plans to initiate any positions within the next 72 hours. I wrote this article myself, and it expresses my own opinions. I am not receiving compensation for it (other than from Seeking Alpha). I have no business relationship with any company whose stock is mentioned in this article.