By David Russell
Public Service Enterprise Group (NYSE:PEG) popped higher on the open today, and some bulls are looking for another jolt to the upside.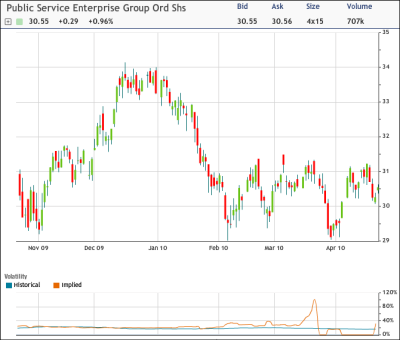 optionMONSTER's Heat Seeker tracking system detected the purchase of more than 8,000 June 30 calls on the public-utility stock, most of which priced for $1.25. Volume was more than three times open interest in the strike.
PEG rose 0.96 percent to $30.55 in morning trading but is down 8 percent this year. The shares have been drifting lower along with the rest of the utility sector as investors have opted for faster-growing parts of the market.
The bears have been unable to drive the stock below $29, however, and now traders may be looking for a reversal higher. The call buying also occurred just hours before the company's annual shareholder begins at 2 p.m. ET.
PEG must climb more than 2 percent by expiration for the options purchased today to turn a profit.
The trade pushed overall options volume in the stock to 17 times greater than average, with calls outnumbering puts by 345 to 1.

Disclosure: No positions