With today's - Feb. 5 - earnings release and conference call, Magellan Midstream LP (NYSE:MMP) bumped up the company's 2014 guidance for distribution growth this year. The new guidance came as a surprise, coming less than a month after the company repeated the previous forecast during an investor presentation. From the conference call Q&A, it was stated that the guidance increase came after a review of the 2014 projections which shows that cash flow is expected to continue robust growth through the year.
Note: Master limited partnerships are not corporations, so investors in an MLP own units and not shares. Income payments made to investors are distributions and not corporate dividends. However, to keep things moving along and not become repetitive, the words shares and dividends may be used in this article with an understanding that the use is not technically correct.
Investors to Reap 20% Dividend Growth
Previously, Magellan Midstream provided guidance of 15% distribution growth for 2014. With the Q4 earnings release, that guidance was increased to 20% growth in the distributions over the course of 2014. Even at the higher payout level, distributable cash flow coverage is forecast at 1.2 times the expected distribution amounts. When management was asked about the higher payout growth guidance during the conference call, the gist of the answer was that after going over the projected results for this year, with a 15% growth rate too much distributable cash flow would remain with the company compared to investor expectations about the use of that DCF. For 2015, a 15% distribution growth rate has been forecast by the company.
For the full year and fourth quarter of 2013, Magellan Midstream Partners reported distributable cash flow growth of 24% and 32%, respectively. DCF covered distributions last year by 1.35 times. The distribution rate was increased by 17% for the year.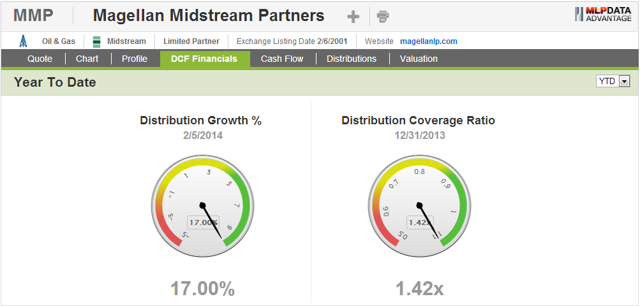 Click to enlarge
Distributable Cash Flow Planned Excess Also to Grow
About 85% of the Magellan Midstream Partners operating margin comes from stable, fee-based business. The remaining 15% is tied to commodity prices and is primarily derived from the company's gasoline blending services. The commodity business was very profitable in 2013 and is forecast to remain highly profitable this year. However, since these profits are variable, in the guidance numbers Magellan Midstream elected to increase the amount of planned, held-back DCF to $125 million this year, up from the $75 million the company had been using to project distribution rates. So along with a higher distribution growth rate for the year, Magellan Midstream is building a larger cushion to make sure it can pay what has been forecast.
To put the $125 million in prospective, here are a few numbers for comparison. The company paid a total of $476 million in dividends over the last four quarters. Operating profit for 2013 was $705 million. Multiply times 15% to represent the variable, commodity earnings equals $105 million. If commodity profits somehow fell to zero, there will still be enough cash flow to meet the dividend projections.
Hard to Miss With This Top Tier Midstream MLP
Magellan Midstream Partners provides a very attractive investment opportunity for investors looking for share price growth driven by a rapidly increasing dividend rate. The company brings the following strengths to the table:
Large cap $15 billion market value provides stability and the ability to take on large projects to maintain the growth engine.
Investment grade credit rating and 100% use of fixed-rate debt.
The majority of growth comes from organic projects. This company is not dependent on acquisitions to maintain the historic growth rate.
Magellan Midstream does not pay incentive distribution rights to a general partner. All growth in DCF can be paid to the limited partner investors.
It was noted in the conference call that Magellan was not having much success when bidding on assets for acquisition. The company is very disciplined in what it will pay to earn the return on investment it needs. Reading between the lines, there may be companies out there that are paying too much for midstream assets.
MMP sports a current yield of 3.6%, which is about as expected for a company growing the dividend at 15% to 20% per year. Outside of a general market correction, the share price will not get much cheaper and will most likely be 20% higher at the end of 2014.
Check on MLPData.com for the latest updates on the distributable cash flow numbers of your favorite MLP companies.
Disclosure: I have no positions in any stocks mentioned, and no plans to initiate any positions within the next 72 hours. I wrote this article myself, and it expresses my own opinions. I am not receiving compensation for it (other than from Seeking Alpha). I have no business relationship with any company whose stock is mentioned in this article.