Shares of Sirius XM Holdings (NASDAQ:SIRI) have consolidated quite a bit since October but falling share prices might offer investors an interesting entry point now. Sirius XM Holdings was quoting at $4.13 on October 22, 2013 and shares are down 17% since even though the stock market pushed ahead much of the fourth quarter 2014.
I always look favorably on stock market corrections as they allow me to purchase more of the stock I already like. While shares of Sirius XM Holdings have lost quite a bit of value, investors should not forget that Sirius XM Holdings is one amazing growth story. Investors who bought shares of the broadcasting company five years ago are sitting on an unbelievable gain of 3,330%. In fact, Sirius XM Holdings has delivered one of the best shareholder returns in recent stock market history.
The current sell-off in equity markets around the world also had an impact on Sirius XM Holdings. At the beginning of the year, the stock quoted at a local High of $3.86 while shares couldn't resist the selling pressure that eventually overtook the market. Sirius XM Holdings is now in oversold territory.
(Source: Yahoo Finance)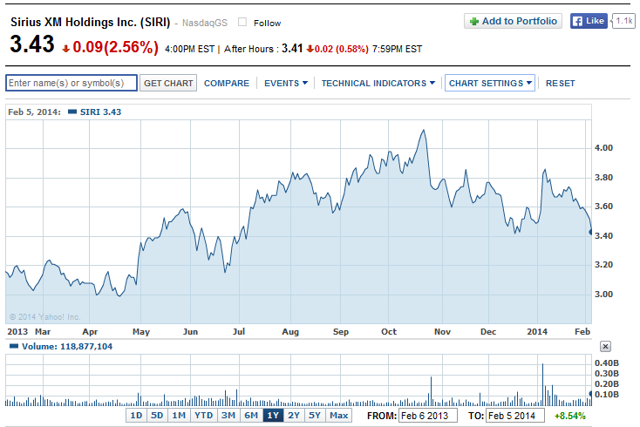 Financial performance
Probably one of the key factors in pushing Sirius XM Holdings' shares lower after the company presented fourth quarter and full-year results, was the net decline in subscriber numbers for the most recent quarter. In the fourth quarter 2013, Sirius XM Holdings reported 23k fewer subscribers than at the beginning of the quarter. While the ending period subscriber number for the fourth quarter indeed is lower than at the beginning (25.56 million vs. 25.58 million) the change is only marginal and not reflective of the underlying trend of increasing subscriber numbers over the course of the year.
Sirius XM Holdings ended fiscal year 2013 with 25.56 million subscribers but started the year with 23.90 million: A net increase of 1.66 million or 7%. Sirius XM Holdings' subscriber base is growing and the fourth quarter decrease in subscribers is of only minor importance.
One indicator that Sirius XM Holdings isn't faltering relates to record quarterly earnings the company presented: In the fourth quarter 2013, Sirius XM Holdings reported $1.0 billion in revenues with subscriber-, advertising and equipment revenues all rising compared to the same period last year. Subscriber revenues increased to $852.5 million vs. 774.5 million in the fourth quarter of 2012 (an increase of 10%). Advertising revenues increased 13% to $25.4 million, equipment revenues 17% to $26.0 million and other revenues 31% to $96.1 million. Total revenues for the quarter jumped 12% y-o-y while the subscriber base certainly remains the most important revenue- and earnings driver for Sirius XM Holdings.
Record EBITDA- and free cash flow
Sirius XM Holdings also achieved a record adjusted EBITDA of $325.6 million which compares against $230.5 million in the year ago quarter (a massive increase of 41.3%). With record adjusted EBITDA and record quarterly revenues of $1.0 billion, it is no surprise that the company also achieved its highest EBITDA-margin on record: 32.5%.
For the full-year 2013, Sirius XM Holdings reported an adjusted EBITDA of $1.17 billion vs. $920.3 million in 2012: A y-o-y growth rate of 26.7%. Sirius XM Holdings' full-year adjusted EBITDA-margin stood at a still respectable 30.7%.
In terms of free cash flow, Sirius XM Holdings also delivered great results: Fourth quarter FCF stood at $303.2 million compared to $269.5 million in the fourth quarter of 2012 (an increase of 12.5%) while FCF for the full-year hit $927.5 million vs. $709.4 million in 2012 (a jump of 30.7%).
One-off items affecting Sirius XM Holdings' fourth quarter profit
Though the company achieved higher income from operations in the fourth quarter 2013 ($245.4 million vs. $213.1 million last year) driven by higher subscriber revenues, net income actually fell to $65.2 million vs. $156.2 million in the year ago quarter. Lower earnings were mainly driven by one-off items such as a $66.2 million loss on the extinguishment of debt, a $20.4 million loss as a result of fair value accounting with respect to derivatives and higher income taxes of $43 million. Those events are technically to be treated as non-recurring (maybe with the exception of income taxes) and do not affect the underlying trend of growing revenues, EBITDA, free cash flow and subscribers.
Outlook
Sirius XM Holdings reiterated its 2014 guidance with respect to subscriber growth and financial metrics. Sirius XM Holdings expects to add 1.25 million new subscribers (net) in 2014 which is a decent amount but would be below the 1.66 million net additions the company achieved in 2013. However, the company might just be managing analyst- and investor expectations and might ultimately outperform the estimate.
Revenues are expected to come in at over $4 billion (5% y-o-y growth), adjusted EBITDA of $1.38 billion (18% y-o-y growth) and free cash flow of $1.1 billion (19% y-o-y growth).
Conclusion
I don't think that Sirius XM Holdings is reversing its subscriber growth trend as some analysts or investors might think based on the quarterly decline in subscriber numbers and the cautious net additions outlook for 2014. The company has just presented record quarterly revenues, adjusted EBITDA and free cash flow. For the first time Sirius XM Holdings managed to deliver more than a $1.0 billion in revenues in a single quarter.
Investors need to realize that companies cannot consistently grow by double-digit percentages without taking an occasional breather. The company posted healthy full-year subscriber growth after all. In addition, strong relationships with car manufacturers and an increase in factory installations of satellite radios could be a major catalyst for Sirius XM Holdings' EBITDA and free cash flow growth in the coming years. SiriusXM-enabled vehicles are projected to grow to over 100 million by 2018 which certainly should help Sirius XM Holdings.
With intact subscriber growth, record revenues and powerful EBITDA- and free cash flow growth prospects due to high car penetration rates (currently in the 70% range) and a massive increase in projected satellite radio installations, Sirius XM Holdings has great appreciation potential and might even surpass its High of $4.13 in the not-too-distant future. Long-term BUY.
Disclosure: I am long SIRI. I wrote this article myself, and it expresses my own opinions. I am not receiving compensation for it (other than from Seeking Alpha). I have no business relationship with any company whose stock is mentioned in this article.