Since reaching the 52-week high of $65.59 in October 2013, the share price of Whole Foods Market (NASDAQ:WFM) has plummeted by almost 20%, compared to a flattish performance of the S&P 500 Index over the period. The price weakness was primarily due to market's concern on the company's profitability prospect as management implemented price investments (i.e. price cut) amid rising competition in the specialty food retail market. In my view, the current negative sentiment appears to be exaggerated and the resulted lower valuation presents a great buying opportunity.
In a recent research note, Deutsche Bank performed a sensitivity analysis that demonstrates a limited margin impact from the company's price cut plan. Based on a 13.4% average price cut assumption across a number of SKUs (i.e. stock keeping units), which would close the price gap between WFM and its rivals (e.g. Kroger (NYSE:KR)), the worst-case scenario (i.e. price cut on 3,000 SKUs, compared to announced price cut on just 200 SKUs) would only reduce gross margin from the current 35.8% level to 34.4%, which is still within management's long-term target of 34% to 35%. In addition, I believe WFM's profitability should be supported by the following developments:
The company is currently in the process of improving shrink (i.e. margin loss due to waste, theft and product spoilage) control and management indicated that there remains a meaningful room for improvement which can be felt over the course of a year or more.
Management suggested that the company would benefit from facility leverage as near-term capex requirement is lower for its existing facilities relative to their volumes and sales growth potential.
It is believed that WFM's continued introduction of additional private label products which bears higher margin should buttress the profitability.
While competition is rising, I believe WFM would continue to benefit from strong secular growth trend for the specialty food retail segment. Nutrition Business Journal estimated that the sales of organic food and natural personal care will grow at 9.5% and 7.9%, respectively, from 2012 to 2020, compared to overall grocery industry sales growth that is projected to be below 3%. Further, WFM management recently told media that the company has a long-term potential to open 1,200 stores across the US, which represents a substantial upside from its current store base of about 350.
Owing to the price plunge, WFM's valuation becomes more attractive and reasonable. The stock now trades at 30.3x 2015E P/E multiple, compared to the same multiple of 14.8x for S&P 500 Index. By factoring in WFM's superior consensus long-term earnings growth estimate of 17.8% (compared to 8.5% for S&P 500), the stock's PEG ratio of 1.70x is slightly below the PEG of S&P 500 at 1.74x.
From a historical perspective, WFM's trailing EV/EBITDA multiple now trades at 14.5x, which is fairly in line with its 10-year average at 14.0x (see chart below).

Click to enlarge
On a relative basis, I view WFM's current valuation to be very reasonable given that:
Consensus estimates call for average revenue and EPS growth rates from fiscal 2013 to fiscal 2016 of 13.0% and 17.2%, respectively, which are in line with their respective 10-year historical averages (see charts below).

Click to enlarge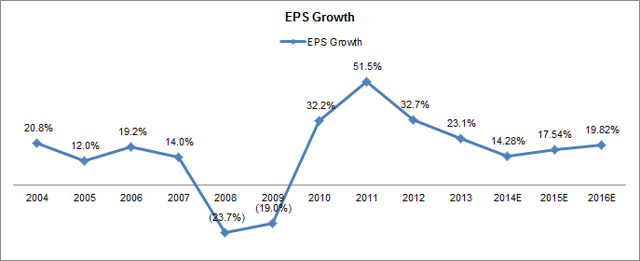 Click to enlarge
WFM achieved a ROIC of 14.3% in fiscal 2013, which was the highest level in the past 10 fiscal years (see chart below).

Click to enlarge
Consensus estimate predicts the company's EBITDA margin to reach 9.9% by 2016, which is markedly above its 10-year historical average at 8.1%.

Click to enlarge
In summary, the market's fear on WFM's prospects is likely overblown. As the shares are now trading at better valuations and the secular industry growth story remains intact, WFM is now a buy.
All charts are created by the author except for the consensus estimate tables, which are sourced from S&P Capital IQ, and all financial data used in the article and the charts is sourced from S&P Capital IQ unless otherwise specified.
Disclosure: I am long WFM. I wrote this article myself, and it expresses my own opinions. I am not receiving compensation for it (other than from Seeking Alpha). I have no business relationship with any company whose stock is mentioned in this article.