The stock market today is incredibly fragile. It was not long ago in the aftermath of the financial crisis that stock investors were tough and battle tested. Persistent uncertainty and sudden volatility were the themes of the day as markets worked to find their footing in the wake of the near implosion of the financial system. But investor memories are distressingly short, as the continuous salve of extraordinarily aggressive monetary policy over the last five years has helped increasingly sedate investors into a soft complacency with the apparent expectation that stocks should do nothing other than go up day after day. These same forces have driven the bears into a deep hibernation with the psychological scars of feeling right but ending up wrong following so many market corrections over the last few years. What we are left with as a result is a frail investor mindset that can tolerate little to no pain. And this condition will help ensure that today's bull market will ultimately die a slow and laborious death once the tide finally turns.
It is striking how painful the current stock market correction has been for investors. The following excerpt from a recent article on Bloomberg.com says it all (emphasis mine).
Goldman to Fidelity Call for Calm After Global Stock Wipeout
Panic is making an enemy of telephones for Catherine Yeung, the director for equities at Fidelity Investment Management Ltd. in Hong Kong
"My children hate that BlackBerry," said Yeung, whose clients have been calling amid two weeks of declines that erased $3 trillion from global stocks. She's advising calm, noting that profits are rising and shares just got a lot less expensive.
"Being a contrarian and getting in when things seem bad is often a good thing," she said in an interview today. "The companies we are looking into can still deliver attractive margins. Things are getting cheap."
Wow. Let me get this straight. Global stock markets as measured by the S&P 500 Index (NYSEARCA:SPY), the developed market MSCI EAFE Index (NYSEARCA:EFA) and the MSCI Emerging Market Index (NYSEARCA:EEM) have each declined by roughly -6% over the last two weeks. And this current decline is taking place after stocks, at least in the developed world, have just finished going up by about +30% last year. Yet this correction has caused such a stir among investors that it is being described as a wipeout that is causing panic and necessitating a call for calm from senior management at leading financial institutions. Really? And since when does a -6% decline in prices to levels that represented new all-time highs just two months ago result in shares becoming a lot less expensive? Such a severe investor reaction to such a modest decline is alarming for stock market prospects going forward to say the least.
So why have investors become so extremely sensitive to any stock market declines? Essentially, investor memories are short. With markets opening and closing for trading up to five days a week, something that happened two years ago or longer seems like it happened in another epoch. Also, a fair number of investors are either fairly new to the market or are just getting back in following a several year hiatus in the aftermath of the financial crisis. As a result, the only experience they know is that of a market that goes nowhere but up.
The following data help highlight why stock investors have become so fragile and unaccustomed to any pain.
First, the following is the number of trading days where the stock market declined by -1.5% or more over the past five calendar years. For 2009, this only includes the period after the market bottom on March 9 of that year. Also included in parenthesis is the worst trading day for each year among this group.
2009: 21 (-4.28%)
2010: 21 (-3.90%)
2011: 33 (-6.66%)
2012: 9 (-2.46%)
2013: 4 (-2.50%)
Why has the recent -6% seemed so dramatic? For one, it is because it has taken place fairly quickly over the course of two weeks. But it is also because stocks have effectively not gone down in any meaningful way over the last two years. For what was once a bad trading day from 2009 to 2011 has become a wipeout and a panic that induces a prime time television special to explore.
The magnitude of the peak to trough declines also highlight how unaccustomed investors have become to any type of loss. During the period from 2009 to 2011, stocks endured several double-digit declines including a -17% pullback over the course of two months in 2010 and an -18% decline in about two weeks in 2011. But since the beginning of 2012, the downside pressure on markets has increasingly vanished. Stocks only endured two extended declines of just -9% and -11% in 2012. And stocks only had three minor corrections in 2013 with two running at less than -5% and the third reaching barely above -7%. In short, the longer the boxer stands outside of the ring, the less the boxer remembers what it feels like to take a punch.
Another subtle factor also likely resides at the core of the panic surrounding the recent stock market "wipeout". While investor bullishness has been running rampant over the last year, it cannot be lost on anyone that the stock market rally has occurred amid the backdrop of a persistently sluggish global economy. This vast disconnect has to stick in the back of the minds of at least some investors, giving them the feeling that they may be investing in something that may not necessarily be real. And while their memories are often short, they still recall enough of the bursting of the tech bubble and the outbreak of the financial crisis to at least wonder if they are exposing themselves to yet another dramatic correction in the near future, particularly given the fact that we are in the fifth year of a bull market with stocks trading just off of all-time highs.
But here is the thing. When an old bull market ends and a new bear market begins, stocks do not simply plunge lower in a straight line. The peaking process at the end of an old bull market typically takes several months at least to play out. This is due to the fact that when bull markets are topping, more than enough positive sentiment exists for owning stocks that many investors believe that the correction was just a blip once its over and that the rally will remain in tact. And for those investors that were left out of the rally along the way, the initial pullbacks provide them with the opportunity to establish positions in an attempt to finally get in on the upside. As for the bears, they have been so thoroughly and repeatedly beaten by this stage of the bull market that they are understandably reluctant to jump on board in trying to push any early corrections to the downside. This pattern typically results in sharp pullbacks being followed by swift rallies, sometimes with stocks reaching fresh new highs in the process. But as each new rally becomes shorter in duration and the subsequent corrections become deeper and more turbulent, bullish confidence is increasingly overwhelmed by bearish realities and the overall direction of these rips and dips begins to move to the downside, eventually accelerating lower but only over time.
In many respects, the current correction bears striking similarities to the suddenly sharp market correction that marked the initial turning of the tide that led to the 2007 to 2009 bear market. After moving relentlessly higher since the summer of 2006, stocks suddenly plunged lower in late February and into early March 2007. And while the threats to stock market stability were well known at that point including excessive real estate speculation and easy credit conditions that were endangering the health of many financial institutions, stocks managed to find support at their 150-day moving average before rallying into July 2007 and finally peaking in October 2007. We all know how things played out from there.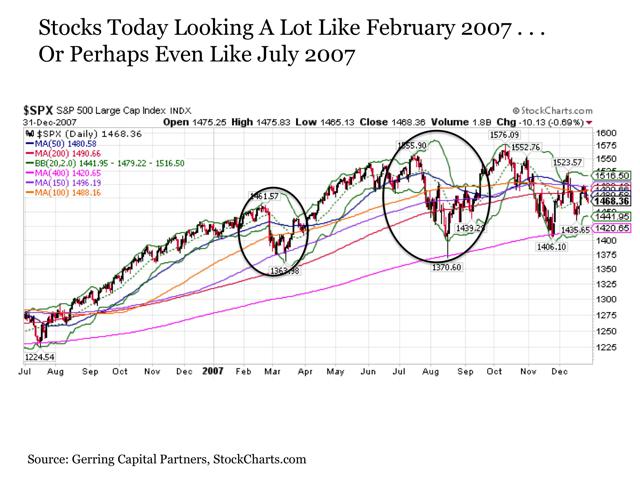 Such is where we find ourselves today. The risks to today's market have been widely known for some time such as persistently sluggish global growth that remains insufficient to overcome massive sovereign debt burdens coupled with the fallout effects from persistently aggressive monetary stimulus including a resurgence in speculative lending activity and increasingly distorted asset prices around the globe that must eventually be unwound. And just as they did in March 2007, stocks find themselves today resting on their 150-day moving average. Whether stocks rally from here or continue to move lower through their 200-day moving average will go a long way in determining whether the onset of the next bear market is coming sooner or later.
Once the bear market finally gets underway in earnest, the pain over the coming years has the potential to be just as profound as the pleasure enjoyed by investors in recent years. This is due to the fact that for every day that "bad news was good news", stocks took an additional step away from their true equilibrium price. And after several years of this behavior, stocks now find themselves far away from where they would be otherwise if bad news was actually allowed to be bad news. Thus, once stocks finally begin to make their way toward equilibrium, the adjustment process could prove agonizingly painful for investors that have become conditioned to nothing but upside in recent years. And given that it increasingly appears that the Federal Reserve and other global central banks have come to the realization that quantitative easing and other persistently aggressive monetary stimulus programs does not result in sustained economic growth and instead only leads to greater wealth disparity and asset bubbles, it is becoming less likely that the Fed and other central banks will be so quick to ride to the rescue the next time the stock market heads lower. As long as the decline is orderly, they are likely to be content to let a good deal of air come back out of capital markets before it is all said and done as their policy focus moves elsewhere. And a prolonged pattern of lower highs followed by lower lows is something that investors have not endured for quite some time.
The tide in the market is now turning, and we have only just begun to feel the pain. It is a process that will take an extended period of time to play out, as the pain certainly will not be felt all at once. But for those that have found the "wipeout" over the last two weeks worthy of "panic", they are in for a most unpleasant surprise, as a -6% decline is nothing compared to what may lie ahead over the next few years. It will be interesting to see, but now is the time to begin using both pullbacks and rallies not only in stocks but a variety of other asset classes to begin preparing portfolios for what potentially lies ahead.
Disclosure: This article is for information purposes only. There are risks involved with investing including loss of principal. Gerring Capital Partners makes no explicit or implicit guarantee with respect to performance or the outcome of any investment or projections made. There is no guarantee that the goals of the strategies discussed by Gerring Capital Partners will be met.
Disclosure: I have no positions in any stocks mentioned, and no plans to initiate any positions within the next 72 hours. I wrote this article myself, and it expresses my own opinions. I am not receiving compensation for it (other than from Seeking Alpha). I have no business relationship with any company whose stock is mentioned in this article.
Additional disclosure: I am long stocks via SPLV and XLU as well as selected individual names.