As a retail investor I am of the opinion that it is extremely hard to outperform the market trading the big names such as Apple (NASDAQ:AAPL), Google (NASDAQ:GOOG), etc. Therefore, I am a big fan of looking at small and mid-cap stocks since investors often overlook them. One company that has had a spectacular one-year run is Hawaiian Holdings (NASDAQ:HA) (market cap $500 million). Over the last few months we have seen a run-up in HA that is most likely due to a short squeeze. As can be seen from the short interest data in figure 2, roughly one half of the shares that were short have been covered over the last three months. I believe that the recent increase in share price is largely due to this fact and NOT that investors have bought into the fundamentals. I will argue why HA is a screaming buy at its current price of $9.69.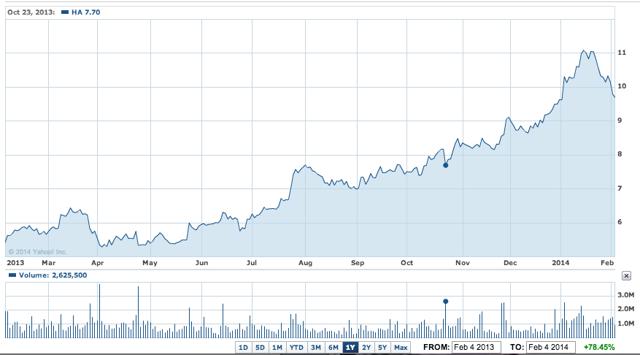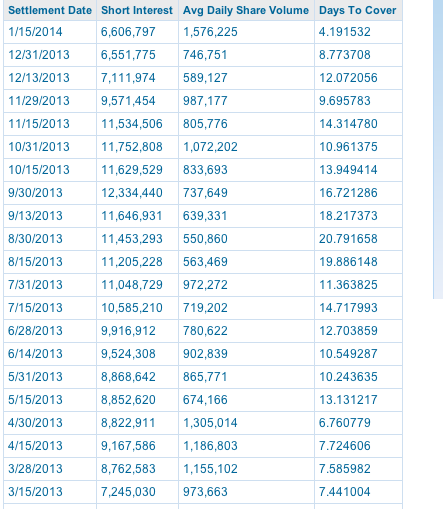 Figure 2
BACKGROUND
HA is the holding company of Hawaiian Airlines and generates its revenue like any other airline. However, what makes HA unique is that, like the name suggests, it is focused on the Hawaiian region, and therefore the success of the company is heavily dependent on people vacationing in Hawaii. But, despite this fact, the company has three diversified sources of revenue. The airline flies internationally, within the US, and also between Hawaiian Islands. Looking at the revenue breakdown, we see that the company has done a remarkable job in that the company is not totally dependent on one specific region.

Figure 3
RECENT EVENTS/ GROWTH OPPORTUNITIES
October 29th- In HA's most recent presentation, the company noted that the average age of its fleet has decreased by almost 50% over the last two years, which has reduced maintenance costs. As the average fleet age continues to decrease, this should improve HA's EPS. Figure 5 shows how capex hit its peak in 2013 and will continue to decrease "to modest levels."

Figure 4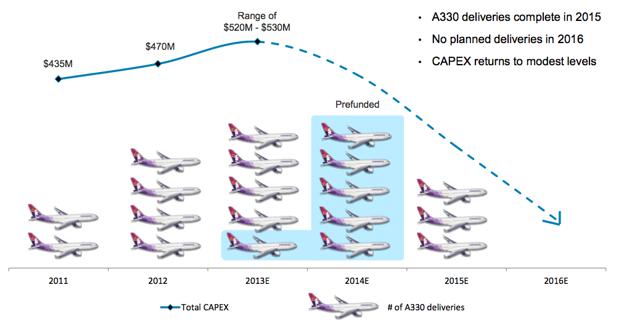 Figure 5
November 26th- HA announced they will begin flying from Beijing to Honolulu, which offers HA a chance to break into a new market.
December 16th- Zac Hirzel, the founder and president of Hirzel Capital Management LLC, was given a spot on the company's board. Hirzel's hedge fund owns 5.6 million shares out of 52 million shares outstanding. He is said to be in favor of HA expanding into Asia. As HA's CEO, Mike Dunkerley, said:
"Mr. Hirzel has been a champion of Hawaiian's expansion into Asia and appreciates the value inherent in the overall business," Hawaiian Holdings and Hawaiian Airlines President, CEO and board member Mark Dunkerley said in a statement. "We welcome the expertise that he brings as the newest addition to our board."
January 7th- HA announced it carried a record 9.9 million passengers in 2013, an increase of almost 5% year over year. Considering that most of the US economic data is trending in the right direction the company should be able to carry at least 5% more passengers in 2014 as well.
January 30th- HA announced it will now be selling Extra Comfort premium economy seats. These seats will cost anywhere from $60-$100 more for a one-way ticket. This is another source of revenue growth.
Present Day- 15-20% of HA's sales is exposed to the Yen. As the dollar rebounds against the Yen since 2012 this has greatly improved HA's sales. The company said they plan to use forward contracts and options to protect themselves from another devaluation of the Yen.
VALUATION
HA is trading at a bargain at .24x sales whereas the industry average is four times that (figure 6)! Additionally, when comparing HA to its peers, it is trading at a 37% discount to the average p/e and a 28% discount to the average forward p/e (figure 7). Using the EPS estimates given on Yahoo Finance and assuming a relatively inexpensive p/e of 12x 2014 EPS we get a price of 14.64, which is a 51% increase from today's $9.69 price (figure 8).
If we use the price to sales ratio: assuming only a .5x 2014 sales at the current estimate of $2.34 billion results a price of $22.35, an astounding 130% increase from today's price (using .5= STOCK PRICE/ revenue per share of $44.7=$22.35) (figure 9). As we can see from figure 10 analysts have recently upped their EPS estimates, so even current estimates might be conservative (although they are estimates so they may turn out to be too aggressive as well).
I believe that both 12x 2014 EPS and .5x 2014 sales are realistic valuations and therefore I believe HA has at least 50% upside with the potential for more. In terms of downside, excluding Delta's 2.44 p/e ratio (which may be due to the fact its forward EPS is 10) the lowest p/e in the airline industry is China Eastern Airlines with a p/e of 8.15, so using that as our low valuation point we would arrive at a downside of $9.94 at 8.15x 2014 EPS. With an upside target of at least $14.64, and with a downside of $9.94 (which is still greater than today's closing price of $9.69), HA has tremendous upside. If we wanted to be extremely conservative and assigned a 7x 2014 EPS we would arrive at a price of $8.54. This translates to 50% upside with only 13.4% downside, which results in an almost 4 to 1 ratio.

Figure 6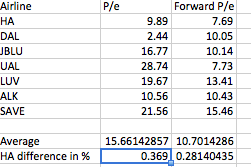 Figure 7

Figure 8

Figure 9

Figure 10
SENSITIVITY ANALYSIS
Even assuming the lowest EPS in the industry of 8.15 and a 2014 EPS of 20 cents lower than estimates would result in a share price of $8.31, which is a downside of 16% from today's price. Compare that with the average case highlighted in yellow and the result is 50% upside (vs. 16% downside), which positively skewed as a 3 to 1 ratio between upside and downside. [NOTE: the industry average EPS is over 15x earnings, which isn't even reflected below.] Using the 15.66x average of its biggest competitors at 2014 EPS gives us a share price of $19.10, which is a 100%+ gain from today's price.

Figure 11
RELATED CATALYSTS
An improving economy leads to more traveling, especially to Hawaii.
Buyout candidate- we have seen consolidation in the airline industry and HA has demonstrated to be the go-to airline in the Hawaiian region.
The new route to Beijing should lead to high demand for HA flights as this recent WSJ article says that the Chinese are flocking to Hawaii for vacation.
The company added rental cars and hotel bookings to its site, and revenue from these services is expected to double in the next few years.
RELATED RISKS
The economy does not improve as expected.
Higher oil prices can affect EPS numbers.
A bigger airline can create a price war in attempt to drive HA out of the market.
CONCLUSION
HA remains a great buy despite the recent rise in share price and the related risks mentioned above. Aside from the recent developments and cheap fundamentals, HA remains a takeover candidate as we have seen consolidation in the airline industry (such as US Airways and American). An airline looking to break into the Hawaiian region will undoubtedly look to acquire a proven player, such as HA, in that region. Regardless of how you look at HA, it appears to be a screaming buy.
Disclosure: I have no positions in any stocks mentioned, but may initiate a long position in HA over the next 72 hours. I wrote this article myself, and it expresses my own opinions. I am not receiving compensation for it (other than from Seeking Alpha). I have no business relationship with any company whose stock is mentioned in this article.