Twitter (NYSE:TWTR), among a group of companies that fetch sky-high dotcom valuations, has had quite a successful stock market debut. The online social networking and microblogging company went public in early November at an IPO price of $26 per share. Twitter shares soared on its first day of trading and closed at $44.90 highlighting that the company and its underwriters left billions of dollars on the table during its public offering process even though Twitter's equity offering was hopelessly oversubscribed.
(Source: Yahoo Finance)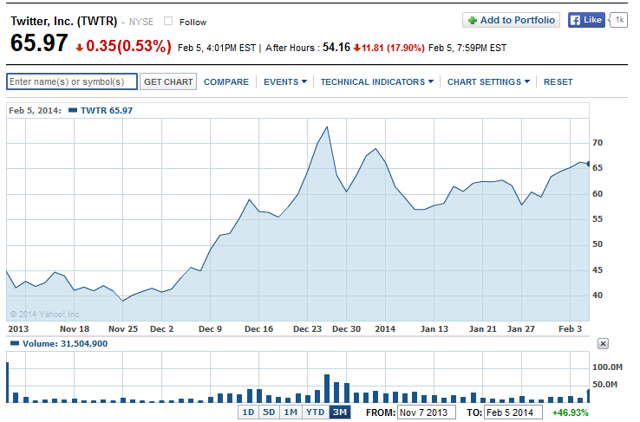 Twitter's valuation is extreme
With Twitter's share price soaring on its first day, it appears that the underwriters including Goldman Sachs (NYSE:GS) as well as Twitter itself underpriced the IPO leaving a decent chunk of money on the table. Facebook's (NASDAQ:FB) sluggish IPO performance, which raised the suspicion of overpricing, probably contributed to Twitter's pricing reservations. A Facebook debacle needed to be avoided at all costs.
Ultimately, investors purchased shares in the open market driving them to new highs throughout much of December. As a result, Twitter's valuation has now skyrocketed to a massive $36 billion. Like many other much-hyped companies in the sexy social media/internet sector, Twitter faces extreme expectations; many of whom will be disappointed at some point of time.
Overvalued mainstream stocks
Twitter, like Facebook, LinkedIn (NYSE:LNKD), Netflix (NASDAQ:NFLX) or Zynga (NASDAQ:ZNGA), does not necessarily convince investors in terms of financial performance. Zynga is a similarly overhyped and mispriced company in the red-hot social media sector that runs primarily on its perceived bond with Facebook. Zynga and Twitter share some similarities: Both achieve sky-high valuations, operate in a sector hyped by investors and post dismal financial performance results (Zynga thesis here).
In fact, valuation premiums assigned to such companies occur because these companies have successfully created the perception that they are indispensable institutions in an internet-based economy. The valuations witnessed in the market for such firms is often completely detached from underlying financials such as earnings, EBITDA or cash flow. Instead, investors focus on substitute metrics such as member count, subscription growth and other intangible metrics that suggest to investors that gigantic monetization rates are just waiting around the corner. Unfortunately, investing doesn't work that way. Paying 60-70 times sales (yes, that's sales not earnings) for Twitter, a company that is still highly loss-making, doesn't sound like prudent investing. Eventually those lofty expectations will be disappointed. Just like yesterday when Twitter reported fourth-quarter results.
Twitter's released results harshly highlighted that the company is still unprofitable even though the social media darling presented an earnings and revenue beat. Twitter shares were down nearly 18% in after-hours trading and I expect this momentum to continue in today's pre-market and actual trading session.
Quarterly results giving investors a sense of reality
Twitter reported a fourth-quarter diluted net loss per share of $1.41 which compares against a loss of $0.07 in the quarter a year ago. Its non-GAAP diluted EPS came in at $0.02 vs. $0.00 last year and vs. analyst estimates of $(0.01): An earnings beat of $0.03. Revenues for the fourth quarter stood at $242.7 million compared to $112.2 million (up 116% y-o-y) and compared to consensus estimates of $218.5 million.
Twitter's total GAAP net loss in Q4 2013 stood at a whopping $511.5 million compared to $8.7 million in the year ago quarter. The loss includes a $521 million charge with respect to stock-based compensation expenses. On an adjusted basis Twitter achieved net income of $9.8 million vs. a loss of $0.3 million in the fourth quarter of 2012.
For the full-year 2013 results look not that different: While revenues skyrocketed 110% from $316.9 million in 2012 to $664.9 million in 2013, Twitter remained a highly-loss making enterprise: Its GAAP net loss for the full-year 2013 came in at $645.3 million vs. $79.4 million in 2012. On an adjusted basis Twitter lost $34.4 million compared to $35.2 million in 2012. The diluted net loss per share (GAAP basis) widened from $0.68 in 2012 to $3.41 in 2013.
Key performance metrics faltering
Twitter reported only a 30% y-o-y increase in Monthly Active Users to 241 million. MAUs grew 6% in the third quarter 2013 and MAU growth has decreased to 4% in the most recent quarter which is far off from the 10%-plus growth rates seen in 2012. Twitter also reported a 26% y-o-y increase in timeline views to $148 billion. Timeline views actually fell 7% sequentially from 159 billion in the previous quarter and investors will use Twitter's sliding growth to question their investment thesis and scrutinize Twitter's business model more heavily.
Conclusion
In its first earnings release as a public company, Twitter has given investors who are obsessed with above-average growth a sense of reality. Many investors assume that innovative companies can grow exponentially or at least linearly. Twitter's fourth-quarter results serve as a reminder that both growth and equity valuations do run into constraints. As a value investor I clearly question the almost comical valuation of 60 times sales for a company that isn't producing a profit. Investors need to be aware that Twitter's market price is driven by speculators not by investors who conduct fundamental research and apply sound valuation methodologies. Even after the nearly 20% after-hours correction Twitter still fetches a dotcom valuation because of its affiliation with the social media and instant messaging sector. Value-oriented investors have nothing to gain from an investment in Twitter and should stay away.
Disclosure: I am short NFLX. I wrote this article myself, and it expresses my own opinions. I am not receiving compensation for it (other than from Seeking Alpha). I have no business relationship with any company whose stock is mentioned in this article.