United Parcel Service (NYSE:UPS) is one of the strongest players in the cargo industry next to rivals such as FedEx (NYSE:FDX). Over the past year the company has experienced share value growth of nearly 17% and currently trades at $95. The recent shipment crisis due to delivery issues with Amazon (NASDAQ:AMZN) temporarily affected the company's profits. Nonetheless, UPS reported another splendid quarter this week and continues to offer future growth potential to investors.
The Quarter
The domestic package segment accounts for most of UPS' revenue and improved by 4.2% to $9.3 billion this quarter. The result was an increase of volume jumps (5.6%). However, revenue per package was declined by 1.3% as service refunds rose along with a change in product mix. This was a result of greater than expected volume during the Christmas season that not only impacted revenue but profit as well.
Domestic profit was impacted by $178 million in additional costs
The operating profit totaled $1.2 billion which was a smaller figure than expected owing to the company's measures to cope with the holiday load that increased costs by $178 million at the last moment. The company had to employ 30,000 additional seasonal workers which increased costs along with higher transportation expenses.
International was a win-win with no holiday impact
International revenue increased 5.3% to $3.4 billion due to an 8.8% growth in daily package volume. UPS export products rose 9.5% per day driven primarily by a 13% growth in Europe and significant growth in the Asia to Europe trade lane. Non US domestic products were also up 8.2% with strong growth in Poland, Italy, and Canada.
Operating profit improved by 7.6% to $537 million expanding the operating margin by 30 basis points to 15.9% compared to last year's adjusted results.
Diluted EPS totaled $1.25 reflecting a 5.3% ($0.07) decline from 2012's fourth quarter adjusted results. All in all, had the company not been affected by the holiday volume that drove revenue and costs in the wrong direction UPS would have reported a better quarter. Christmas Crisis
UPS has increased its 2014 CAPEX budget to better support future volume
UPS plans to avoid a repeat of last year's Christmas holiday season when unexpectedly high volume and huge delays frustrated customers who wanted their packages delivered on time. The unexpected rise in online shopping combined with bad weather and a shorter holiday shopping season than 2012 added to the bottlenecks UPS experienced.
The company is investing in new technology and expanded capacity so that the 2014 holiday season goes smoothly. It has increased its investment in capacity expansion by $500 million which has moved total CAPEX for 2014 to $2.5 billion. The new technology will also implement systems that can track packages from retailers since presently the company had no status updates on packages until they arrived at its sorting lot. Amazon is a key customer for the company and the recent action cushioned the bad publicity it had to face due to UPS.
These announced changes contributed towards the fact that Amazon hasn't announced that it would change its primary courier so that should relieve UPS investors regarding any declines in the top line in the future that would have come had the online retailer changed its service provider.
Future Growth
Global trade is expected to grow 4.5% this year. With increasing globalization, the rate has always been positive. As many companies expand into foreign territories such as emerging markets this is likely to happen. Developing economies including the Commonwealth territories are expected to outpace developed economies in growth in imports and exports by almost double. The trend has been visible in the past through UPS' number of international deliveries and revenues (see graph below).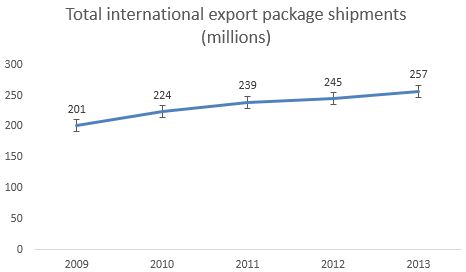 This growth will help UPS' top line as the company is widely present across the globe. The company's investments will further complement the favourable market. Last year, UPS announced two new distribution facilities in Chengdu and Shanghai that will help cater to shippers who want to deliver to China. It has also made the acquisition of two small Costa Rica based logistics companies to expand its presence in Latin America.
Bottom line growth will come from ORION
With regards to the bottom line, the software that was launched a while ago and is still in its deployment phase is a result of heavy investment by the company. ORION helps UPS drivers find the fastest, most fuel-efficient route to get every package to a customer's door and saves millions of dollars in fuel.
The company saved 3 million gallons of fuel during its testing phase of the program from 2010-2012. For 2013, the expected savings is nearly 1.5 million gallons. Once the program is rolled out to every driver by 2017 it is going to save around $50 million by taking just one mile off each driver's daily route.
Conclusion
The right time to buy UPS is now!

Source: Reuters
With good future top and bottom lines, the recent Christmas crisis that depressed UPS's price provides a good opportunity to invest in the stock. Share value has dropped nearly $10 (9.5%) from $105 since the beginning of January this year. The market still doesn't reflect UPS' move to protect future orders and it is likely that the true value will not be incorporated until the next Christmas quarter is announced. Considering the future potential and present opportunity, I give UPS a strong buy rating.
Disclosure: I have no positions in any stocks mentioned, and no plans to initiate any positions within the next 72 hours. I wrote this article myself, and it expresses my own opinions. I am not receiving compensation for it (other than from Seeking Alpha). I have no business relationship with any company whose stock is mentioned in this article.