After a steady and ascendant stock market for most of 2013 leading to mounting levels of complacency amongst stock market participants, 2014 has been a much different story. Last year was remarkably devoid of fear and there was a resultant build up in excess bullish sentiment. Some indicators of this excess bullish sentiment were the depressed put call ratio, record high levels in margin debt, and the momentum fueled frenzy in certain sectors such as social media stocks and 3d printing stocks.
In recent weeks, the market has fallen precipitously. The S&P 500 almost made new all time highs on January 21 around 1850 and subsequently fell off a cliff, hitting Tuesday's intraday low at 1738. In recent days despite market weakness, there have been some constructive developments. Due to the severity of the selling, the market has reached oversold levels that have reliably led to powerful, snap back rallies that make up huge chunks of losses in days.
In this article, I want to make the case for this bounce. I also want to examine the heavy damage inflicted by the selling, and reasons this sell off is different from recent bouts of market weakness. My conclusion is that those with a longer term horizon should wait for lower prices or for market conditions to improve, while traders attempting to take advantage of oversold conditions should also respect the down side and aggressively manage risk.
Ready to Bounce?
After an intense bout of selling, it is normal for relief rallies in which buyers come in to scoop up beaten up shares and shorts cover their positions pushing prices up rather quickly. I want to examine past oversold rallies since this nonstop, low volatility push higher started in November 2012.
From the chart below, we see that one commonality between these oversold rallies is a spike in the VIX (NYSEARCA:VXX) or the volatility index which is basically the cost of buying insurance on the S&P 500 (NYSEARCA:SPY).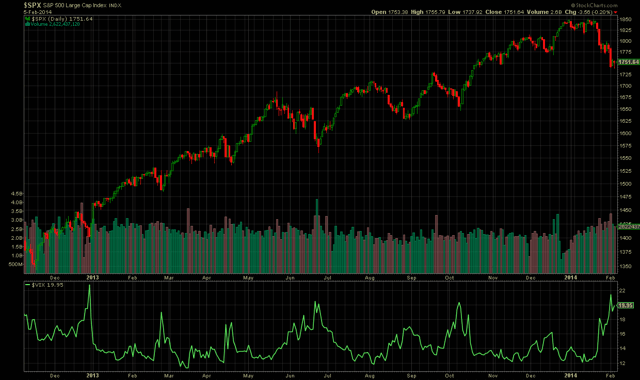 Of course, this is by no means a guarantee that the market will rally. However, it is quite clear that at least in the past year, elevated levels of fear, specifically when the VIX goes parabolic, have been excellent buying opportunities.
Another chart below shows the market has reached quite oversold levels that have correlated to favorable opportunities on the long side in the past year: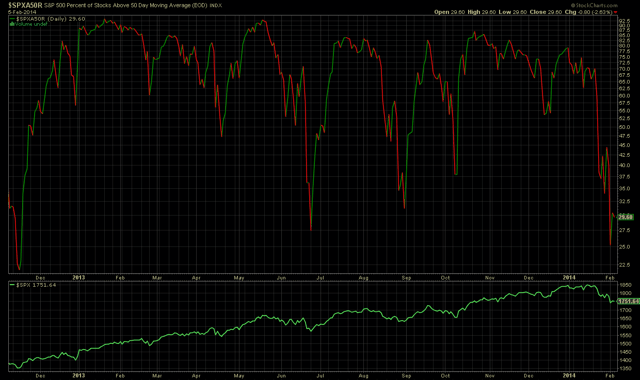 This chart shows the percent of stocks in the S&P 500 that are trading above their 50 day moving average. This gives a more in depth look at the market's strength. Clearly, the market's selling has been broad based touching almost every sector. Since November 2012, when market weakness caused this measure to spike down, it has been good entry points.
One constructive development has to do with emerging markets which have been the nexus of this entire sell off. Lost amidst the weakness of the past couple of days is that emerging markets have actually begun to stabilize and outperform the S&P 500. This is a positive development and supportive of a bounce. It is also important to note that if the ratio begins to resume its deterioration, then I would advocate cutting short term long positions.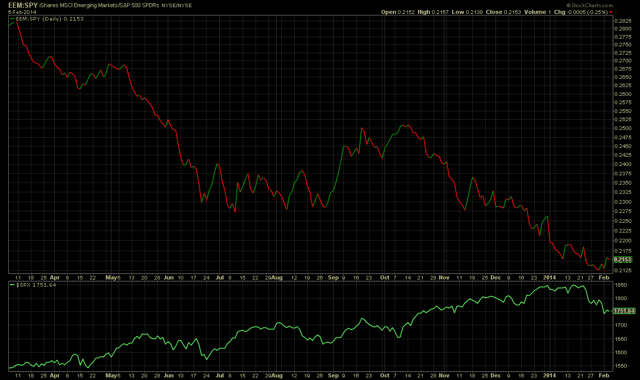 Is This Time Different?
One assumption of the previous section is that strategy that worked in 2013 will work in 2014. There is strong evidence that market conditions have changed and in this section, I want to examine these reasons.
First of all, the selling has been quite more intense. Previous bouts of weakness have coincided with certain market segments appreciating while others are being sold off, basically more of a rotation. This current action is more like distribution as indicated by volume and breadth.
One implicit belief fueling the bull party in the later months of 2013 was the resumption of global growth in 2014. This belief was cemented by the Fed's decision to taper its bond buying program and start unwinding its aggressive interventions as it saw the labor market healing and economy heating up. It is pretty obvious now that the Fed was wrong
This is doubly bad for the bulls because not only is the global economy weakening but the biggest bullish factor of the past few years is on the sidelines - the Fed. I simply don't see the Fed reversing course so soon after initiating this policy, as it would damage their credibility and undermine the effectiveness of future policy moves.
Underpinning previous moves down in the market was the Fed backstop. I think the Fed backstop still exists but just at lower prices. Another difference in this sell off is that momentum stocks have taken a beating as well. One aspect of the sell offs in 2013 was that momentum stocks would remain resilient rather than crumbling. I watch the momentum stocks because I think they are a good indicator of "animal spirits" in the market.
Although there are a handful of momentum stocks have maintained their uptrend, many of these stocks have crumbled in the past weeks. It is quite natural for the stocks with the most generous valuations to sell off the hardest during corrections. In fact it is more indicative of a normal market and another piece of evidence that we are no longer in the Fed liquidity fueled uptrend of 2013.
The final takeaway is that, yes, this time is different. The same strategy that worked in 2013 will not work in 2014 because market conditions have changed.
Conclusion
In the process of writing this article and examining both sides, I grew more bearish. 2013 has conditioned traders to think in certain ways and reward certain behaviors - basically buying every dip and then sitting on your hands. Although I am clearly conflicted about market direction, I am confident that pursuing the same strategy as 2013 will be disastrous in 2014.
Instead, I think that traders should be looking to more aggressively take profits and cut losses than in 2013. In regards to the current opportunity, if Wednesday's intraday low is breached or emerging markets begin to fall apart again, then I don't think the downside risk justifies holding onto positions. For those with a longer term horizon, I think it is best to remain patient and wait for lower prices or for market conditions to improve.
Disclosure: I have no positions in any stocks mentioned, and no plans to initiate any positions within the next 72 hours. I wrote this article myself, and it expresses my own opinions. I am not receiving compensation for it (other than from Seeking Alpha). I have no business relationship with any company whose stock is mentioned in this article.