General Electric's (NYSE:GE) most recent quarter and the subsequent market-wide selloff we've seen in the past few days were as good of a reason as any for investors to hammer GE shares, now trading near $25 once again. However, I think investors are overreacting to transitive events and in this article, we'll take a look at GE's industrial business and the underlying strength and room for growth that will allow GE to continue to post strong numbers for years to come.
For this exercise, I've lifted GE's industrial earnings, that is, consolidated earnings minus those of GE Capital, from company SEC filings. The chart below shows GE's earnings ex-GECC for the past 12 years and the results are pretty interesting.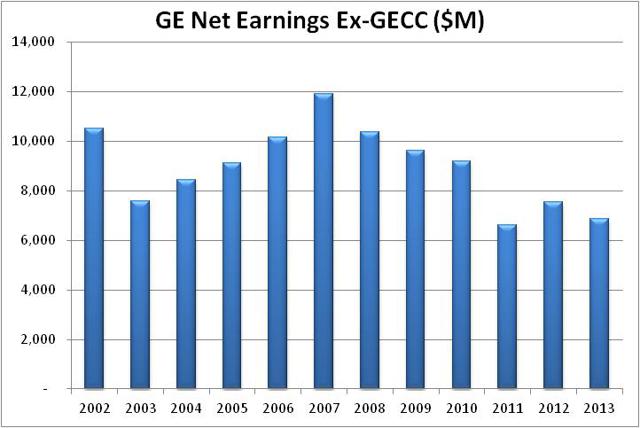 In 2002, which seems like ancient history at this point, GE posted industrial earnings of about $10.5 billion. However, 2003 saw a very steep drop to less than $8 billion. The good news is that didn't last long and by 2007, GE's industrial business produced a prodigious $12 billion in net income. Of course, we all know what happened after that and since that time, GE's industrial earnings have seen a sickening slide downwards and only arrested their decline in 2012. Unfortunately, last year saw another decline, albeit a small one, to around $7 billion in net income.
The point of this is not only because it is interesting; the data has some implications for GE shareholders. GE has made it very public information that it is trying to downsize its Capital arm and are in fact looking to IPO some of it as well. This means that, more than ever, GE's industrial earnings will be in focus and will drive the company's stock price more so than they do now. GE's earnings have largely been about what Capital has been doing for the past several years but that will be no more if GE follows through with its plans to divest Capital.
Given the chart above showing GE's industrial earnings in a trough, I believe shareholders can be encouraged about future results. GE's industrial business is clearly capable of much more than it's doing right now in terms of earnings and I have full confidence it will reach its potential once again. Part of my confidence comes from GE's once-again record order backlog of nearly a quarter trillion dollars. This is an astounding amount of revenue to have sitting on the books just waiting to be filled and I believe this will be the source of GE's profit growth in the future as Capital is wound down and divested.
The one problem with an order backlog so large is that some may fear GE won't be able to fill all $244 billion of its orders. The backlog represents nearly two and a half years' worth of industrial revenue for GE (!) so investors are right to question if it is too much to handle. I am also somewhat cautioned by the idea that the backlog is so large that some customers may choose not to wait for their orders and go to a competitor instead. Of course each customer would decide this on an order-by-order basis and such an event is impossible for me or anyone else to predict. However, if I was going to be cautious on GE's industrial business, this would be the reason.
Let's assume for this exercise that as Capital is divested GE's industrial earnings return to their former levels of around $10 billion annually. As 2007 was a blowout year, I think that kind of target is a bit optimistic in the medium term so instead, we'll use what GE produced for several years in the mid part of last decade. If we assume GE can produce an additional $3 billion in industrial earnings and the current share count of right at 10 billion stands, GE could see an additional 30 cents in EPS simply from the industrial business ramping up. In terms of what this could mean for the share price, GE's forward earnings multiple is 14 and its trailing multiple is 18; taking the midpoint would mean that a return to a $10 billion run rate for industrial profits would add something like $4.80 to the share price.
While we have to assume that GE's industrial business will produce another $3 billion in annual profits, I really don't think it's much of a stretch to imagine it. GE is perpetually acquiring businesses and entire companies to add to its industrial business and its existing lines are still growing organically as well. In addition, some of its largest lines of business including Transportation and Aviation are experiencing expanding operating margins as well, boosting the bottom line without increasing revenue. Putting GE's organic growth, steady to rising operating margins and its acquisitive nature together, I believe you've got a recipe for earnings to increase substantially and I also think that returning to $10 billion per year in industrial profits is a matter of when and not if.
GE's current share price reflects somewhat pessimistic expectations given that it has sold off rather hard from its highs. However, as we've just seen, you are given the chance right now to buy GE shares with industrial profits at a trough instead of when they are peaking. This means that the risk is squarely to the upside and I think investors will be pleasantly surprised by the profit growth from the industrial business over the medium term. Likewise, I expect to see the stock move up towards, and eventually past, $30.
Disclosure: I am long GE. I wrote this article myself, and it expresses my own opinions. I am not receiving compensation for it (other than from Seeking Alpha). I have no business relationship with any company whose stock is mentioned in this article.