After the bell on Wednesday, coffee giant Green Mountain Coffee Roasters (NASDAQ:GMCR) announced its fiscal first quarter results. It was not a good report, as revenues missed and guidance was light. The company's report took a back seat however, as the company announced a strategic partnership and equity deal with Coca-Cola (NYSE:KO). The deal could prove to be a huge industry shake up, and may have serious consequences for other names like PepsiCo (NYSE:PEP) and SodaStream (NASDAQ:SODA). Green Mountain shares rocketed higher on the news. Today, I'll look at Green Mountain's report, analyze the Coca-Cola deal, and discuss the implications of this news.
First quarter results:
Green Mountain's fiscal first quarter is the company's biggest quarter of the year. Unfortunately, the company fell short of analyst expectations on the top line. Green Mountain produced revenues of less than $1.387 billion, while analysts were looking for $1.41 billion. Green Mountain, while not illegal, tried to make this report look better than it was. The company rounded up its revenue headline number to $1.4 billion, and stated that revenue growth was 4% year over year. Actual growth was 3.56%, which in this case, is actually a far cry from 4.00%.
But that's not the worst part. Green Mountain has a serious problem with revenue growth. The following chart shows fiscal Q1 revenue growth over the past three years.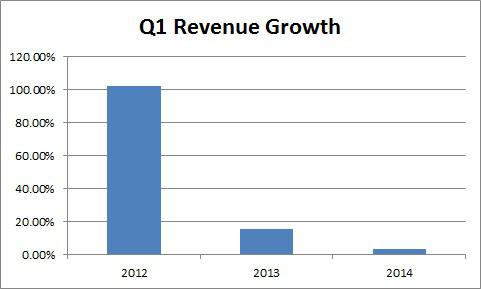 In fiscal Q1 of 2012, the period that ended in late December 2011, Green Mountain had revenue growth of nearly 102%, which was helped a bit by the Van Houtte acquisition. Even a year ago, revenue growth was more than 15%. Now, it is just over 3.5%. That's a serious growth slowdown. Now, I know some people will say that revenue growth is harder when you have revenues that are a lot higher. I understand that. But even the dollar amount is shrinking rapidly. In that super growth period a few years ago, revenues increased by $584 million. In the year ago period, it was just under $181 million. This year's period saw growth of less than $48 million. This is why the Coca-Cola deal was signed. Green Mountain's revenue growth has nearly evaporated.
When it comes to gross margins, Green Mountain reported a 220 basis point increase in gross margins (actually 216 rounded up). This was primarily due to favorable green coffee costs, which boosted margins by 390 basis points. This gain was offset by three items: price realization and mix associated with brewers (minus 90 bps), price realization and mix associated with packs (minus 50 bps), and other items (minus 30 bps). Green Mountain won't see this benefit from lower coffee prices forever, and this benefit has really helped margins in the last year or two. Once this starts to turn, it could be a sizable negative.
On the bottom line, non-GAAP earnings came in at $0.96, which beat analyst estimates by 6 cents. While that seems impressive, Green Mountain reported an 11 cent beat in the year ago period with just $0.76 of EPS, and had averaged a 12.25 cent beat over the past four quarters. So this beat was a bit smaller than recent quarters. The following table shows Q1 margins against last year's period. I've excluded net income from non-controlling interests for the profit margin section. Numbers may be off due to rounding.

The key takeaway from the Q1 report was that sales growth was almost nothing. Coffee prices fueled another bottom line beat, and the company kept operating expenses in check. This is why Green Mountain needed to announce the Coca-Cola deal, because revenues missed, and guidance was poor. I'll discuss guidance in the next section. One other funny note from the report. The image below shows the bottom of the company's income statement. Do you notice something wrong?

Somebody forgot to put the EPS numbers in at the bottom of the income statement! While the EPS numbers were listed at the top of the report, it is hilarious that they are missing in the income statement. I can't say that I have seen something like this before. I guess the company was too excited over the Coca-Cola deal to double check its press release!
Poor guidance:
For the fiscal second quarter, Green Mountain provided the following guidance, taken directly from the press release:
Net sales growth of low-to-mid single digits over the second quarter of fiscal year 2013 due to year-over-year pack sales comparisons; the impact of unlicensed packs; and, the currency headwind in Canada.
Non-GAAP earnings per diluted share in a range of $0.93 to $0.98 which:
Excludes the approximately 4% dilutive impact of The Coca-Cola Company's purchase of shares and absent any actions the Company may take to offset dilution.
Includes $0.05 headwind from foreign currency exchange
Excludes the amortization of identifiable intangibles related to the Company's acquisitions and legal and accounting expenses related to the SEC inquiry and the Company's pending securities and stockholder derivative class action litigation.
On a currency-neutral basis and excluding the dilutive impact from The Coca-Cola Company's purchase of shares, and absent any actions the Company may take to offset dilution, underlying earnings growth is projected to increase 5% to 11% over the prior year period.
Analysts were looking for revenue growth of 8.1% to $1.09 billion in the quarter, so revenue guidance is again a bit light. Considering how cold it has been throughout most of the US this winter, plus all of the snowstorms, you would have thought a coffee company would do great. Well, it doesn't look like that will be the case. Additionally, the company's EPS forecast was a bit light, as analysts were looking for $1.02 in the quarter. Perhaps the company sandbagged guidance, because next quarter it won't have a mega deal to cover a bad report. Setting up a beat would seem logical for that reason.
Green Mountain reiterated its yearly forecast for revenue growth in the high-single digits. The company still expects revenue growth to accelerate in the second half of the fiscal year, and that's April through September. Given the Q1 revenue miss and light guidance for Q2, Green Mountain needs a solid Q2 or the revenue forecast will probably come down at the next report. Again, this is another reason why the Coca-Cola deal was huge. It helps to hide poor guidance from the company, with another quarter of revenue growth in the low to mid single digits.
Coca-Cola deal:
There are two parts to the Coca-Cola deal. First, Green Mountain and Coca-Cola have signed a 10-year partnership, and the following statement was taken from the press release in my introduction:
As part of the strategic collaboration, GMCR will be The Coca-Cola Company's exclusive partner for the production and sale of The Coca-Cola Company-branded single-serve, pod-based cold beverages. The two companies also will explore other future opportunities to collaborate on the Keurig® platform.
The second part of the deal is that Coca-Cola is taking a near 10% stake in Green Mountain. Nearly 16.7 million shares will be issued, and Green Mountain gets $1.25 billion for the stake. The shares were priced at $74.98, which represented the trailing 50-trading-day volume weighted average price as of Wednesday's close. Green Mountain shares closed Wednesday at $80.88. Coca-Cola's deal was already sitting on a gain, and that's before the massive spike in Green Mountain after-hours. I'll get to that later.
Green Mountain says that the new beverage system will be available during fiscal 2015, which runs from October 2014 to September 2015. Additionally, the company will use funds from the equity sale for both its buyback and capital expenditures.
There are a few key takeaways from the deal. First, Green Mountain will be challenging SodaStream head on. SodaStream shares plunged initially in the after-hours session, but recovered a sizable chunk of their losses. SodaStream's market cap was just $745 million at Wednesday's close, so one must wonder if Green Mountain could have just bought out SodaStream. SodaStream had estimated 2013 revenues of $562 million, so a purchase would have been a great boom for Green Mountain's revenues right now. With the Coca-Cola deal, it will be months or even a year plus until revenues start flowing in.
Green Mountain is hoping that the cold beverage system will catch on, and that consumers will choose it over SodaStream. That remains to be seen, which is one of the risks involved in this deal. If consumers stick with SodaStream, this new product offering may not be very successful. Remember, Green Mountain is expanding into items like soups and cold beverages because the coffee business is struggling to grow, as you saw above. As I've been saying for a while, Green Mountain needed to push its products outside of North America to re-accelerate revenue growth. This deal stands in line to help, but we don't know by how much. Maybe this will be the start of a huge international push.
Also, how will this help consumers? I can get 2-liters of soda pretty much every other week for $1, and sometimes for as little as $0.67 at my local supermarkets. If Green Mountain doesn't make a price point that is very appealing, why would a consumer even bother? This is especially true if you have to buy a $200 machine upfront. SodaStream has been working hard to educate consumers on the value proposition of its products, and it was a tough sell at first. Green Mountain has to find a product that makes sense for consumers, but also makes the company money. That could prove to be quite difficult.
On CNBC, Herb Greenberg brought up a point I've made in this article. He said that Green Mountain used the announcement of the deal to hide poor results, just like it did a few quarters ago with the Starbucks (NASDAQ:SBUX) deal. Imagine how Green Mountain shares would have done without this deal, given a revenue miss and poor guidance for the current quarter.
Overall, this seems like a necessary deal for Green Mountain, but it does show desperation to some extent. Revenue growth has basically flatlined, and this will get investors to ignore that for another couple of months. However, Green Mountain will either need to announce another big deal at the next report, or the company will then again trade on the actual earnings report. This quarter's report got swept under the rug.
I'm not saying the Coca-Cola deal is a negative, not in the slightest. Just like the Starbucks deal, we just don't know what the potential may actually be. Green Mountain has a lot to prove with this new beverage system going forward, and with a massive rally in shares, expectations will be high. Green Mountain needed this deal more than Coca-Cola did. I wonder how Coca-Cola feels now that its stake in Green Mountain is worth substantially more.
The next logical question is how does this impact the rest of the industry? A few months ago, SodaStream shares rallied to almost $100 when reports surfaced that PepsiCo was going to buyout SodaStream for $95 a share. That didn't happen. In Wednesday's after-hours, SodaStream shares initially traded for less than $30 when the GMCR-KO deal was initially announced. SodaStream now has to make a move, and maybe PepsiCo does as well. Does PepsiCo join up with Green Mountain as well, or does maybe PepsiCo do something with SodaStream? Don't forget Starbucks in all of this. Green Mountain has a partnership with Starbucks, but maybe Starbucks does something with SodaStream. There are a ton of interesting possibilities here, so it will be fun to watch it all play out.
One important point to make that was pointed out to me late last night. Green Mountain in the after hours gained about $5.4 billion in market cap. That's about 7 times the entire market cap of SodaStream (based on Wednesday's close) and Green Mountain doesn't have a working product yet. SodaStream had over $560 million in 2013 revenues.
Balance sheet, cash flow, other financials:
Green Mountain finished the quarter with $349.8 million in cash, up from $98.5 million a year ago (this includes a tiny bit of restricted cash). For the quarter, operating cash flow was $272.7 million, down from the year ago period's $337.1 million. This drop was primarily due to accounts payable and accrued expenses. Those two liability categories boosted cash flow by more than $53 million in the year ago period. In this year's period, they reduced cash flow by more than $71 million. That's a nearly $125 million swing. This wasn't totally unexpected. As I detailed in last quarters' wrap-up, Green Mountain had not paid a chunk of bills, which is why last year's cash flow was so great and this year's cash flow will be down significantly.
Free cash flow for the period was $211.9 million, down from $253.7 million in the year ago period. The $64 million drop in cash produced by operating activities hurt. However, capital expenditures were almost $23 million less than the prior year period. Green Mountain expects free cash flow for the year of $200 million to $300 million. That means not much the rest of the year. The company also guided to $400 million to $450 million in capital expenditures for the year, and only $60.8 million was spent in fiscal Q1. That means a lot of capex the rest of the year, primarily to fund new systems.
Green Mountain also declared a quarterly dividend of $0.25, payable May 2nd, to shareholders of record at the close of business on April 4th. During the quarter, Green Mountain bought back 1.7 million shares for a total price of $122.5 million. Since the program started, Green Mountain has repurchased 10.5 million shares at a cost of $387 million. The company's initial buyback was for $500 million, but it also announced another $1 billion at the last report.
Here's where things get interesting. When the buyback first started, Green Mountain was buying back shares in the $20s. Shares closed at $80 on Wednesday, but finished the after-hours session at $117.33, and I saw them around $130 at the peak. The Coca-Cola deal will add nearly 16.7 million shares. To offset the dilution from the deal, Green Mountain would need to spend about $1.96 billion as of the last price in Wednesday's after hours. Green Mountain is only bringing in $1.25 billion in cash from the deal, and part of that will be used for capital expenditures. There will be a hit to Green Mountain earnings going forward, as this dilution will not be overcome anytime soon.
After-hours action:
As you can probably imagine, this big news sent serious shock waves through a couple of these names. Here's how the five names discussed in this article finished the after-hours session:
Green Mountain shares up $36.45 to $117.33 (45.07%).
SodaStream shares down $1.29 to $34.50 (-3.60%).
Coca-Cola shares up $0.53 to $38.14 (1.41%).
PepsiCo shares up 3 cents, basically flat.
Starbucks shares down $0.10 to $70.39 (-0.14%).
Green Mountain was a real big winner and was volatile. I personally saw shares go from about $105 to $130 in the after-hours session. They lost some of those gains at the end. However, the more interesting move was with SodaStream. SodaStream shares were at $50 prior to its earnings warning a few weeks ago, and much higher in 2013 as I detailed above. SodaStream closed at $35.79 on Wednesday. Initially when the Coca-Cola deal news broke, SodaStream plunged through $30, down more than 15%, and shares may have even fallen below $29 at one time. SodaStream shares came back quite a bit. This is probably because investors realized that SodaStream needs to respond. Whether that is a partnership, a sale of the company, or something else remains to be seen.
Final thoughts:
In the end, Green Mountain did exactly what it did a few quarters ago. The company used a partnership announcement to hide a poor report. Yes, the Coca-Cola news seems very positive at first glance, but Green Mountain has a lot to prove. Also, the deal was more out of desperation than anything else. Green Mountain's revenue growth has completely stalled, and earnings growth may stall once higher coffee prices take effect.
I'm not going to recommend a trade right now because we have to see where things settle in the coming days and weeks. Green Mountain had a $25 or so range in the after-hours, so a stock at $100 versus $125 might completely change the trade argument. If I feel that the rally has gotten out of hand and a short position is warranted, I'll be back with that recommendation at the appropriate time. Remember, this was a name around $15 in August 2012, and results haven't been great since then. There probably will be a fair amount of short covering thanks to this deal, but what happens next quarter? Results this time around were poor, and guidance was light again. Did Green Mountain low-ball guidance to make sure it beats for Q2 because the company won't have another mega deal to announce then? After Wednesday's news, we are left with more questions than answers when it comes to Green Mountain.
Disclosure: I have no positions in any stocks mentioned, and no plans to initiate any positions within the next 72 hours. I wrote this article myself, and it expresses my own opinions. I am not receiving compensation for it (other than from Seeking Alpha). I have no business relationship with any company whose stock is mentioned in this article.
Additional disclosure: Investors are always reminded that before making any investment, you should do your own proper due diligence on any name directly or indirectly mentioned in this article. Investors should also consider seeking advice from a broker or financial adviser before making any investment decisions. Any material in this article should be considered general information, and not relied on as a formal investment recommendation.