I have held a small, speculative position in mobile game maker Glu Mobile (NASDAQ:GLUU) for over a year now. I hold it for some of the same reasons I have Zynga (NASDAQ:ZNGA) which has provided huge rewards recently; something Glu Mobile has not done up to now.
I hold both of these small positions for some of the same reasons. Both companies were one time stock market darlings that fell on hard times and where investor sentiment had fallen to abysmal levels. They both occupy an interesting space. Finally, both companies had a substantial amount of net cash on the balance sheet and looked like reasonable, but speculative bets to make a significant turnaround.
Glu Mobile finally seem poised to reward my patience and I am hoping based on its last earnings report; the stock can get on the same huge upward trajectory as Zynga has had recently.
Company Overview:
Glu Mobile is a leading global developer and publisher of freemium games for smartphone and tablet devices. The company is focused on creating compelling original IP games across multiple mobile platforms. Some of the company's games include Deer Hunter, Contract Killer & Gun Brothers.
Glu Mobile posted earnings of 7 cents a share, significantly better than the break-even levels the consensus was expecting.
$42.8mm in revenue was posted for the quarter, over $10mm above consensus.
*Note: This was the second straight quarter the company easily beat top & bottom line expectations:
Guidance:
More importantly, Glu Mobile took its guidance up significantly. The company now expects Q1 revenue of $38M-$40M and EPS of $0.01-$0.02, significantly above the consensus of sales of $29.1M and EPS of -$.01. The full-year guidance range for revenue now is $142M-$150M, this is above the consensus of $121.4M.
Miscellaneous:
Shout outs should be given to Roth Capital who resumed the shares as a "Buy" in January as well as Craig-Hollum who also upgraded the shares to "Buy" the day before during the month. The company still has over $25mm in net cash on the balance sheet which seems more than adequate as Glu Mobile is currently breaking even and appears poised to accelerate earnings & revenue growth.
Summary:
Glu Mobile is the only pure-play mobile gaming company listed in North America. It could easily become an acquisition target given its small market capitalization - just over $300mm. This was speculated when Zynga bought U.K. based mobile game developer NaturalMotion for over $500mm late in January.
The company should also benefit from explosion of mobile devices and mobile based internet traffic (See Chart). Glu Mobile also has a solid position in the fastest growing gaming market in the world, Asia. The company currently gets ~30% of revenue from this critical global region.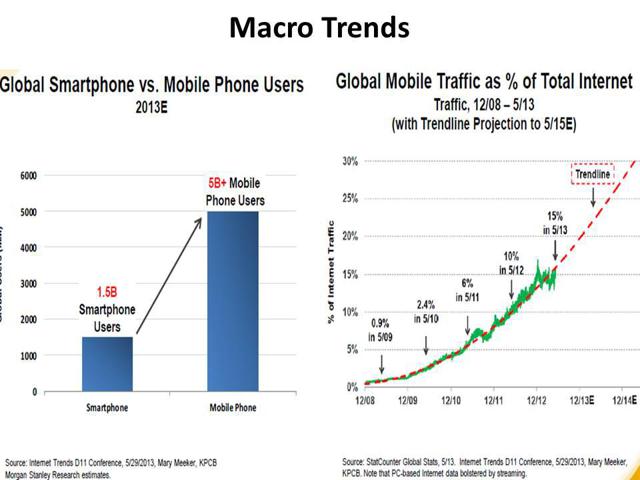 Glu Mobile is clearly still a speculative play. However, it seems to be on the right track. It has an significantly expanded launch schedule in 2014 compared with 2013, has not even scratched the surface of web advertising and could make a good strategic pick up for a larger tech player that wants to expand into the fast growing mobile gaming space. I also expect further analyst upgrades on the company after this stellar earnings report which I see Piper Jaffray has already done this morning. SPECULATIVE BUY
Disclosure: I am long GLUU, ZNGA. I wrote this article myself, and it expresses my own opinions. I am not receiving compensation for it (other than from Seeking Alpha). I have no business relationship with any company whose stock is mentioned in this article.