The following is excerpted from Kinnaras Capital Management's recent shareholder letter:
Q1 2010 was a productive quarter for Kinnaras in that it provided some attractively valued opportunities to capitalize on. Portfolios suffered from negative performance mainly related to the short book and our investment in Dynegy (NYSE:DYN). In December 2009, I discussed positioning the portfolio for 2010 and outlined why I felt DYN and other independent power producers (IPPs) could be of interest. Unfortunately, I was wrong on my thesis and completely sold out of DYN after Q4 2009 earnings were released in late February. I still believe that this sector will present a highly asymmetric risk/reward profile and continue to closely follow DYN and its peers such as RRI Energy, Inc. (RRI). However, in the meantime I'm content being on the sidelines with respect to the sector.
One of the challenges with the IPP sector is that while a case can be made for consolidation, there is little dry powder available to consummate deals that present much upside to potential target shareholders. My rationale for focusing on companies such as DYN and RRI was that their low valuations across many metrics provided a margin of safety and the small relative size of these companies could also attract larger peers to acquire them. However, most IPPs carry considerable debt loads making it difficult to raise more financing. In addition, since the start of 2010, the valuation metrics of IPPs have compressed.
As a result, the acquirers will generally execute these deals in stock transactions which, at current levels, will result in less attractive take-out values for target shareholders. When 2010 started, I anticipated that the valuations of IPPs would improve in anticipation of a recovery in dark spreads. This did not materialize and it is now possible that take-outs will occur at generally unattractive levels for target shareholders.
The short book was a hindrance in Q1 2010 with very few ideas working and was closed out by the end of Q1. Realized losses are a constant when it comes to risk management and my biggest regret was that I did not close out some of these shorts faster. However...I'm fairly comfortable with the lack of shorts we currently have.
Investors will note that we maintain a healthy cash position (10-20%) across most portfolios. In contrast, indices are always fully invested and many funds have mandates that do not allow for much excess cash. I view cash as a strategic asset even when it offers essentially a 0% return...having excess cash can be used to take advantage of substantial pullbacks and market dislocations.
Investors will note that we have a key position in Kraft Foods Inc. (KFT). Aside from being attractively priced, KFT also offers a competitive dividend yield and at $30 is still just 42% above its lows in March of 2009. This may seem like a steep increase in isolation until one notes the broader indices have experienced sharper gains than KFT over the same time period. We own KFT because it's cheap across a number of valuation metrics, particularly when one considers its global scale and ability to pass through potential inflation to customers. Also, in the event of a market reversal, KFT doesn't have anywhere near the number of potential sellers relative to a number of other stocks that have experienced 100%+ gains over the past year, and could also benefit from a flight to quality in equities...
One of the biggest challenges for investors and managers is controlling volatility but at times I think investors, including institutional ones, that can't stomach volatility shouldn't be in equities to begin with. The standard deviation for the annual return for stocks, bonds and bills is 18%, 9%, and 6%, respectively. Over the past ten years it seems that investors have increasingly wanted less than bond-like volatility but equity upside.
I don't make as strong an effort to control volatility so that means we can have big drawdowns. Investors may hate that, but I'd rather focus on a 1-3 year time period and live through the volatility. This can be frustrating at times because it's possible to have a dog of a stock but ultimately when it performs, the returns outpace the market. In addition, I find that if I do focus on controlling volatility to too large of an extent, it results in higher frictional costs and greater tax leakage.
This may be best illustrated with an example. When I first started my hedge fund in 2007, I became enamored with a Canadian-based payday lender known as Rentcash and now known as The Cash Store (NASDAQ:CSF). In my fiscal year 2007 letter to my investors I wrote the following regarding CSF:
The last long holding I will discuss is our Canadian-based payday lender Rentcash ("RCS"). This is a sizeable holding and we are down about 25% on this position. Rentcash controls about 25% of the payday loan industry in Canada. The stock and company experienced significant difficulties at the end of 2005 and throughout 2006 due to potential legislation related to the regulation of payday loans in Canada... This scared off a lot of investors in RCS and the stock plummeted from a peak of $29 to under $4 (it is currently around $4.50)...

...What we had with RCS was a cheap company that had some real problems but it appeared that the market was assuming that RCS would operate in this bad environment forever. Once I started doing some research I started to think that RCS could be worth much more than its current price.

[after detailed research into the company's market capitalization, cash flow and holdings, EBITDA, management practices, margins, store base, competition and customers, Chokshi realized]

...What I have done with RCS is buy a company with depressed earnings and depressed valuation metrics while confirming that there are a number of positive catalysts in effect that could result in a very attractive annualized return for us. RCS is a company that had negative fundamentals and extremely negative sentiment. The fundamentals are improving considerably and as the regulatory landscape improves, sentiment should also improve as well. If we secure both of those tailwinds, our RCS investment should do very well.
CHART I: CSF STOCK PERFORMANCE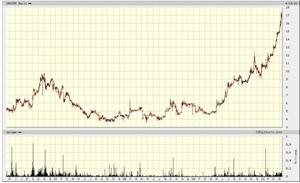 As Chart I illustrates (click to enlarge), CSF stock did nothing in 2008 as well and the stock did not begin to reflect business fundamentals until the summer of 2009. I ended up selling shares in the $8-10 range which yielded an annualized 25% return before accounting for the hefty dividends CSF paid out.
This was a good result but it's challenging to stand by and watch the market and plethora of other securities rally when you hold a "loser" stock. However, if the business is in fact trading at a severe discount to its appropriate valuation, then eventually the valuation should correct. By pairing valuation with some company-specific catalysts, above market returns can generally be achieved over the course of 2-3 years.
This same multi-year approach is being utilized with some of KCM's highest conviction holdings which include Sprint-Nextel Corp. (NYSE:S) and Citigroup Inc. (NYSE:C). S is the third largest wireless provider in the U.S. based on subscribers and has been undergoing a multi-year turnaround. Valuation metrics, particularly those on a P/FCF and P/TBV, suggest that S is deeply discounted when compared to a number of S-specific positive catalysts.
S has been stemming the tide in terms of subscriber losses, which makes a significant impact on a business that has considerable operating leverage. In addition, S has a head start on its competition with respect to rolling out its 4G network via its 57% stake in Clearwire Corp. ("CLWR") and is partnering with cell phone manufacturer HTC to introduce the first 4G phone this summer. There are many skeptics with regards to S, particularly on the sellside analyst community, which has resulted in institutional investor apathy and left valuation levels depressed. I previously discussed why we own S and believe that 2010 could present the opportunity for a significant turnaround in S shares.
C is what I think is a "generational" investment and I've previously outlined--here and here--why C is an excellent investment opportunity for those with a longer term view. One historical parallel to note is that in 1991, Saudi Alwaleed bin Talal bailed out C, which was suffering from disastrous investments in real estate and Latin America. According to Bloomberg, Alwaleed's average cost basis was $2.98 and in the decade through 2007, C stock averaged $42. We know Alwaleed took a round trip on the shares he held and in no way do I think that C will be worth the prices it traded at just three years ago anytime soon. The reduced leverage ratios of financial institutions will create a barrier to the return on equity levels these firms generated that warranted higher P/B and P/E ratios. However, I think that it's very rare to have the chance to buy a truly world-class, industry leader at these valuation levels.
Aside from these key holdings, the rest of the portfolio consists of a mix of small and mid capitalization holdings with a deep-value bent. The general theme for most of our deep value plays incorporates businesses with depressed margins due to excess industry capacity that has been tightening due to retirement of capital assets and contraction of corporate structures. As a result, a small positive change in sales can yield a very powerful upswing in earnings and cash flow which will fuel stock price appreciation.
... I do think the macro environment is a concern and may be the most challenging one in decades. What makes it even more difficult is that market valuations in aggregate are mediocre to a bit rich given the economic backdrop. And that's what's important. The world could be going to hell but if the S&P500 was trading at 5.0x EPS, then it would be a very strong buy. Right now, the S&P500 is trading in the high teens in terms of valuation.
This is not strikingly expensive but financial crises and financially induced recessions usually result in very tepid recoveries. Credit spreads have in part compressed but part of this is due to government intervention and there is uncertainty with respect to what will happen as support by government bodies is reigned in. I could name other economic issues but the main point is I don't spend much time thinking about it from an investment framework because it's not the best use of my time.
Essentially, every single problem one can come up with: unemployment, sovereign debt crises, public sector finance challenges, commercial real estate, commodities bubbles, terrorism, etc. makes for great conversation and is sort of a requisite for an investment manager to be deemed "prudent" in terms of at least acknowledging the issues but it's extremely difficult to implement effective trading strategies around them. This is because all of this must tie to valuation. For example, a regional bank with significant and poorly performing commercial real estate assets could still be a phenomenal investment at the right valuation level.
In fact, fund tracking website Market Folly recently noted that many leading global macro funds have experienced negative returns through 2010. Global macro funds can go anywhere in terms of geographies and asset classes. Given the plethora of problems facing the world, 2010 should offer a rich background for global macro to thrive in but so far that has not appeared to materialize. Given that the folks that run these funds are far smarter than me, I'd rather stick to my knitting.
In fact too much emphasis on it may lead investors into a ruinous strategy. All it takes is watching certain cable channels which will warn viewers about a number of problems (real and fictitious) facing the US only to then offer numerous advertisements for gold, which has appreciated tremendously over the decade. I have no opinion on gold but an investment may have "jumped the shark" once it is being sold through television ads. For those investors that want some protection, it's always best to shop for the cheapest form of insurance. With the VIX so low, index puts are very cheap due to the reduced volatility imputed in their values. Buying out of the money index puts at these levels may be the best form of insurance around.