Perhaps a "model company" over the past 5 years, American International Group (NYSE:AIG) still has many investors on the sideline.
Reading through articles on Seeking Alpha, perhaps one of the largest reasons that investors are remaining on the sidelines is its past: many bears cite previous performance, going from $1500 to $50 a share (taking into account the split) as a reason to not invest.
I believe that investors should act on the future, but still know that there is a backup plan. I believe that this strategy is a perfect fit for AIG, which is moving back to its core-assets, and becoming a more stable and valuable company. In this article I plan on highlighting its strengths that will help prevent it from repeating the past, but also it's potential future.
As of the close on February 4, 2014, AIG is valued at $69B, or $46.88 a share. It has strong fundamentals, trading at a forward P/E of 10.83 and 1.12 times revenue (TTM). Not only does it have strong technicals, but it also has major support from investors.

Approximately 86% of the shares are held by institutions ($59B), with less than $700M in shares held short.
AIG is preparing for its future, but also has a limited risk. AIG's book value is at close to $100B, and is nearly 50% more than their current market cap of $70B.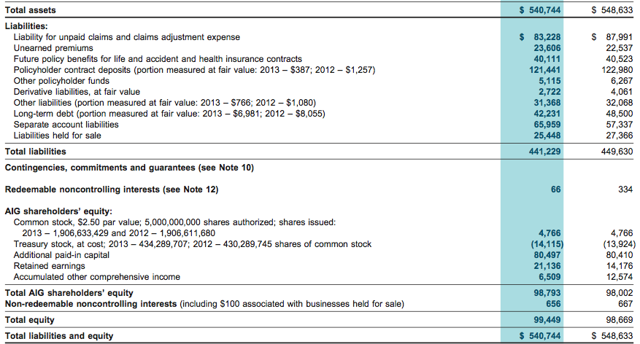 If the intriguing value is not enough, positive earnings are also adding to AIG's value.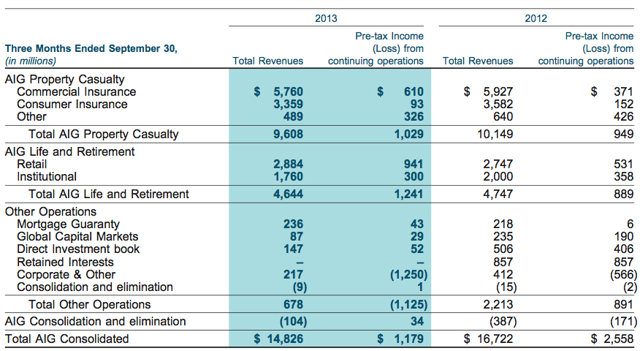 While revenue is declining, margins for several of AIG's subsidies are increasing. As seen above, pre-tax income dropped in the quarter for the only time in the last three quarters.
However, as margins continue to improve, as well as a unification of expenses and products continue, AIG only stands to gain (though taxes will increase).
AIG now mainly consists of 3 major groups, after selling its stake in ILFC (International Lease Finance Corportation) to AerCap Holdings (NYSE:AER). While the initial deal was valued at $5.4B (cash + stock), it only stands to increase after the rise in AerCap shares: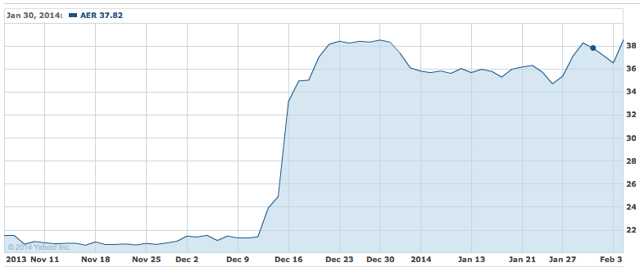 The three remaining groups consist of AIG Property and Casualty, AIG Life and Retirement, and United Guaranty Corporation.
AIG Property and Casualty
With more than 70M clients, it is the largest insurer in the US & Canada, while growing its positions throughout the rest of the world.
AIG Life & Retirement
With more than 18M clients, it is one of the largest life insurance and retirement providers in the US, with 300,000 financial professionals appointed to sell its products.
United Guaranty Corporation
A leader in mortgage insurance (in the US), UGC is the first to offer "true" risk-based pricing.
AIG is restructuring its remaining core assets into AIG Financial Network. AIG's newest subsidy was launched in January 2014, and is set to further expose AIG to the American family. Through its newest venture, AIG plans on guiding American families through leveraging its existing products, as well as making it easier for clients to purchase and use its products.
I believe that now is the time to buy AIG stock, before AIG increases its buybacks and dividends, further enhancing the reason to be an AIG shareholder. If the time comes where AIG decided to continue to sell its assets (like AerCap), I believe that AIG will become even more lucrative.
While there are several downsides including interest and tax rates, AIG is doing what it can to limit their effects. For the time being, AIG remains a value play, though times may change when AIG decides to re-invest its capital.
With earnings being released soon, I believe that it is the right time to own AIG stock.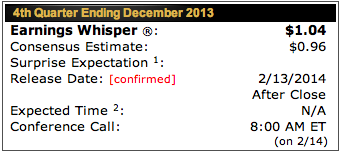 Disclosure: I am long AIG. I wrote this article myself, and it expresses my own opinions. I am not receiving compensation for it (other than from Seeking Alpha). I have no business relationship with any company whose stock is mentioned in this article.