Amazon (NASDAQ:AMZN) released its latest earnings report (Q4 and full year of 2013) on January 30, 2014 and the stock dropped nearly 11% in one day even though the company reported a 20% increase in net sales, 26% increase in operating income, and a much higher earnings per diluted share for Q4, 2013 compared with the same quarter of the previous year. There was a large market sell-off because the market expected Amazon to have a better earnings report with a higher financial guidance for the first quarter of 2014. The stock was also impacted by Amazon's announcement that it may increase the price of Prime membership by as much as $40 in the U.S. In this article, I want to suggest that Amazon's long-term prospects are still strong and that there is a better way of evaluating Amazon's value-instead of simply looking at its 597.01 Price-to-Earnings (P/E) ratio, at the time of writing.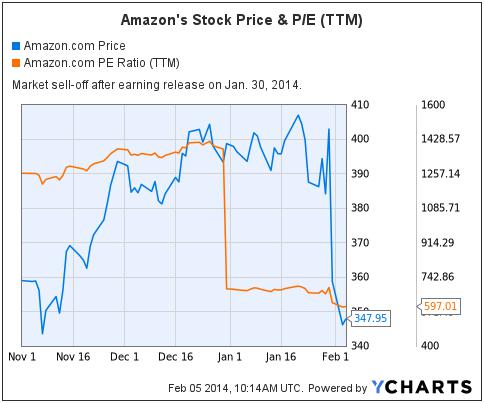 Understanding Amazon's Business
Amazon earns its revenues in the following ways:
It buys products from suppliers, sells them on its websites and fulfills customer orders through its North American and International fulfillment centers.
It buys fully licensed digital content (music, eBooks, stream movies, etc.) from vendors and sells them to customers.
It offers the Prime membership program for $79 each year. The program includes unlimited streaming of movies and TV episodes, Kindle eBook titles to borrow for free, and a two-day shipping service on millions of products.
It manufactures Kindle eBook readers and sells them at a break-even or near cost price.
It allows sellers to sell their products on its websites and helps them fulfill customer orders.
It offers programs that allow authors, musicians, filmmakers and developers to publish and sell their content.
It offers a leading cloud computing service called Amazon Web Services (AWS) to all types of enterprises.
Amazon's mission is to be the world's most customer-centric company. It accomplishes this by offering a large selection of products, the lowest prices possible, fast and cheap shipping services, great customer service, and many other value-added services such as Prime membership. The advantage is that Amazon can have a large market share in online retail sales and the disadvantage is that Amazon would have a very low net profit margin relative to its total net sales (see image below). Sometimes, Amazon sells its products at a loss-or break-even price-in order to gain a larger market share (e.g. Kindle devices) and earn revenues through other services (e.g. eBooks).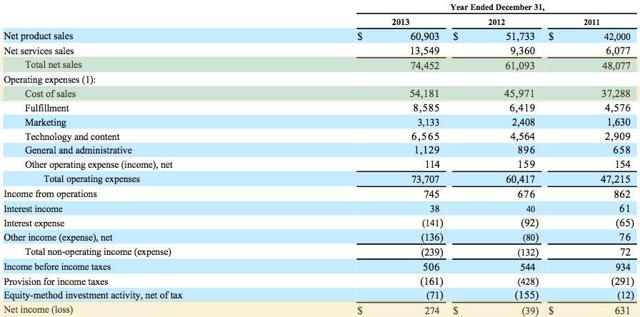 Click to enlarge
If you look the latest net income statement, you will notice that Amazon achieved an enormous $74.5 billion in total net sales in 2013, up 22% from 2012. However, its net profit margin was only 0.37% in 2013. In comparison, Wal-Mart (NYSE:WMT) had a $474.9 billion in total sales and its net profit margin was 3.62% in the past twelve months. Amazon tends to have a very low net profit margin because it sells its products at lower prices than most retailers and because shipping costs have increased over the years. However, its revenues have been growing at a higher rate than many large traditional retailers such as Wal-Mart (see image below).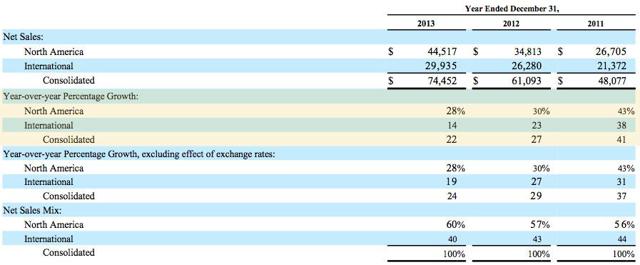 Click to enlarge
Amazon's Long-Term Prospects
While Amazon's latest earnings report did not meet the market's expectation, I believe the company still has great long-term prospects for these reasons:
First, U.S. e-commerce sales are expected to grow from $296.7 billion in 2014 to $434.20 billion in 2017 according to eMarketer, because more people are shifting their spending from offline to online channels. Amazon should benefit from this trend since it is the largest online retailer in the world.
Second, Amazon still has a lot of growth opportunities in North America as well as in the international market. Its revenue growth rate is lower than before, but it is still growing about 20% or more each year, which is still higher than many competing retailers.
Third, Amazon's AWS is the leading cloud computing service in the world and it has tremendous growth opportunities. Amazon should benefit from the growth of the cloud-computing industry.
Fourth, Amazon's Prime membership offers excellent services to customers, which increases customer loyalty. Even if the annual fee is increased to $119 (a $40 increase), I believe that many customers will still retain their memberships due to the two-day shipping service.
All of these trends should contribute to the growth of Amazon's revenue and free cash flow for many years to come.
A Better Way of Evaluating Amazon's Value
While Amazon's P/E is exceedingly high (597.01 at the time of writing), I believe a better way of evaluating Amazon's value is to look at its Price-to-Cash-Flow (P/CF), because it removes depreciation, amortization and other non-cash expenses. This gives us a better picture of Amazon's value.

Click to enlarge
If we look at Amazon's previous five year summary (see image above), you will notice that its 'net sales' and 'net cash provided by operating activities (operating cash flow)' have been most consistent compared with net income and free cash flow. This is another reason that it is more reasonable to use a P/CF instead of P/E to evaluate Amazon's current value.

According to Morningstar, Amazon's P/CF is around 29.4 as of February 3, 2014. This is a more reasonable and meaningful valuation metric than the widely available P/E ratio. It could be a good buying opportunity for investors who are willing to invest in the company for the long-term, because the company still has good long-term prospects and will very likely remain the market leader in online retailing for many years to come. An even better way to evaluate Amazon's value is to use a Discounted Cash Flow model, but for the simplicity of this article, I focused on Amazon's P/CF.
The Bottom Line
I believe that Amazon still has great long-term prospects despite the recent market sell-off. While its revenue and net profit growth rates may not be as high as before, the company should still grow at a higher rate than most large retailers. Amazon should also benefit from the continuous growth in U.S. e-commerce, cloud computing and its international expansion.
Source: Amazon 2013 Annual Report, Ycharts, eMarketer and Morningstar. Victor Liang is a lead writer at Intelligent Stocks, and the article was originally published there.
Disclosure: I am long AMZN. I wrote this article myself, and it expresses my own opinions. I am not receiving compensation for it. I have no business relationship with any company whose stock is mentioned in this article.