We have obviously been early in buying this dip, but truth be told we would rather be early in buying a correction during a bull market than early buying in a downturn during a bear market. The fact that we have spread out our purchases is also of comfort, but the point that we want readers to take away from all of this is that we continue to average down in our recent purchases as we are using cash and not margin in those accounts buying this high quality commodity names.
Although we do see a lot of opportunity in the equity names right now, we are finding more and more interesting plays in the physical commodities themselves, with silver (discussed today in the 'Chart of the Day') and coffee really standing out in our mind. We told readers to watch coffee on a move through $120, and the move happened and coffee now trades at $143, which is a healthy move higher for sure...especially when looking at the move within the recent volatility.
Chart of the Day:
We have watched with interest as silver has essentially been pegged to the $20/ounce level. Neither the bulls nor the bears can seem to push the commodity very far, but one thing is for certain in our opinion; we are due for a strong move one way or another. Even though we have seen strong support at $20/ounce, the five year chart also highlights the multi-year downtrend silver has been caught up in. This is worth watching.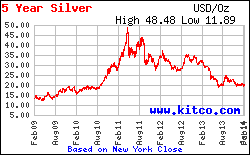 Source: Kitco
Commodity prices this morning are as follows:
Gold: $1,253.60/ounce, down by $6.30/ounce
Silver: $19.36/ounce, down by $0.049/ounce
Oil: $96.55/barrel, up by $0.12/barrel
RBOB Gas: $2.6013/gallon, down by $0.0056/gallon
Natural Gas: $5.041/MMbtu, up by $0.136/MMbtu
Copper: $3.20/pound, up by $0.0165/pound
Platinum: $1,381.50/ounce, down by $5.10/ounce
Iron Ore
Yesterday Vale (NYSE:VALE) received an upgrade from Morgan Stanley's analysts. The firm now has Vale listed as a Buy, with a price target of $17.50/share. We discussed Vale after Rio Tinto (NYSE:RIO) reported strong production numbers, records in fact, and some newfound pricing power, which indicated that the market had bottomed and begun to turn in our opinion at the time.
There is no question that Vale has been a disappointment for investors as of late, however the company does have a strong dividend and is one of the big names in the iron ore business with large mines that have very low cost production. This is just the type of name one wants to be involved in if they are trying to play a rebound in iron ore prices. Our preference would be to own a more diversified miner, such as Rio Tinto or BHP Billiton (NYSE:BHP), but for exposure to iron ore Vale is a great play. For investors looking for a way to play a rebound in the current market volatility and emerging markets to rebound, Vale should be on the list of possible names to buy.
Oil & Natural Gas
Is Diamondback Energy setting up for a new uptrend? Investor's Business Daily thinks it might be a possibility.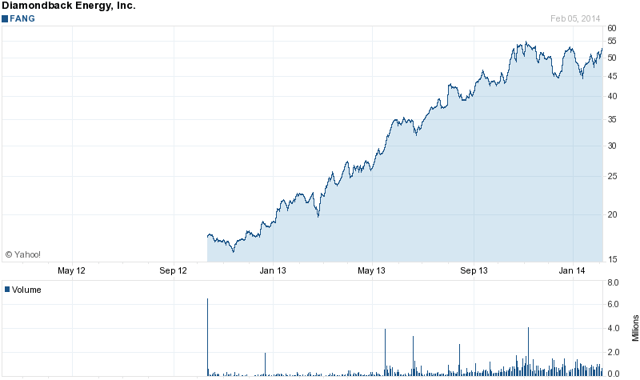 Source: Yahoo Finance
We received a question or two regarding the strength in Diamondback Energy (NASDAQ:FANG) as of late. Most of that strength we attribute to the strong shareholder base the company has, but yesterday we noticed that Investor's Business Daily highlighted the company along with Sanchez Energy (NYSE:SN) in an IPO analysis article titled 'Energy Stocks Popping Up as Top New Issues' (located here) after the close. Although the stock was up yesterday, this might be something to watch today as well.
The article basically says that Diamondback is setting up for another move higher, but it also states that buying on this technical indicator is a bit risky as it is not the first move the company has had since its IPO. Basically, they are pointing out that it is looking like a new breakout, but the indicator is risky to rely on at this point due to its already having worked three other times recently.
Disclosure: I have no positions in any stocks mentioned, and no plans to initiate any positions within the next 72 hours. I wrote this article myself, and it expresses my own opinions. I am not receiving compensation for it (other than from Seeking Alpha). I have no business relationship with any company whose stock is mentioned in this article.
Additional disclosure: I do own shares in Gulfport Energy which continues to hold a large stake in FANG.