Sunday, February 9 will conclude the 25 day quiet period on underwriter research on Cypress Energy Partners LP (NYSE:CELP) that was initiated with the firm's January 15 IPO.
The end of the quiet period will likely see at least a brief rise in the price of CELP shares as the IPO underwriters release positive information on the saltwater disposal and environmental services firm. Since pricing at the midpoint of its expected range at $20 per share, CELP has seen steady but unspectacular gains; the stock closed at $23.39 on February 4. See graphic below.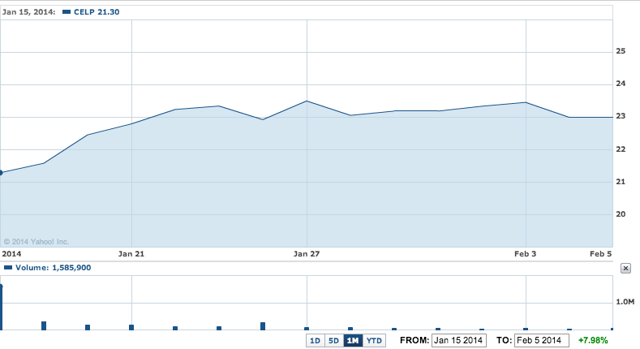 Click to enlarge
Source: Yahoo! Finance
CELP's underwriters, including BMO Capital Markets Corp, Robert W. Baird & Co Inc, Raymond James and Associates Inc, Stifel Nicolaus & Company Inc, Janney Montgomery Scott LLC, and Wunderlich Securities Inc, will attempt to bolster the stock's performance with a charge of positive information beginning on the ninth.
Both the results of recent academic studies and our own research over the past two years have evidenced a correlation between the quantity and visibility of IPO underwriters and a rise in the price of shares at the end of the quiet period.
The increase in price will typically begin a few days before the expiration of the quiet period, as savvy investors begin to buy up shares to attempt to take advantage of the expected release of underwriter reports. These early buys lead to the appearance of increased demand, placing upward pressure on share prices before the actual expiration of the quiet period.
Business Summary
CELP is a provider of saltwater disposal and other environmental and water services for American natural gas and oil firms, as well as trucking companies. The firm also has a pipeline inspection and integrity services business segment. CELP operates nine saltwater disposal facilities, including seven in the Bakken Shale in North Dakota and a pair in the Permian Basin in Texas. The firm's water and environmental services segment is engaged in the treatment of both the flowback water used to fracture shale and produced water that occurs naturally in shale formations and flows to the surface in gas wells. Both flowback and produced water contain toxic substances that present ecological dangers.
CELP charges a fee on a per-barrel basis to dispose of the water in its facilities. CELP's pipeline inspection segment charges fees for various inspection and integrity services performed on gathering systems, midstream pipelines, and distribution systems. The firm's customers include significant American pipeline companies, including DCP Midstream (NYSE:DPM), Enterprise Products Partners (NYSE:EPD), and Enbridge Energy Partners (NYSE:EEP).
Management
Peter C. Boylan III serves as the President and CEO of Cypress Holdings, as well as President, CEO and Chairman of Cypress Energy Partners GP. He previously worked in several executive management positions with firms controlled by Liberty Media Corporation. He serves on the boards BOK Financial Corporation (NASDAQ:BOKF) and MRC Global Inc (NYSE:MRC).
Conclusion: Buying Opportunity
We still believe CELP is a strong buy. The firm has attained profitability, and should see a continuous stream of business, as long as fossil fuels production continues in its areas of operation. Moreover, the firm's filings indicate the potential for very solid yields.
The conclusion of this quiet period should be viewed as an opportunity to get a running start into owning CELP.
Disclosure: I am long CELP. I wrote this article myself, and it expresses my own opinions. I am not receiving compensation for it (other than from Seeking Alpha). I have no business relationship with any company whose stock is mentioned in this article.