The overall Rural Mainstreet Index (RMI) decreased to 44.2 from its nearly two-year high of 47.4 last month, according to Creighton University's April survey of bank CEOs in a 10-state region. The RMI currently sits below the growth neutral 50.0. The farm equipment sales index rose to an 18-month high of 57.2, and the farmland price index continued its rally to 59.5. The confidence index, which provides an economic outlook six months from now, decreased to 45.6, which is the first time it has fallen below 50.0 in the last six months, and the lowest it has been since August 2009. The home sales index increased to 52.5, which is above growth neutral for the first time since 2007.
The farmland price index increased to 59.5, continuing a four-month rally, currently at an 18-month high. The index has been above 50.0 for three straight months. Farmland sales have been bringing strong prices recently. Larry Rogers, executive vice president of First Bank in Utica, Nebraska reported one sale that brought $8,025 per acre for a 143-acre farm, according to the survey. All of the surveyed states had farmland price indexes above 50.0, while Missouri and North Dakota had the highest individual indexes of 63.5 and 63.9 respectfully.
The farm equipment sales index increased to a 19-month high this month to 57.2. Year-over-year, the index is up 27.6 points. "We are tracking significant improvements in farm and ranch land prices and farm equipment sales. I expect both of these factors to remain healthy in the months ahead," said Creighton University economist Ernie Goss.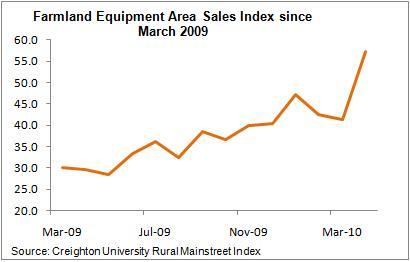 The home sales index broke above growth neutral for the first time since this month, reporting in at 52.5. "With the end of the tax credit for first-time home buyers on April 30, we are tracking upturns in home buying in the region," said Goss.
This month, bank CEOs were asked if they would support the extension of a 45-cent-per-gallon blender credit for ethanol production beyond December 31. 82% of bankers were in support of the extension, while only 8% were opposed, according to the survey.
Outlook
Once again, the overall RMI proved that the rural economy is still volatile in certain spots. The farm equipment area sales index has been up and down at times, but it has had an overall upward trend over the past year. The farmland price index has been quite steady with its upward trend as well. Indexes like the confidence and home sales have been more volatile at times.
The rally of the farmland price index continues to support our bullish outlook on farmland values. As major investment sectors took a large hit in 2008, farmland values decreased minimally across much of the nation. For more details on our thesis on farmland, read "Why Invest in Farmland."
Remember to visit Farmland Forecast for your daily update on news and research about farmland and agriculture.
Disclosure: No positions