By Steve Christ
It goes without saying that the best way to break a bad habit is to kick it cold turkey.
But let's face it: old habits die hard, which is why Altria Group Stock (NYSE: MO) is always at the top of list for dividend hungry investors. Because while cigarette smoking is a dangerous and noxious habit, it's an even tougher habit to quit— and that translates to big business, both here and abroad.
That's the bottom line that keeps the dividend of the largest U.S. tobacco company both rich and reliable — even in the midst of an economic downturn.
And whether you are comfortable with them or not, sin stocks have been as strong as ever over the last 12 months, especially in the world of tobacco products.
Big Tobacco Is Alive and Well
Big tobacco means big profits. Here's why...
Increased regulation or not, the U.S. tobacco industry raked in combined annual revenue last year of $40 billion from more than 100 companies.
That has helped to put the major players such as Altria Group, Phillip Morris (NYSE: PM), Reynolds America (NYSE: RAI), and Lorillard (NYSE: LO) all on the uptrend; this industry is highly concentrated, with the largest companies holding nearly 100% of the market share.
Take a look: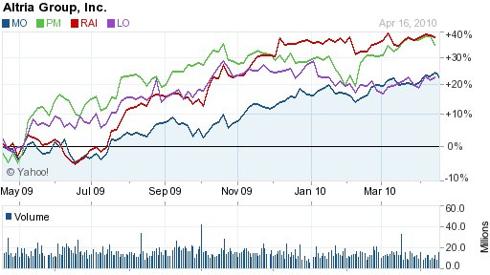 Click to enlarge
Not even the Family Smoking Prevention and Tobacco Act, signed into law by President Obama last June, could slow this sector down — despite the fact that the new law gives the FDA the power to regulate both the manufacture and marketing of tobacco products.
And while this certainly is not a positive development for the industry, it's nothing that will take "big tobacco" by surprise.
In fact, most analysts believe the new restrictions on these products will only allow the bigger players to garner an even larger market share.
So despite the industry expectation that cigarette consumption will decline by 4%-5% over the next few years, "Big Tobacco" operating profits will continue to rise modestly, as cost-saving efforts and consolidations wring more profit out of the bottom line.
As a result, the fundamental outlook for the tobacco industry for the next 12 months is positive — given favorable pricing trends, healthy free cash flow, and a relatively quiet legal environment.
As for Altria Group, it is currently throwing off a dividend that Warren Buffett would love at 6.7%. What's more, Altria's total shareholder return has outperformed the S&P 500 every year since 2000; the company has increased its dividend 43 times in the last 41 years.
In fact this morning, Altria's announced its first quarter earnings jumped 38% and reaffirmed its guidance for 2010 reported earnings in the range of $1.78 to $1.82 a share. According to the company, sales were boosted by a stronger performance in cigarettes, smokeless products and wine as well as higher earnings from its equity investment in SABMiller.
That's makes Altria Group a strong player for dividend investors who are also interested in growth.
Disclosure: No positions