Delta Air Lines (DAL) is the only airline that operates a crude oil refinery. To reduce its fuel cost, which is around 25%-30% of the airline's operating cost, the company plans to increase activities at its Trainer refinery, which was acquired from ConocoPhillips (COP) last year. Production from this refinery will reduce Delta's jet fuel cost. With the infrastructure changes in the Trainer refinery, Delta can increase production of "higher value distillate fuels" - diesel and jet fuel - by up to 40% of the refinery's output this year.
By operating the refinery Delta has an edge over the other airlines in hedging fuel cost. Airlines normally take a counter position in long-term futures contracts to hedge jet fuel cost, but they can't hedge the crack spread or refiners' profit margin -- the difference between the cost of crude oil and the selling price of jet fuel, which fluctuates on supply, demand and market trends. Delta's refinery lets the company hedge its fuel cost and increase its crack spread. This will generate extra income and thus improve Delta's financial position.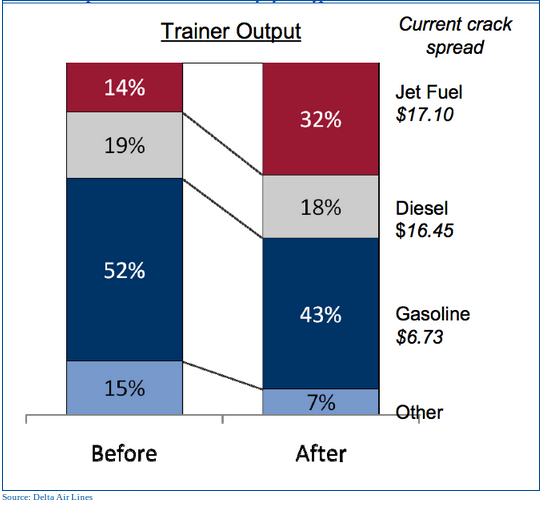 The Trainer refinery has the capacity to refine 185,000 barrels per day (bpd). Earlier Delta refined Brent crude, and starting this year it plans to refine 70,000 bpd lower-cost domestic crude, mainly from the Bakken region, compared to 17,000 bpd last year. In the long term, it plans to refine around 75,000 bpd to 100,000 bpd crude from the Bakken region. By shifting focus to Bakken crude, Delta could lower the average crude cost by $2-$3 per barrel, which will in turn reduce its refinery operational cost by more than $150 million annually. This is expected to also reduce Delta's jet fuel cost significantly, as every cent less spent on fuel will allow the company to save around $40 million annually.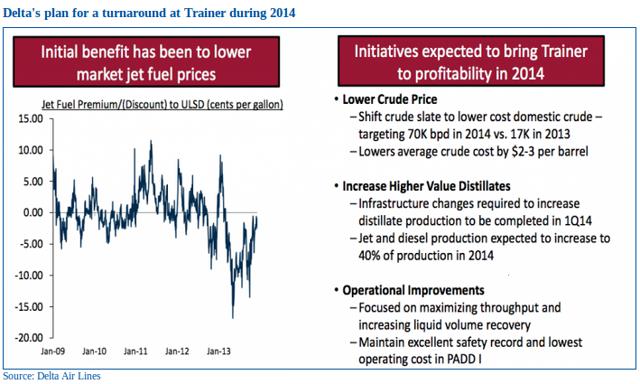 The Trainer refinery supplies Delta's Northeast operation. Jet fuel from this refinery is transported by pipeline and barge to airports, including Boston's Logan and New York's LaGuardia and John F. Kennedy. The supplying facility at these airports gives Delta easy access to jet fuel for its aircraft, as it flew around 400 daily flights from these locations. This will maintain the regular supply of jet fuel at these ports. I expect Delta may supply the surplus jet fuel to other airlines, which will add to its refinery top line and reduce its average fuel cost.
Along with its operating refinery, and by incorporating more fuel-efficient aircraft in its fleets and replacing the old fleets with newer, more fuel-efficient and higher-seating-capacity aircraft, it reduced fuel cost and related taxes by 7% year over year. Further, by raising fares, Delta generated net income of $8.5 billion or $9.89 per share in the fourth quarter of 2013 compared to $7 million in the same quarter last year. This included a non-cash tax benefit of around $8 billion, which lead to net earnings of $558 million, or $0.65 per share.
This growth trend is expected to continue in the next quarter as well as the company plans to replace its smaller 50-seat regional jets with more cost-efficient, higher-capacity aircraft.
Improving in-flight facilities and adding more slim-line seats
Delta is improving in-flight facilities to enhance its passenger revenue per available seat mile (PRASM) and installing slim-line seating, which will reduce its fuel cost. These strategies enabled Delta to increase its PRASM by 3% year over year in 2013. Up until the third quarter of 2013, Delta restructured around one-third of its fleet with slim-line seats. To further increase its PRASM, Delta plans a capital expenditure of $770 million by 2016, restructuring its 225 domestic narrow-body aircraft by increasing the number of seats and larger-capacity overhead bins. It will increase carry-on baggage space by 50%-60% and add slim-line seats without affecting customer comfort.
Additionally, by installing more slim-line seats the company expects to enhance revenue while reducing fuel cost, as other airlines such as United Continental Holdings (UAL), Southwest Airlines (LUV) and Alaska Airlines (ALK) have done by incorporating this strategy. By adding six economy-class seats on their 140-seat flights, these airlines increased revenue by more than 4%. Also, the lighter seats reduced fuel cost. For instance, Southwest Airlines by installing the additional slim-line seats will reduce its annual fuel cost by around $10 million. These modifications are expected to enable the airlines to enhance revenue without adding a flight on the same route, which will in turn generate extra fuel savings.
I expect this restructuring will enable Delta to enhance its PRASM and reduce its fuel cost significantly. Further, this will also allow Delta to capture market share in the U.S.
Conclusion
Delta Air Lines' strategy to expand the production at its Trainer refinery and use more Bakken crude will allow it to reduce its average fueling cost by hedging the jet fuel prices and increasing the crack spread. Further, restructuring its fleets through more slim-line seating will strengthen its financial performance by increasing PRASM and reducing average fuel cost. These strategies will enable Delta to generate an operating margin of 6%-8% for the quarter ending in March 2014 and thus improve its future bottom line.
Disclosure: I have no positions in any stocks mentioned, and no plans to initiate any positions within the next 72 hours.
Business relationship disclosure: Fusion Research is a team of equity analysts. This article was written by Madhu Dube, one of our research analysts. We did not receive compensation for this article (other than from Seeking Alpha), and we have no business relationship with any company whose stock is mentioned in this article