The Applied Finance Group's (AFG's) proprietary screening criteria (Economic Margin, valuation, quality of earnings, and management's ability to create shareholder wealth) provide a robust framework that will help investors in their research process. Specifically, AFG's Buy/Sell lists are a good starting place for investors searching for Large-Cap ideas. Over a ten-year period, companies that come up on AFG's buy list have significantly outperformed those on the sell list.
AFG Recommendation Performance
9/1998 – 5/2009
Annualized Returns
click to enlarge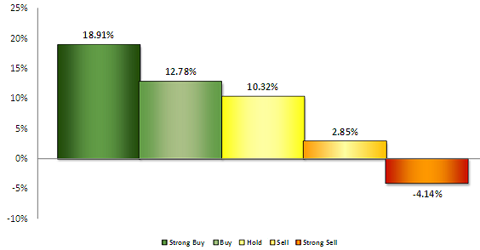 Below is a list of attractive companies in the S&P 500 from each major AFG sector (excluding financials). It serves as a focus list of companies for investors to begin with as they meet AFG's criteria to be an attractive opportunity. They are more likely to outperform their sector peers and the S&P 500, the benchmark that AFG's clients most often compare themselves with. Companies Include Exxon Mobil Corp. (NYSE:XOM) and Corning Inc. (NYSE:GLW).

In the near future, we will provide VE.com readers a list of unattractive stocks from each sector that will help our readers identify potential torpedoes to avoid in your portfolio.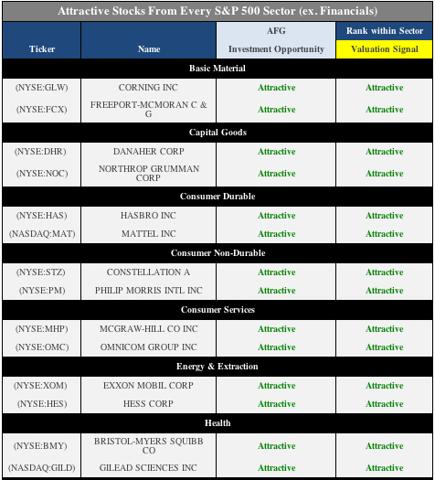 Source: EconomicMargin.com
AFG's Valuation Metric – Measures the percent to target (deviation between a stock's current trading price and its AFG current default target price). To derive the intrinsic value of a firm, AFG uses its proprietary Valuation Model (modified discounted cash flow model).
Economic Margin - A corporate performance measurement that addresses the gaps in GAAP, eliminating distortions caused by accounting policies to measure what a company is truly earning above or below their cost of capital.
Management Quality – Assesses management's ability to make wealth creating decisions.
To stay updated on companies AFG believes are attractive investment opportunities register here.
Disclosure: None