Equities rebound in Europe and the US as earnings generally beat expectations, data solid and European air travel begins to resume. Companies from Harley-Davidson (NYSE:HOG) to Marshall & Ilsley (NYSE:MI) posted better-than-estimated results and energy producers rallied with crude. Exxon Mobil (NYSE:XOM) led energy companies to the biggest gain among 10 industries as oil rebounded from a three-week low. Goldman Sachs (NYSE:GS) fell 2.1% as concern surrounding fraud accusations against the bank overshadowed a 91% jump in earnings. IBM (NYSE:IBM) declined 1.9% limiting gains in the Dow, following a drop in service contract signings.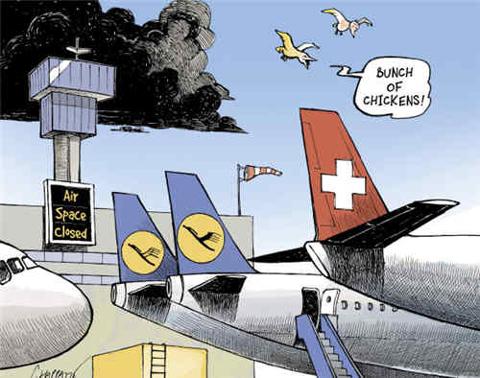 Click to enlarge
Today's Market Moving Stories
A Populus poll for The Times shows the Liberal Democrats on 31% (up 10 percentage points in a week), Labour on 28% (down 5 points) and the Conservatives on 32% (down 4 points). A ComRes poll for The Independent puts Conservative support at 35% and both the Lib Dems and Labour on 26%.
Lib Dem leader Nick Clegg said that, "Brown systematically blocked, and personally blocked, political reform. I think he is a desperate politician and I just do not believe him. And do I think Labour delivered fairness? No. Do I think the Labour Party in its heart has a faith in civil liberties? No. Do I think they've delivered political reform? No. They are clutching at straws." These comments have heightened speculation that the price for any deal with Labour would be that it removes Mr Brown as leader. Mr Clegg also makes it clear that he would be able to negotiate a coalition (with whichever party) with the backing of his MPs.
German ECB Governing Council member Axel Weber denies reports that he said Greece might need as much as €80bn in aid in the coming years to avoid default. He says that he was simply referring to a provisional figure for a three-year period quoted by the Greek Finance Ministry which had since been revised, and that his comments had been misinterpreted.
Non-performing loans in Spain are up to 5.39% of the total in February, up by 25% over the year. Savings banks used to suffer more relative to commercial banks, but the gap has almost disappeared, which suggests that the problem of non-performing loans is not just housing related, but much broader. The Spanish lending market may contract at a rate of between 5-15% pa over 2010-2013 (which would imply a very deep recession). Furthermore, the real estate market is very likely to deteriorate during that period. Spain may experience a Japanese scenario.
Robert Shiller is seeing another mini bubble in US house prices. He says that home prices have been going up for nearly a year now. He thinks we're in a very unusual circumstance because of the massive bailouts, the homebuyer tax credits, the Fed's purchase of mortgage-backed securities and these things are coming to an end. So it's an unusual period.
The minutes of this month's UK BoE MPC meeting confirm that the MPC remains in wait and see mode, while the labour market data continue to paint a mixed picture. The Committee agreed that nothing over the past month had caused it to substantially alter its views on the medium-term outlook. But there are tentative signs of growing disagreement on the MPC, with some members seemingly more concerned than others about the risk of a rise in inflation expectations.
A further drop of 32,900 in the claimant count measure of UK unemployment in March adds to the recent upbeat tone of the economic data in the run-up to the election. But note that employment dropped sharply in the 3 months to February, pushing up the wider ILO measure of unemployment by 43,000. Of course, the lagging nature of this measure means that this could just reflect the snow stopping people finding jobs earlier this year. But with public sector job cuts looming, this still looks set to be a jobless recovery.
The number of Britons buying a home for the first time fell to the lowest in almost two decades as tighter lending conditions curbed people's ability to purchase property, GfK NOP said. Some 347,000 first-time buyers took out a home loan in the year through February, less than half the peak of more than 700,000 recorded in the period from 2004 to 2005.
Sovereign Insurance Cost Increasing Further
Sovereign CDS (Credit Default Swaps) remains in focus as Greece begins 10 days talks with the IMF (that's a lot of ouzo and broken plates to get through) and investors continue to be bearish on Portugal. This morning Greece 5 year CDS moved 10bp wider to 460bp first thing and the one way traffic has continued, leading Greece to a new record wide of 477bp. Portugal followed suit, with the cost of protection rising 10bp to 200. 1 year CDS is spiking on both too with Greece up at 630 and Portugal at 230. It looks a near certainty that Greece will be forced to ask for emergency cash as it cannot raise the funds to meet the €8.5bn bond repayment on May 9th. Indeed some unnamed Greek officials are being quoted as saying it is no longer a matter of "if" it requests funds but "when". Portugal is being whacked as it is seen as the "next Greece."
And to make it worse, headlines from the newswires today include "France pledges max €6.3bn aid for Greece as part of €30bn eurozone aid package" and "French aid for Greece will carry around 5% interest charge at three-year maturity". I'm not sure I like the word "max" in the above statement, unlikely to comfort markets.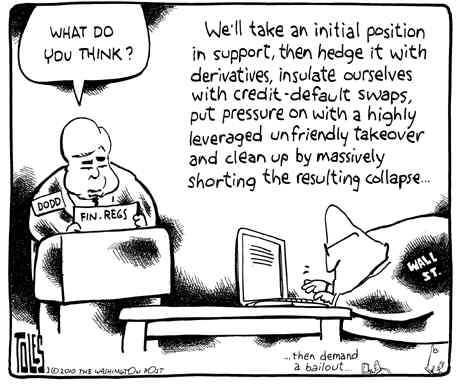 Company News
Élan (NYSE:ELN) today posted Q1 revenues up 27% to $305.8m but slightly behind market expectations. The group posted EBITDA of $53.9m ahead of estimates helped by reduced expenses primarily as a result of the elimination of R&D costs associated with the divested AIP division. Tysabri sales increased 25% to $198.8m but are $20m behind estimates as highlighted by Biogen yesterday, Elan's partner in the sale of Tysabri. The EDT business posted a strong performance with revenues up 28% to $76m well ahead of estimates of $65m, boosted by the introduction of Ampyra ($18.9m in revenues). Élan has earlier in the week confirmed it is looking at the possibility of spinning off this business. For 2010 Elan have confirmed FY EBITDA guidance of "more than $150m and for the first time in several years, operating profits before other charges or gains." The guidance is positive and is ahead of estimates despite the weaker than expected current Tysabri patient additions.
Apple (NASDAQ:AAPL) jumped nearly 6% in after hours trading to $258.60. The maker of the iPhone and the iPad tablet computer reported second-quarter profit and sales that beat estimates as CEO Steve Jobs promised to release "several more" products in 2010. Sales beat the average analyst estimate. The company also forecast third-quarter sales higher than the average estimate. Infineon and STMicroelectronics (NYSE:STM) are bid today on the back of these numbers rising 3.6% and 2% respectively. A further tailwind is a Goldman Sachs report today which upped their earnings forecasts for European technology hardware shares.
In contrast, Yahoo (NASDAQ:YHOO) fell 2.9% after the bell to $17.85. The company also reported first-quarter sales excluding revenue passed on to partner sites that totalled $1.13 billion, compared with the $1.17 billion average that analysts had projected.
Intel (NASDAQ:INTC) is considering acquisitions that would help get its processors into smartphones and consumer electronics. "We are looking at what we believe can accelerate our progress in those markets," CFO Stacy Smith said. "As we see other opportunities like that, we think it's a place where we can and will deploy capital." Intel is looking for purchases that mirror its acquisition of software maker Wind River Systems Inc. last year, said Smith, 47. The $884 million takeover gave Intel software that runs devices ranging from cars to mobile phones.
Google (NASDAQ:GOOG) is in talks to acquire ITA Software, a maker of travel programs used by companies including Orbitz Worldwide and Microsoft (NASDAQ:MSFT). ITA Software may seek about $1 billion.
Heineken (HINKY.PK) said first-quarter revenue totalled €2.94 billion, compared with an analysts' estimate of €2.99 billion. A volume decline in Russia was an important factor in the results, the company said.
French automotive group Peugeot-Citroen upgraded its earnings guidance for the first half of 2010 on the back of a 28% rise in revenue for the first quarter of this year. The rise outpaced by a wide margin the 18% increase that financial analysts had anticipated and underpins an improving industry trend as witnessed by earnings guidance upgrades earlier this week at German auto maker Daimler (DAI) and Peugeot-Citroen's auto parts subsidiary Faurecia. Peugeot-Citroen had said it expects to report "significant" recurring operating income for the first half of this year. The adjective was absent from the company's outlook in February.
Fiat (FIATY.PK) yesterday announced that Luca Cordero di Montezemolo would step down as Chairman immediately and be replaced by John Elkann, grandson of Giovanni Agnelli.
The market section of the Times has resurrected the perennial and low grade in our view rumor of a potential bid by Gazprom (OTCPK:OGZPY) for Centrica.
And Finally… Eyjafjallajökull – You're Saying It Wrong

Disclosures: None