Ford (NYSE:F) is a stock that I have been opining about throughout most of 2013. Interestingly enough, I never found myself with a position in the company and wound up owning GM (NYSE:GM) into 2014.
I named GM one of my 8 Attractive Trades for 2014 citing the following reasons:
With Ford having paved the path to the U.S. auto recovery, General Motors stands to be the next to offer a lucrative investment to those who go long.
The U.S. government is set to exit the company and it's likely going to prove to be a large catalyst upward for the stock.
GM is likely to unlock some of its cash once the government does exit. They've been stockpiling cash for years, compiling a reserve of nearly $27 billion. This has already happened in the form of a dividend.
GM offers warrants (as part of its restructuring) that trade dollar for dollar with the current stock price, but offer significantly more potential for gains over the next year. More on that in my article here.
I also recently named Ford as one of my 7 More Attractive Trades for 2014 based on the following points:
Ford is spearheading the U.S. auto turnaround and had a record 2013 across the board, even with slightly less confidence about 2014 recently.
Ford's Fusion is expected to go head to head with the Toyota Camry for the best selling sedan in the U.S. in 2014.
I argued Ford was likely to raise its dividends in 2014. This happened just a couple weeks ago.
Ford will be positively impacted by the European auto markets having bottomed and turning around.
So far, I'm eating crow on both calls. But, there's a lot of 2014 left.
For the last twelve months, Ford has returned about 11% at today's pricing. The company's stock was trading in the $17 range towards the end of 2013 but, along with the rest of the market, has been roped in to start the year, down 5.1% year to date.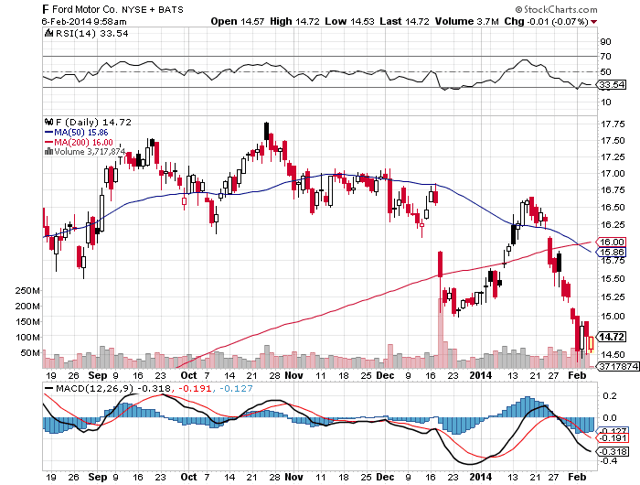 While the technical picture isn't real pretty, I'm taking this opportunity to finally stake my long-term position in Ford. With the company's recently announced dividends and the bottoming auto market overseas, I still see growth for Ford domestically and internationally. The same goes for GM.
This morning before the market opened, GM announced earnings that largely disappointed the street. The company reported a 13% slide in profit citing international market slowdows. However, the company reaffirmed its strength in both the U.S. and China. GM stock was clipped 2%, dragging Ford down with it. I used this dip as an opportunity.
Since the U.S. auto markets have bounced back, both GM and Ford have shown strength, but have stalled of late heading into 2014. The Wall Street Journal reported:
For the fourth quarter, GM reported a profit before dividends of $1.04 billion compared with $1.19 billion a year earlier. Excluding some charges, the company earned 67 cents a share, lagging the analyst estimate of 88 cents. Revenue was $40.5 billion. Net income, after dividends, increased to $913 million compared with $892 million.

By contrast, smaller competitor Ford Motor Co. last month said its net income rose 90% to $3.04 billion, including a tax-related gain of $2.2 billion. Pretax operating profit fell $402 million to $1.28 billion, reflecting in part a pretax charge of $1.6 billion also related to tax issues.
Ford's earnings, released in late January, also helped move the stock lower as the company presented 2013 as a grand slam but offered guidance into 2014. Additionally, sales numbers for January that were out last week continued to give investors pause.
However, both companies continue to trade at attractive multiples right now. GM is trading around 8x forward earnings and Ford is trading near 9x forward earnings.
(click to enlarge - source)

I'm betting on both of these revamped U.S. auto makers to continue their rise from the grave in the next couple of years. I like Mary Barra and Alan Mulally as CEO's and believe they're both capable of continuing to "floor the accelerator", as both companies are doing. Both GM and Ford continue to spend on innovation and both companies are trying to push the envelope forward into 2014 (see the new aluminum based F-150). I believe both companies will find success in doing so.
So, today I added to my GM B warrants, ones that are way in the money and that expire in 2019, and I took my first long position in Ford stock, counting on international growth and dividend growth.
Disclosure: I am long F, GM. I wrote this article myself, and it expresses my own opinions. I am not receiving compensation for it (other than from Seeking Alpha). I have no business relationship with any company whose stock is mentioned in this article.