The recent market sell off has provided a lot of great entry points into dividend paying stocks, like the ones covered here and here. This article is about another dividend growth giant, Johnson & Johnson (NYSE:JNJ), that has encountered a red start to 2014 like most of the rest of stocks. This article was written back in 2013 when Johnson & Johnson appeared too rich in terms of valuation. A lot of readers agreed with that, while some disagreed.
How are things now after the rough start to 2014 ? Let us get into the details and see why Johnson & Johnson is getting us interested again.
Five-Year Average Yield: Johnson & Johnson right now yields an exact 3%, which is very close to its 5-year average yield of 3.28%. As a reminder, it was yielding below 3% for almost the entire year in 2013. A stock price of $80 would give a 3.3% and while that looks too far right now, we must remember the stock has lost about 5% since the beginning of the year. So, with the sell offs in full swing, don't bet against even this great stock losing even more. If you are still not convinced that we might reach the 3.3% to 3.5% yield point, maybe the next point will make you optimistic.

(Source: YCharts.Com)
Upcoming Dividend Increase: Johnson & Johnson will go ex-dividend on February 21st for its quarterly dividend of 66 cents per share. That will mark 4 consecutive payments of 66 cents a share, which means only one thing for dividend growth investors. Another dividend increase (52nd consecutive) is very likely on its way, in April.
If the company sticks with the 5-year average mentioned below, the new quarterly dividend will be close to 71 cents per share. That will be an annual yield of close to 3.3% at the current share price of $87. So, there is your "5 year average yield." There is nothing magical about the average 5-year yield point but we must remember that stocks like Johnson & Johnson and Coca-Cola (NYSE:KO) usually trade at a slight premium. So it might be important to pull the trigger when the slightest opportunity presents itself. Remember, this stock did not yield 4% even during the 2008/09 meltdown.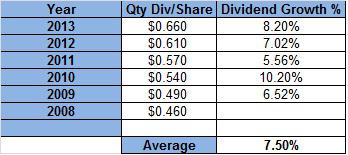 (Source: Yahoo Finance)
Price Targets: As mentioned in earlier articles, analyst estimates aren't bullet proof but they do give us some data points to compare similar looking stocks. JNJ's average price target according to 16 analysts on Yahoo Finance stands at $101. That's an upside of 16% on top of the dividends. None of the other well known healthcare stocks like Pfizer (NYSE:PFE), Merck (NYSE:MRK) and Bristol-Myers Squibb (NYSE:BMY) have that big of a difference between their current price and target price.
Valuation: Speaking of other healthcare stocks, the table below shows the current and forward valuations for these 4 major healthcare stocks. Only Bristol Myers & Squibb seems to be better than Johnson & Johnson using the metrics shown below. The cumulative rank is the average of the company's rank in each category.

(Source: Yahoo Finance)
Free Cash Flow: Johnson & Johnson's free cash flow has been sound to say the least. Overall, free cash flow has been on a general long term upward trajectory with dips in between. To drive home the point, even the lowest quarterly free cash flow shown of $1.70 B was enough to cover the dividends for that quarter (2.80 B shares outstanding multiplied by the then dividend of 61 cents per share). All the other 3 major competitors - Merck, Pfizer, and Bristol Myers & Squibb - had at least one quarter of negative free cash flow. While one quarter doesn't make or break any of these giants, Johnson & Johnson has a much more reliable cash flow because of its diversification (refer to the conclusion).

(Source: YCharts.Com)
Conclusion: So, there you have a few reasons why income investors might need to pay attention to Johnson & Johnson now. If the above points aren't good enough, here are a few more to conclude the article:
The stock's low beta of 0.57 doesn't hurt either as 2014 seems like a turbulent year for stocks.
Johnson & Johnson is one of the few companies with a AAA debt rating.
Contrary to popular opinion, Johnson & Johnson is not just a pharmaceutical giant. Medical devices and diagnostics make up more than 60% of the stock price according to Trefis.com. In other words, this is a well diversified company through Medical devices and diagnostics, pharmaceuticals and consumer healthcare.
Disclosure: I am long KO. I wrote this article myself, and it expresses my own opinions. I am not receiving compensation for it (other than from Seeking Alpha). I have no business relationship with any company whose stock is mentioned in this article.