Wall Street analysts seem to be keen on leaving General Electric Company (NYSE:GE) out in the cold. Other analysts at Citigroup and JPMorgan Chase & Co. also don't appear to be impressed by General Electric's prospects and have placed GE on the back burner for 2014. JP Morgan sees the earnings risk held by the company as a weak bull case. Overall, JPMorgan believes General Electric regularly falls behind on industry earnings but also notes that shares are not cheapened as a result.
Citigroup's comments after General Electric's shares were removed from its "focus list" denoted the fact that analysts were unimpressed by General Electric's profit margins. Citigroup regarded General Electric's profit margins as 10 basis points behind their expectations. They also expected the company's organic margin growth to be 70 basis points but the company was only able to manage 66 basis points. Citigroup appeared pleased by the "fundamentals" of the business, organic growth, and cash flow.
In my article I will be focusing on the company's bottom-line performance. I will compare the company's income and margins against peer and industry averages. In the end, I will consider the future outlook of these figures with relevance to on-going major activities undertaken by the company.
After a brief introduction about the company, I will start analyzing the company's performance with respect to its income and margins.
The Company and its Segments
The company claims it is one of the major and most diversified infrastructure and financial services corporations around the globe. The company operates through eight operating segments.
The company's power and water segment deals in products and services used to support energy production around the globe. The oil and gas segment helps oil and gas companies make more efficient and sustainable use of the world's energy resources. The energy management segment designs, manufactures, and services leading technology solutions for the distribution, management, conversion, and optimization of electrical power for customers across multiple energy-intensive industries. The aviation segment offers jet engines and related services to global customers. The healthcare segment provides essential healthcare equipment and technologies to countries around the globe. The transportation segment provides locomotives to railroads, marine, drilling, and mining industries. The home and business solutions segment deals in energy efficient appliances and lighting products for domestic and commercial use. GE Capital provides a vast range of financial products and services such as loans, credit cards, and leases to businesses of all sizes.
Margins
Compared to Industry Average

Source: Morning Star
The table above shows that the company's TTM operating and net margins are above the industry average. The industry has been earning a 14.5% operating margin and a 9.1% net margin but General Electric is earning an 18.8% operating margin and a 9.5% net margin. The company is actually outperforming the industry as far as margins are concerned. In order to fully grasp the information presented I will compare the company's margins to its competitor 3M Co. (NYSE:MMM). I have chosen this competitor since its operations closely match General Electric's. 3M is also a diversified industrial company and operates numerous segments: industrial and transportation, healthcare, safety, security and protection and electro and communications.
Comparison to Competitors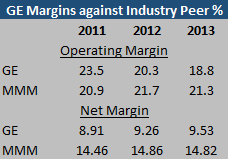 Source: Morning Star
The table above shows that General Electric had a slightly higher operating margin than 3M in 2011 while the situation was reversed in 2012 and 2013. General Electric has improved its net margin from 8.91% in 2011 to 9.53% in 2013. Although these net margins earned by General Electric are lower than the margins earned by 3M in 2011-2013 General Electric is striving to improve its performance. I will discuss the company's efforts to improve its operational efficiency below.
Segmental Performance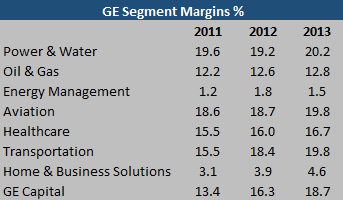 Source: GE 10K Report and Earnings Release
The table above shows the margins of each segment. All of the company's segments have recorded improvement in their margins from 2011-2013. The company's power and water segment earned highest the margin in 2013 at 20.2% followed by the aviation and transportation segment that recorded a 19.8% operating margin. GE capital recorded an 18.7% margin in 2013 but the company is considering divesting this segment in order to concentrate more on its core business. I will discuss this again under the heading of restructuring.
Now, since analysts were disappointed with the company's earnings I will analyze the company's financial performance.
Income and Earnings
Comparison to Industry Average and Peers

Source: GE 10K Report and Earnings Release
General Electric recorded a negative growth in its operating income in 2012 and 2013. A slight improvement in 2013 can be witnessed as the company recorded an 8.36% decline in its operating income compared to the 13.7% fall in operating income in 2012. 3M also recorded declining growth in its operating income but it increased by 4.39% in 2011 and 0.72% in 2013.
Regarding net income growth, General Electric has recorded a 1.62% growth in 2013 compared to the 3.6% fall in the net income in 2012. 3M also recorded a decline in its net income growth year-over-year but its 3-year average income growth was 11.7% which is above the industry average of 7.6%. General Electric's 3-year average net income growth is 7.4% which is just a bit behind industry average. So, in order to discover more details regarding General Electric's income performance I will analyze the income performance of each segment to determine who contributed to and who hindered the company's profits.
Segmental Analysis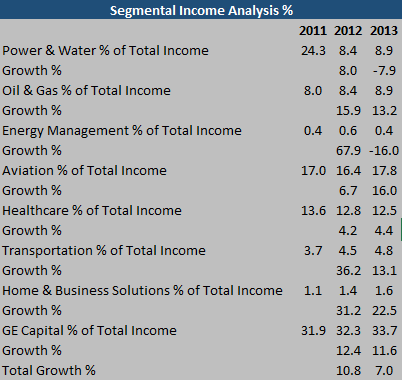 Source: GE 10K Report and Earnings Release
From the table above, it is evident that the company has been generating a majority of its segment income, 33.7% in 2013, from the GE capital segment. The segment recorded double digit growth in its net income in 2012 and 2013. Next is the company's power and water segment that is a bit of a problem area. The segment contributed 24.3% to the company's total income in 2011 but its contribution fell to 8.9% in 2013 upon recording a 7.9% decline in its income growth. The energy management segment is the smallest contributor to the company's income so a decline in its income in 2013 would not have a material effect on the company's income performance. On the contrary, the company's aviation and transportation segments are improving their contribution to company's total income year-over-year by recording double-digit growth in their incomes in 2013.
Overall, the company's margin and income performance is not that poor. In fact, improvements were evident in the current year. There is also a supportive and positive outlook for the company that I am about to discuss in detail under the following heading.
Future Outlook of Margins and Income and A Look at On-going Activities
Restructuring to focus on core business
As discussed earlier, the power and water, aviation and transportation segments are the segments that earn the highest margins for the company. The aviation and transportation segments have been recording double digit growth in their segmental income while the power and water segment faced a decline in 2013. The company has decided to focus more upon these segments by starting to invest more into these segments and cut back on its financing business. The company is now reducing the gap between various financing sources and governments that are actively hunting for very large projects. The downtrend in European banks, previously the key financiers of large infrastructure projects, has change the trend in the industry. Now, a single large project may be financed by several banks and through this restructuring General Electric has prepared itself to account for this trend. The company will be reducing its exposure to finance by divesting its GE capital segment. This will not only support income but will also generate cash flows for the company. Through this the company will curtail cash losses to attain its target of $90 billion upward cash generation through 2016. The company's Vice-Chairman Rice forecasts that over the next three years General Electric's industrial businesses will generate 70% of the company's operating profits. The remainder will be earned through the company banking business.
Final Thoughts
My analysis focused on JP Morgan and Citigroup's concerns regarding the company's bottom-line. By examining the company's margins and income it became evident that that company's performance was better than perceived. In fact the company has achieved a bit of an improvement in its margins and income growth in 2013. Looking ahead, the company has planned to carry out major restructuring that will allow it to focus more on its high margin and profitable segments. Additionally, through this restructuring the company will be able to take advantage of the emerging trends in the industry. Considering these aspects I am a bit optimistic about the company's future prospects and suggest that investors to hold onto their investments till the global economic recovery gains momentum.
Disclosure: I have no positions in any stocks mentioned, and no plans to initiate any positions within the next 72 hours.
Business relationship disclosure: The article has been written by a Blackstone Equity Research research analyst. Blackstone Equity Research is not receiving compensation for it (other than from Seeking Alpha). Blackstone Equity Research has no business relationship with any company whose stock is mentioned in this article