With the markets on pullback mode I wanted to highlight two stocks in the global cloud-based call center market that I believe are setting up to make significant moves to the upside when the markets turn around. The two companies are AudioCodes (NASDAQ:AUDC) and InContact (NASDAQ:SAAS). AudioCodes is a "one stop solution" vendor for industry leader Genesys, while InContact is a pure play cloud-based software contact center provider.
Here's why I believe these two stocks are set up for short term moves to the upside:
AudioCodes
Audiocodes is a small cap Israeli company that has been a leader and innovator in the VoIP market for 20 years. Its products and solutions include IP phones, session border controllers, media gateways, multi-service business routers, residential gateways, media servers, mobile communications solutions, value added applications, and professional services.
Quarterly Results:
AudioCodes recently reported solid 4th quarter revenues of $36.3 million which was a 10% year over year increase. The company is planning to introduce a series of new cloud-based platforms and a number of new products in the coming months. Two areas where AudioCodes really shined was in its Microsoft Lync related revenues which rose 30% and now amounts to 15% of total sales and in its higher margin services which grew by 20% and which the CEO said should continue to grow as it closed larger sized contracts in 2013. With earnings behind it, AudioCodes is now ready to move on news and I believe that good news will not be in short supply over the next month as it will be attending two major conferences where I'm looking for a series of press releases to be issued.
Upcoming Conferences:
The two important conferences that AudioCodes will be participating in are the Microsoft Lync Conference and Mobile World Congress. The first one up is the Microsoft Lync Conference at Las Vegas on February 18-20. AudioCodes' One Voice for Microsoft Lync has been such a success that I believe it will use this setting to make a series of new product, software and service announcements. I will also be looking to hear of new contracts and I will be paying particular attention to the size of the contracts. AudioCodes has been signing larger sized contracts and I'm looking for this trend to continue.
On February 24-27, 2014 AudioCodes will attend the Mobile World Congress in Barcelona, Spain. I'm looking for news out of the company on its mobile strategy. Any mobile news particularly a deal or clarification of its Over the Top (OTT) strategy could see the shares spike higher.
Gross Margins:
I listened in on the conference call and in the question and answer session the first analyst zeroed in on gross margins. AudioCodes' CFO confirmed that he sees gross margins staying at 58% and they could actually increase further as the favorable trend in product mix continues with software and services contributing more. I believe this will be the case as the CEO stated "Our increased focus on software products, solutions and software are expected to provide further strength to our margins in coming years". It is well known that Wall Street values margin expansion and AudioCodes could see its multiples being raised along with a higher price target as a result. In fact on Tuesday, Zack's research added AudioCodes to its Strong Buy list.
Microsoft's New CEO:
Satya Nadella, Microsoft's new CEO is an enterprise cloud guy and as such I believe that Microsoft could further deepen its ties with AudioCodes. AudioCodes has a very successful relationship with Microsoft through its "One Voice for Microsoft Lync" product portfolio and I'm looking for Microsoft to turn to AudioCodes, or even buy it outright as Microsoft moves deeper into the cloud led by new CEO Nadella.
Chart: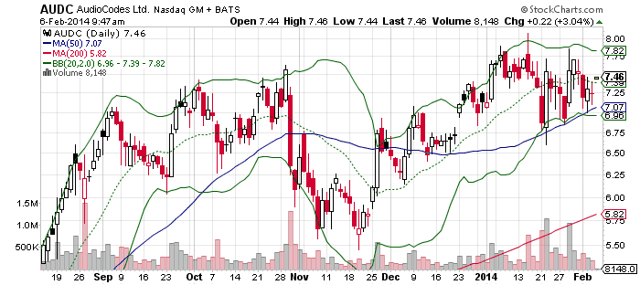 As the market indices have pulled back, AudioCodes has basically gone sideways, which is a sign of strength in AudioCodes' stock. It has tested and found support at the 50 day moving average and the bottom of the Bollinger band. I believe that news out of the upcoming conferences could be the fuel to drive a run to new highs. I'm looking for a run to $10 by month end.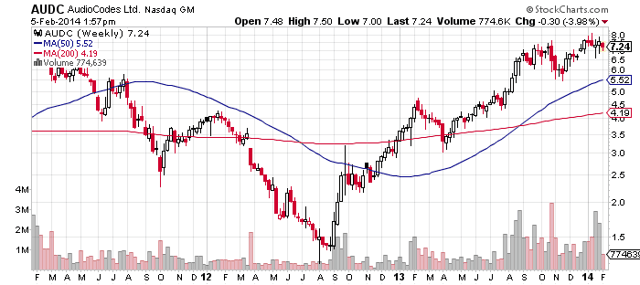 The chart above shows a textbook inverse head and shoulders pattern which on the weekly chart is a long term bullish pattern. For the last 5 months, AudioCodes' stock has been churning sideways and the $7 level looks to now be support. A break above $8 especially on big volume and good news from the company should see the shares make a longer term move to $16.
InContact, Inc.
InContact develops cloud-based software solutions for the global call center industry. InContact has been enabling call centers to move their operations to the cloud.
Upcoming Earnings:
In Contact is set to report its earnings on February 13th post market and I'll be looking for another great quarter. Last quarter InContact reported revenues of $32.2 million which was a 15% increase year over year. Perhaps more important than the financials will be the number of contracts signed. Last quarter it closed 71 contracts including 4 Fortune 500 companies, any increase on this and we will see InContact move substantially higher. Management will release guidance for 2014 on the call and I'm looking for the types of numbers that will get analysts excited.
Institutional Ownership:
InContact's stock has institutional holdings of 87%, of which Fidelity Investments is the biggest as it owns 8 million shares or over 10% of InContact. In my opinion this is an extremely bullish indicator as the institutions are the most knowledgeable players on the street and their ownership of InContact signals to me that InContact has successfully conveyed its business plan to Wall Street and Wall Street has confirmed that it sees growth to come from the company.
Needham Conference:
At the recent Needham Annual Growth Conference, InContact announced a few new customer orders and saw its stock run up to 52 week highs. The stock has since pulled back with the markets, but I believe that InContact will see a run up in its stock price into earnings as investors believe that there will be many more deals in the pipeline especially as InContact is a market leader in an industry expected to more than double over the next five years.
Chart: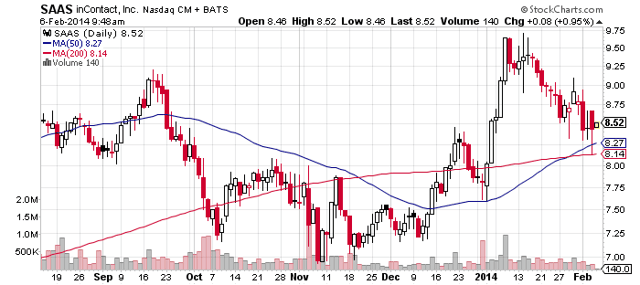 SAAS has pulled back along with the market and I believe that it has made a short term bottom as it found support and bounced off the 200 day moving average. I'm looking for a quick return to the recent highs at $9.75. Last week we saw the 50 day moving average cross above the 200 day moving average and this signals to me that we should see a run to $12-$13 over the medium term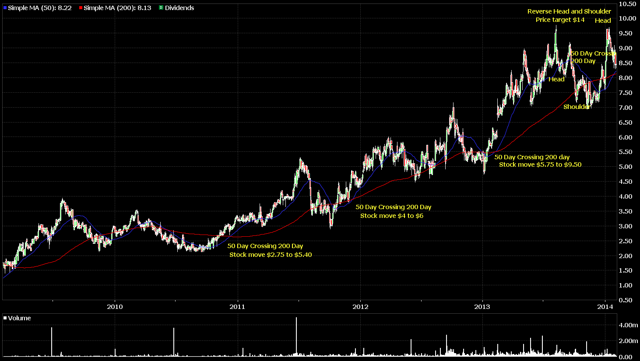 The long term chart on InContact is really exciting. On three previous occasions we have seen major moves correspond to when the 50 day moving average crossed above the 200 day moving average. This happened again this past week and as a result I'm looking for InContact to make a significant move higher from here to the $14 - $15 range.
Disclosure: I am long AUDC, SAAS. I wrote this article myself, and it expresses my own opinions. I am not receiving compensation for it. I have no business relationship with any company whose stock is mentioned in this article.