By David Russell
Fifth Third Bancorp (NASDAQ:FITB) reports earnings tomorrow morning, and traders are looking for a pop.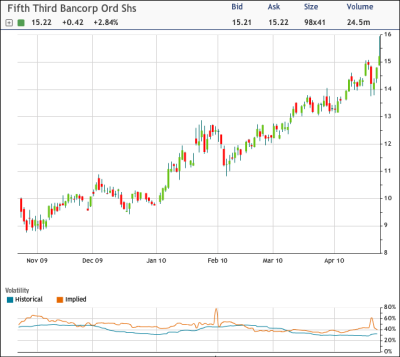 optionMONSTER's Heat Seeker tracking system detected heavy buying of the calls and shares today as the bulls pushed the stock to a new 19-month high. Investors snapped up more than 5,000 May 16 calls in size for $0.51 to $0.69 against open interest of 1,119 contracts.
FITB rose 2.84 percent to $15.22 in afternoon trading and is up 55 percent so far this year. Earlier in the session the shares reached $15.95, their highest price since September 2008.
The Cincinnati-based lender has been rallying after recording smaller write-downs on its loan portfolio. It gapped higher following its last earnings report on Jan. 21.
The stock must climb at least 4-5 percent by expiration for the calls to turn a profit.
Other investors also purchased more than 3,200 May 15 puts after the shares spiked early in the session, which represents either a downside bet or a protective position on a new investment in the stock.
Overall share volume is more than two-thirds greater than average so far today. Options volume is five times the normal level.
Disclosure: No positions