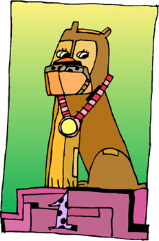 While I will wait for the SEC filings to look further, the slide presentation and press release were excellent, and definitely a reflection on U.S. Bancorp (NYSE:USB) Chairman, President and Chief Executive Officer Richard K. Davis' leadership of he and his board of directors. A year ago when Washington said the banks should make loans, he declared his banks would make all the good loans they could. He set the benchmark for US Bank.
The press release shows the equipment leasing group business appears in good shape, definitely holding its own, and despite the recent purchases of banks closed that US Bank purchased, the cost in taking over these operations, opening new offices and branches, the bank overall is doing extremely well. Whether they decide about the dividend, the growth and stability seem to be as important. In fact, you could say I view the company as being "bullish." They are taking on Wells Fargo (NYSE:WFC) and others on the West Coast, such as Bank of the West. They are aggressive, when others are not, and it specifically appears from the numbers to be making good, solid loan and credit decisions. The slide presentation and facts show US Bank held a stranglehold on delinquencies; great job by their loan officers and collection staff:
click to enlarge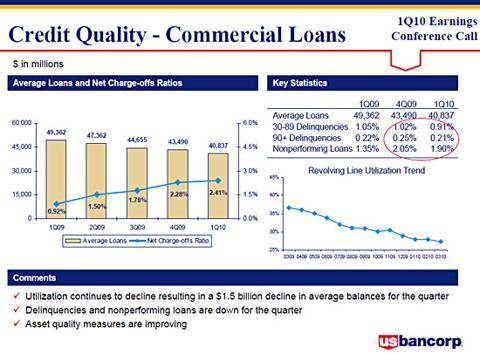 Click to enlarge
Net income was $669 million for the first quarter of 2010 from total net revenue of $4.3 billion. It was higher than the $529 million from the first quarter of 2009
Growth came from:
| | |
| --- | --- |
| $6.6 | billion of new commercial and commercial real estate commitments |
| $14.6 | billion of commercial and commercial real estate commitment renewals |
| $2.0 | billion of lines related to new credit card accounts |
| $13.3 | billion of mortgage production and other retail originations |
Net interest margin of 3.90 percent for the first quarter of 2010, compared with 3.59 percent in the first quarter of 2009 (and 3.83 percent in the fourth quarter of 2009). As important, delinquencies and write-offs were down: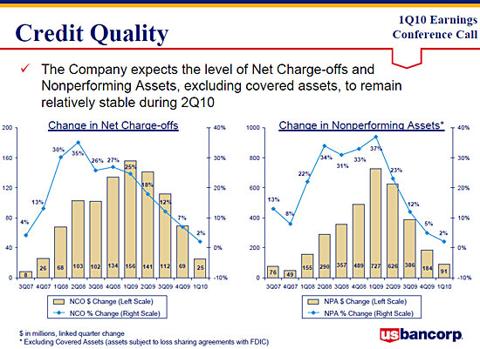 Click to enlarge
"As a Company, we are confident and focused on the future. We are investing in our businesses, branches, employees and infrastructure" U.S. Bancorp Chairman, President and Chief Executive Officer Richard K. Davis said.
We continue to build deeper relationships with our clients, while transitioning from providing high quality customer service to being recognized for providing a great, high quality customer experience.

We have not, however, lost sight of the prudent operating and risk management principles of our past — principles that have allowed our Company to successfully navigate an uncertain economy and unprecedented changes in the financial services industry. There is more change to come, and we have taken a leadership position to help ensure that the industry and, importantly, our Company play a vital role in the economic recovery.

Our first quarter results demonstrated the underlying strength of our business model, and I am confident that our Company's momentum will accelerate as the economy recovers. We have the depth, breadth and strength to grow and prosper in the years ahead for the benefit of our customers, employees, the communities we serve and our shareholders.
Keeping in mind the acquisitions and growth, the down equity from $27.2 billion first quarter, 2009 to $26.7 billion the first quarter, 2010 is not bad with the Tier 1 Capital going from $25.3 billion to $23.3 billion, or in a better view, the Tier 1 capital ratio from 10.9% to 9.9% (10% is the site to look for, in my opinion, so 9.9% is quite acceptable, especially under the growth and use of capital to expand).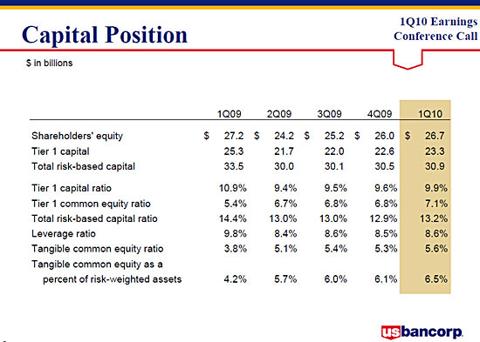 Click to enlarge
It should also be pointed out the US Bancorp is lending, as noted by their mortgage and other lending growth. The bank is aggressive in both the consumer and commercial markets, becoming more of a competitor, definitely a bank to do more than watch, to get involved.
The SEC filings hopefully will have more information on the various sectors, especially leasing. The numbers here are combined from all the leasing operations, not just small ticket or back office or middle-large markets, primarily out of Portland, Oregon. As this office got out of the broker middle-market, it's reporting picking up operations from the small ticket Minnesota office. Since the last personnel changes, with financial leader Mike Rizzo gone (he consolidated positions, in the end, moving himself out too), it seems to be divided (Rizzo is reportedly in Portland trying to put a group together).
Leasing is down according to the consolidated quarterly average balance sheet, but nothing that should be considered "dramatic" in this market place. I personally think "admirable" is a better word, particularly since this is a combination of all the leasing operations and not knowing which of the divisions are holding their share. Meaning, is the small ticket up, but the middle market not what it used to be? In addition, credit ratio charge-offs are up. Here are the numbers from the press release:
| | |
| --- | --- |
| In billions: | |
| March 31, 2009 | $6,772 |
| June 30, 2009 | $6,697 |
| Sept. 30, 2009 | $6,567 |
| Dec. 30, 2009 | $6,489 |
| March 31, 2010 | $6,445 |
Allowance for Credit Losses


(In millions:)

March 31, 2009

$55

June 30, 2009

$55

Sept. 30, 2009

$44

Dec. 30, 2009

$33

March 31, 2010

$34
| | |
| --- | --- |
| Credit Ratio (percent) | |
| March 31, 2009 | 1.21 |
| June 30, 2009 | 1.72 |
| Sept. 30, 2009 | 1.89 |
| Dec. 30, 2009 | 2.25 |
| March 31, 2010 | 2.14 |
US Bancorp 1st Quarter Press Release:
http://leasingnews.org/PDF/US_Bancorp_Q1_10.pdf
Slide Presentation regarding 1st Quarter Press Release:
http://leasingnews.org/PDF/US_Bankcorp_slides.pdf
Disclosure: No position