In this recent stock market sell-off, retail stocks have been slammed. It doesn't seem to matter what the stores are selling, if they have physical locations the company's stock price is down sharply. This realization has sent me looking for pockets of value in the sector. That search has led me to Target Corporation (NYSE:TGT), which I am going to analyze below.
Background
Target Corporation, hereafter known as Target, was founded in 1902 in Minneapolis, MN. It currently has 1,921 stores, all of which are company-owned. Of those 1,921 stores, 1,797 of them are in the United States, while 124 stores are located in Canada. Much like its chief competitor, Walmart (NYSE:WMT), you can buy anything from food to sporting goods to clothes at a Target super center.
Metrics
The first metric I always look at when analyzing a company is the historical return-on-equity (ROE). I expect every company I invest in to use my capital wisely, and this can be reflected in a high ROE. You can see Target's ROE for the past 10 years. I prefer to invest in companies that record ROE consistently above 25%, but in the retail industry that's a pretty tough sell.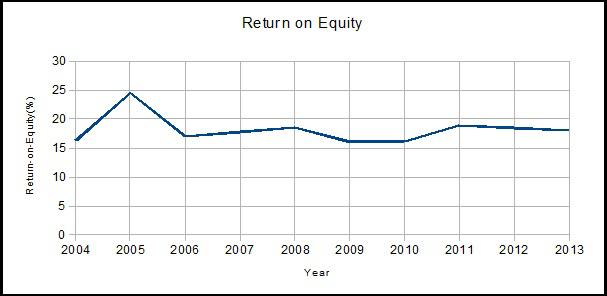 I also want to see that both the revenue-per-share (RPS) and the company's book value have consistently grown over time. Below are charts representing Target's results for each over the past 10 years.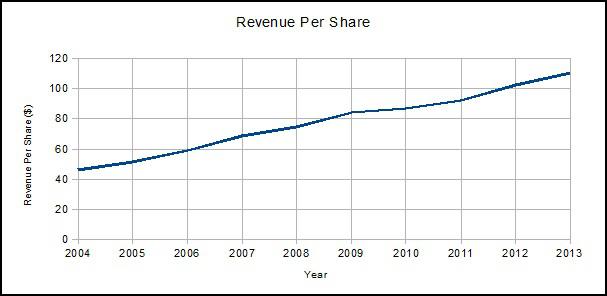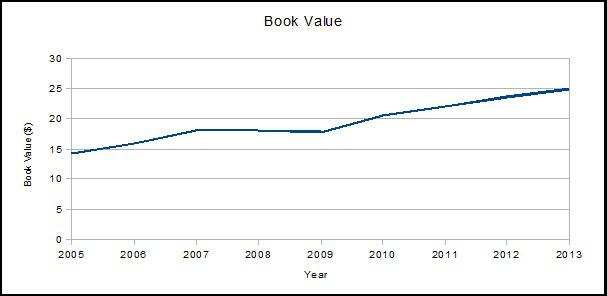 The results look pretty impressive to me. Target was able to consistently grow its RPS over the past 10 years, in spite of the 2008-2009 financial crisis. Additionally, Target's book value has steadily risen over the past 10 years, with the exception of 2008 and 2009. I'll grant them a pass on this, because the financial crisis was a major event which crippled many weaker businesses. Clearly, Target had the staying power to weather that storm.
Comparing Target
I always like to take a look at companies on a relative basis, as well as an absolute one. The reason I like to compare a company to its own historical valuation is because certain companies always seem to trade at a discount to their peers, so while they may be cheap relative to the S&P, they aren't necessarily as cheap as they once were. The graphic below shows that Target is not only selling at a discount to the S&P 500 and the retail sector, but it is also selling at a discount to its own historical valuations. A 2.9% dividend is very nice too, and I feel confident about the dividend given Target's 41% payout ratio. To look at that dividend payout another way, you are being paid 50% more (in quarterly dividends) to own TGT than you have been paid (on average) over the last five years. I don't know about you, but I like to be paid.

Data Provided by Morningstar.com
Discounted Future Cash Flow
Ok, so I like to look at a company's cash flow. Much like Tom Cruise in Jerry Maguire, I want my investments to "show me the money". Below is the discounted future cash flow spreadsheet I created to help value my investments. For those who are interested, all of my spreadsheets will soon be available for sale on my website.
Target has grown its year-over-year earnings per share by an average of 12.1%, over the past 10 years. When extrapolating that earnings growth rate out for the next 20 years, while discounting it at 5% per year, we get a valuation for Target's shares of $148.82. If we then subtract the current net debt Target carries per share ($22.34) from the valuation, we get a fair value of $126.48 per share. The reason you discount the future earnings in these type of valuations is to determine the relative outperformance (if any) you can anticipate by investing in the subject business, compared to investing in a "safe" investment like CDs or short-term bonds. In my opinion, the ridiculously low yields that such "safe" investments are currently paying are an anomaly resulting from the Federal Reserve's artificially low interest rate policy. Therefore, I use 5% in order to be conservative. If you prefer to look at it another way, 5% has historically exceeded the rate of inflation, and therefore any investment should earn at least that much in order to maintain purchasing power over time.
All of that being said, assuming 12.1% earnings growth over the next 20 years seems excessive to me. Retail is currently facing a host of pressures, most notably increased competition from online shopping and the stagnant wages of their customers. Even though Target's management has shown an impressive ability to innovate, I think a more reasonable expectant growth going forward would be in the 6%-8% range. Therefore, I have redone the valuation... assuming 6% growth instead of the aforementioned 12.1%. The results are below and we get a discounted future earnings valuation of $81.57 per share of Target Corporation. Once the debt is subtracted out we get a fair valuation of $59.23, which is about 10% higher than the current stock price around $55. That catches my interest because I feel the S&P 500, as a whole, is overvalued. Given the previous valuation and the more conservative (6% growth) one, it appears shares of Target Corporation are in fact undervalued.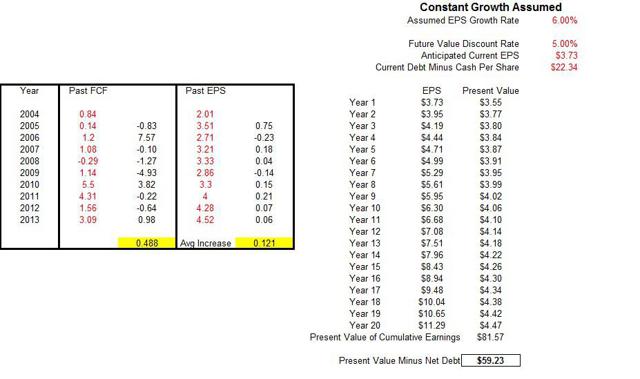 Stock Price
I am not much of a technical stock trader, in fact the quickest way for me to go broke would be to become a day trader, but I always take a quick look at the stock charts before I buy or sell. Below you can see a 2-year chart of Target's daily stock price. The current stock price is right around $55. You have to go all the way back to May, 2012 to find the stock price this low. That previous time at $55 per share may actually help to support the stock at current levels (to technical traders anyway).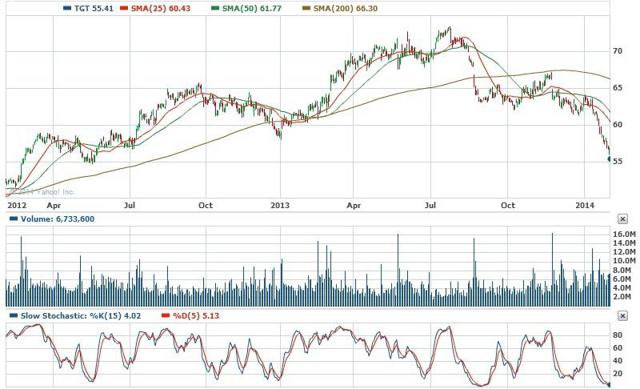 (Source: Yahoo Finance)
Conclusion
The stock of Target Corporation appears to be undervalued based on the research above. At this price, you are buying a profitable and growing company at a reasonable trailing PE (14.8) that is also paying you nearly a 3% annual dividend. The current stock price, around $55, even appears to be a level of support for all you technical traders out there. If the stock price stays at this level, I will be initiating a position in TGT later this week.
Disclaimer
I do not currently own TGT, but I may initiate a position in the stock later this week. This article is for informational purposes only and should not be considered a recommendation for anyone to buy, sell, or hold any equities. I am not a financial professional. The information above is provided by Morningstar.com, Gurufocus.com and Yahoo Finance.
Disclosure: I have no positions in any stocks mentioned, but may initiate a long position in TGT over the next 72 hours. I wrote this article myself, and it expresses my own opinions. I am not receiving compensation for it (other than from Seeking Alpha). I have no business relationship with any company whose stock is mentioned in this article.