This article is the third in a series based on Market Exclusive's interview with Michael Farkas, CEO of Car Charging Group (OTCQB: CCGI). In the first article, we discussed Car Charging's current business model, which is focused on providing public EV charging services primarily through strategic partnerships with commercial entities. In the second article, we discussed Farkas' plans to tap the residential EV charging market as well as key end-user issues like charging station reliability and pricing. In this final article, we get Farkas' thoughts on other dominant players in the industry, international expansion, and why institutional investors are starting to get interested in his company.
From Customer to Competitor Overnight
In the last year, Car Charging has acquired four competitors. In retrospect, the acquisitions of Beam Charging, EV Pass, and 350 Green were just a warm-up for the acquisition of bankrupt ECOtality's Blink Network. In terms of charging points gained, that deal dwarfed the first three and instantly transformed Car Charging into the single largest owner/operator of public EV charging infrastructure (see table, below).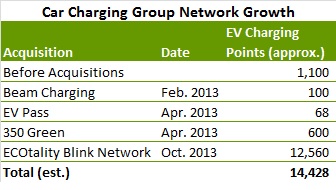 With a pedigree in Wall Street investment banking, quickly cobbling together an industry juggernaut through acquisitions was right in Michael Farkas' wheelhouse. Now that all the pieces have been assembled, the next big challenge is to integrate them into one coherent operating entity. The first step in integration is to decide on a common platform. Farkas says Car Charging is "focused on Blink. That is what we intend to build our future on."
When asked if the interoperability partnership forged between Chargepoint and ECOtality known as Collaboratev could pave the way for a unified platform, Farkas says this is not the case. Though he confirms that Car Charging will take ECOtality's place in the Collaboratev partnership, it is not moving along as expected. "Bottom line, Chargepoint doesn't want interoperability," says Farkas. When asked to comment on Chargepoint offering former Blink customers incentives to switch to their chargers as soon as the acquisition was announced, Farkas says "people who are scared can tend to react that way. Understand that we were their largest customer and now we are a competitor. They reacted by being combative."
Farkas isn't a big fan of his supplier recently turned competitor. "Chargepoint charges excessive fees for having hardware on their network. A lot of people don't know this. There are a lot of manufacturers that build hardware for that network, but then people have to pay excessive fees to run that hardware on the Chargepoint network, which hurts usage," he says. Farkas believes this is why some commercial operators of Chargepoint chargers choose to charge high hourly rates. He feels this hamstrings usage by discouraging demand for public charging. This brings Farkas to an important point: "Chargepoint doesn't own a single station; they sell them and operate the network. It is important that we dictate pricing. It is the ultimate advantage. Everyone that owns a Chargepoint unit dictates their own pricing. They lose control." It's odd to hear a CEO talk about using pricing power to make a product more affordable, but Farkas is convinced that rates must be kept reasonable to encourage adoption.
Where he really sees an opportunity to exploit Car Charging's pricing advantage is in fleet sales. "Chargepoint can't negotiate a fleet deal with anyone. We can cut a deal for X dollars per hour for an entire fleet. Chargepoint can't create a package for a major fleet corporate client," says Farkas.
Tesla: Friend or Foe?
With Tesla (TSLA) moving aggressively to build a coast-to-coast network of Supercharger stations, some observers wonder if Car Charging may find itself in Elon Musk's crosshairs. In general, Farkas sees what Tesla is doing as positive for the industry. "I see a substantial component for fast charging. It's essential for success," says Farkas. "I do see fast charging as a necessity. We have to have the right mix of DC and AC. Locations like Walgreen (WAG) are great for DC. With the newer chargers you can get 80% of a full charge in 20 minutes."
When asked to comment on the prospect of a serious confrontation with Tesla in the EV infrastructure marketplace, Farkas is sanguine. "Tesla's model is very specific. They do not deal with urban, only long distance charging, period. They want to make sure there is infrastructure that enables this. They are not a competitor in infrastructure. Plus, the compatibility is an option on the car. Their own manufacturing plans show that they are not planning to be the infrastructure provider. They really needed that P.R., the perception." He adds emphatically, "they do build that cost into the cost of the car, it's allocated for that charging infrastructure. But is it really going to be used? How many people are actually going to elect to drive from city to city?" Farkas has an interesting point: Tesla could end up making a profit on something most people think is a loss leader.
Global Expansion On Hold (For Now)
Despite all the successful acquisitions Farkas has made in the last year, he hasn't won every prize he's sought. A group that included Car Charging was one of the original bidders for the assets of bankrupt Israeli battery-switching pioneer Better Place. After a couple of botched sales, the EV charging assets ended up in the hands of Israeli power management company Gnrgy. When asked why he took an interest in the Middle East market, Farkas says "we believe in the business anywhere," adding that "Car Charging is pursing partnerships worldwide. We are not afraid of geography. If there's a good transaction outside the US we're interested. If the right deal is there, we're interested in anything."
When asked if he would consider acquiring Gnrgy, he says "there is definitely some potential benefit there, no question," particularly given the expertise the company has in power management and designing products for foreign markets. However, he does concede that Israel is a very limited market.
Gaining Traction with Institutional Investors
One very positive sign for Car Charging's future is that institutional investors are stepping-up to provide much needed cash infusions to fund Farkas' growth-by-acquisition strategy. When asked why he thinks institutions like the Eventide Gilead mutual fund (which backed the ECOtality deal) are getting interested, he says "People are realizing that no matter who it is, whether it's a car made by Tesla or Ford (F), all of them need fuel. It's not just Tesla and it's [the EV charging infrastructure industry] not going away, it's expanding. Who will fill these cars? Car Charging is the dominant player."
Farkas continues with a provocative analogy: "Think about Henry Ford: he called John D. [Rockefeller] in every market before he went in there. He asked for gas stations. That's how it was built out. Then there were other car companies that came in, and it was agnostic. So by Ford developing Standard Oil…which became more valuable?" With Standard Oil's major extant successors Chevron (CVX) and Exxon Mobil (XOM) currently worth about $210 billion and $388 billion respectively to Ford's $58 billion market cap, Farkas may have a point. "We do have these kinds of relationships with car companies today, just like they did. That communication is happening," adds Farkas.
From Humble Beginnings
Though institutions are taking notice and Farkas says he is actively working on an up-listing, Car Charging remains a micro-cap, OTC-traded company. That of course warrants caution. With hard-charging CEO Michael Farkas at the helm, however, Car Charging is a company to keep an eye on.
Disclosure: I have no positions in any stocks mentioned, and no plans to initiate any positions within the next 72 hours.
Business relationship disclosure: Business relationship disclosure: Market Exclusive is a team of analysts and writers. This article was written by Carlos Uribe, one of our Group contributors. We did not receive compensation for this article (other than from Seeking Alpha), and we have no business relationship with any company whose stock is mentioned in this article.