If you take a look at the load factors for airlines, it can provide a glimpse into a few things. First, it can be viewed as the capacity utilization for the airline and it can also be looked at as the margin potential. It shows the amount of efficiency with respect to the total amount of seats available.
March was a good month as both more people were flying and load factors were up significantly.
See full table below.
From Investopedia.com
Load Factor: This indicator, compiled monthly by the Air Transport Association [ATA], measures the percentage of available seating capacity that is filled with passengers. Analysts state that once the airline load factor exceeds its break-even point, then more and more revenue will trickle down to the bottom line. Keep in mind that during holidays and summer vacations load factor can be significantly higher, therefore, it is important to compare the figures against the same period from the previous year.

CLICK IMAGE TO DOWNLOAD PDF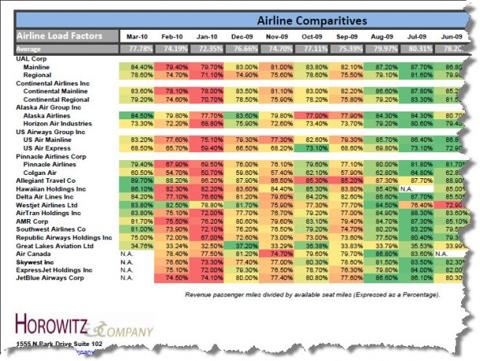 Disclosure:
Horowitz & Company
clients may hold positions of securities mentioned as of the date published.