Canada, eh? We are looking to Canada for today's overnight trade opportunity with Suncor Energy (NYSE:SU).
Analysis: Suncor is one of the leading companies involved in the oil sands project in Canada that extracts bitumen from the sandy soil in various parts of northern Canada. The company has become one of the leaders in the independent oil and gas market and has developed a natural gas division that operates in the USA and Canada, an offshore Canadian drilling division, and has opened international oil and natural gas facilities in the United Kingdom, the Netherlands, Norway, Trinidad and Tobago, Libya, and Syria. The company is reporting earnings tomorrow morning and is projected to report a profit with an EPS of 0.16.
I am a fan of Suncor because I think the company has some very high chances of beating estimates, coupled with a current market undervaluation. One year ago the company reported an EPS of 0.19, and the company has been over 0.20 for the past three quarters. The current valuation on EPS estimates is quite low after three quarters of missing EPS estimates that overestimated the company. These misses, though, have made the company rather quiet going into earnings, and I am expecting the company to continue to be around this 0.20 area, which will allow for a beat and move to the upside.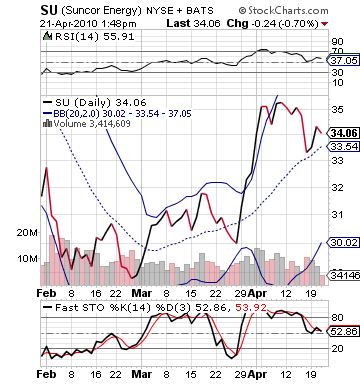 Why do I expect them to beat? For one, we want to look at Suncor's production in the quarter. In February, Suncor produced 211,000 barrels while on average they produce 180,000 barrels in the month. The month of January, however, saw lower production at only 156,000 barrels, which was caused by a fire that was quickly fixed. The company is on pace with typical average production, and I think the underestimation is just a fear from January. The company has had some lower production than in past months due to this fire, but the price of oil is also much higher than it was in 2009. I think the two are very balancing.
Suncor is really the first major independent oil producer to produce results, but oil was above $75 a barrel in the entire first quarter, and it should be a major reason that SU will be able to produce results that beat estimates. The company received an upgrade during the quarter, and the stock is well positioned to make a nice move from a technical standpoint. The company has continued to produce more as the price of oil has improved, and we do not have the numbers from March, but I expect they were good because there was no more operational problems.
The price of oil is too much to overlook. Technically, SU is right at the neutral point on being oversold and overbought as well as on RSI. Further, the company has a lot of room to the upside on Bollinger bands, and it is not moving up significantly today. All the bounce will be tomorrow. I feel confident about this company because it has gotten such low estimates, about half of where they were in 2009. The reduction in estimates has allowed for a great buying opportunity.
Entry: We are looking to get involved in SU at 34.00 - 34.10.
Exit: We are looking to exit at the open of tomorrow's session for whatever gain or loss.

Stop Loss: None.
Disclosure: None as of this writing.