One of the investment methods used by traders so effectively in 2012-13 was to buy home builders responding to strong demand in specific metro areas; for example: the CA builders (San Francisco Bay Area, Los Angeles, and San Diego); and Texas (especially Austin, San Antonio, and Houston).
The strong foot-traffic, rising median asking prices, and ongoing sales demand in those geographies gave me a reasonable security that a rise in KB Home (NYSE:KBH), Standard Pacific (SPF), Brookfield Residential (NYSE:BRP), Lennar (NYSE:LEN), Toll Brothers (NYSE:TOL), and Hovnanian (NYSE:HOV) was assured.
The investment thesis was straight forward. If those markets were ramping (and they were), and these builders were dominant in those geographies, then the profits would be there on reporting days for future quarters.
One-off events were also very helpful for buying opportunities. KB Homes lost 50% in the spring of 2012, partially because two preferred banks (consecutively) stopped originating and servicing its mortgages. It had nothing to do with the builder and everything to do with Dodd-Frank's effect on larger banks. The banks were simply getting out of the business, not making a comment on KBH's business prospects.
But KB's short interest surged to 62% nonetheless on bankruptcy fears, which fueled the mother of all short squeezes in 2H2012. I first wrote about this saga in KB Home as a Turnaround Play, July 23, 2012; and in The Disputed Book Value of KB Home, October 5, 2012)
A similar thing is happening right now. KB Home reduced their community build-out (slightly) in CA coastal communities in 2H2013 to offset the strong demand they were experiencing. The reason? The company didn't want to sell through their valuable land too quickly (and too cheaply), so they began metering-out the construction schedule.
The company's short interest soared again - along with the mortgage rates in 2H2013 - and the stock cratered, losing 35%. The short interest is now almost double that of May, 2013. The housing bears look at every jot and tittle with this company, searching for the "next new disaster", or one-off event, or misunderstood data point that might bring it down. This is what has created so much volatility and beta in the stock.
But here we are on the cusp of the Spring selling season, none of the dire predictions has come to pass, mortgage rates have softened, and if you look at the chart, you can see that the company seems poised for another 2014 breakout to the upside.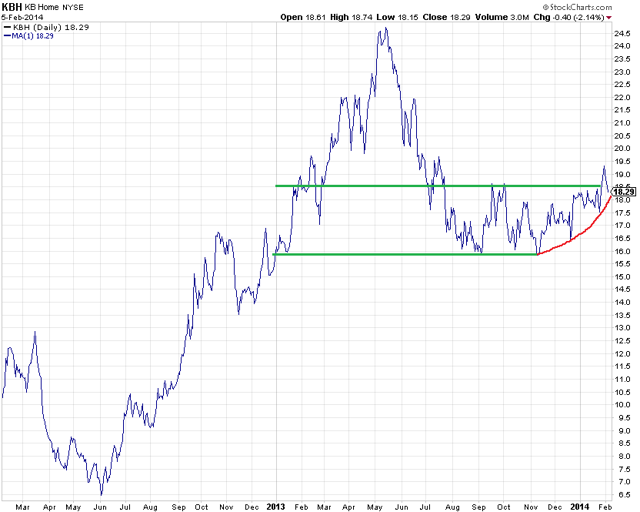 The same could be said of Tri Pointe (NYSE:TPH), the CA builder which has had a 400% increase in its short interest since its IPO a year ago. It has already given up half its January gains in 2014. But today the company announced that it has acquired another 892 developed lots in CA (SF Bay Area, Inland Empire) and CO (Arvada, Castle Rock, and Denver). Tri Pointe is fast becoming one of the largest builders in the U.S.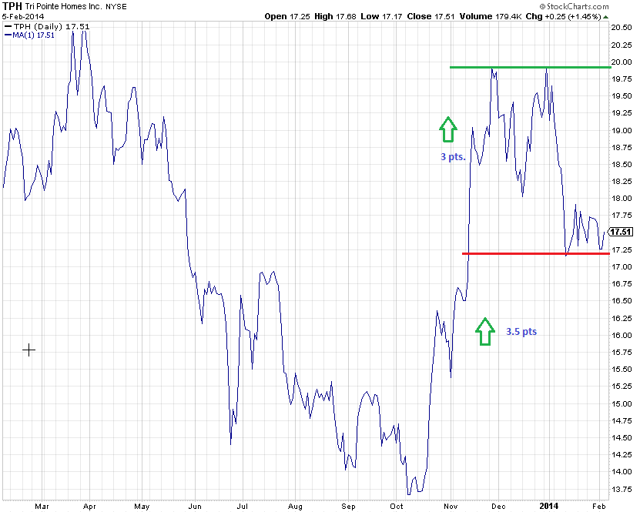 The uneven fundamentals for the U.S. real estate market continue to strengthen as underserved metro areas enter recovery mode.
Which leads me to the greater Chicago Metro Area, and two new reports out on the housing market there. According to one, new home revenue fell 91% between 2005-2010, forcing most private builders out of business. The Midwest is home for almost 25% of the U.S. population, and the lack of construction has created a severe shortage in new homes in the Chicago Metro Area. Now it's time for the builders to play catch-up.
"The supply of finished and vacant inventory fell to 3.0 months for single-family detached and attached homes in4Q13. These are the lowest levels of new home inventory in over six years in the Chicago market....Not only is the amount of new home inventory low, but...the low levels of resale supply will continue to bring buyers to the new home market."
(From: Chicago Housing Market Keeps Chugging Along, from Chicago Market, Metrostudy Report, by Chris Huecksteadt, January 29, 2014).
In another report by John Burns Consulting (Chicago Housing Outlook an A+ after Falling 91%, February 4, 2014), the researcher highlights a new home construction market rising from its ashes in Chicago:
"There are rising home sales volumes, very low levels of new and resale supply, and great affordability. A typical home buyer pays only $1,055 per month in mortgage payments. That is an $84 per month discount compared to renting and $274 less than in 2008.
Resale home buying activity rose 38% over the last year and has returned to its normal level of activity per household.
55,000 more people work in the Chicago MSA than one year ago, and (yet) cities issued only 9,000 total permits during that time (Population estimated at 9.2 ML for 14 counties)
New home supply: Single-family construction comprised only 5,100 of the 9,000 total permits issued in the last 12 months. That is 80% below the average single-family activity since 1981.
Finished lot prices rose 18-25% in the last 12 months. Publicly traded home builders bought approximately 65% of the finished lots sold last quarter, and private builders have difficulty competing with them."
So who builds there? The top regional builders in the Chicago Area are Ryland (NYSE:RYL), William Ryan Homes (private), D.R. Horton (NYSE:DHI), Pulte (NYSE:PHM), M/I Homes (NYSE:MHO), Hovnanian, and Toll Brothers.
The national recovery has been uneven, but larger builders doing business in several rising demographics will do the best. I think one of the reasons that DR Horton, M/I Homes, and Ryland have reported such strong earnings is the growing demand from Chicago, the largest metro area of the Midwest.
Investors in these home builders should see a long-term strengthening in these companies' book value through increased sales and strong gross margins; and eventually, in their share prices, partially because of a renewed focus on emerging metro areas like Chicago.
Disclosure: I am long BRP, NLY, WMC. I wrote this article myself, and it expresses my own opinions. I am not receiving compensation for it (other than from Seeking Alpha). I have no business relationship with any company whose stock is mentioned in this article.