(Editors' Note: This article covers a micro-cap stock. Please be aware of the risks associated with these stocks.)
Genco Shipping and Trading LTD (NYSE:GNK) is on the brink of financial disaster. The recent and dramatic fall of the Baltic Dry Index is destroying their bottom line cash flow. They have $1.476B in short term debt that needs to be refinanced. They are in violation of several covenants, and in my view, could be forced into a Chapter 11 if they do not remedy their situation soon.
I would stay away from Genco Shipping & Trading LTD. I wrote a previous article about their debt troubles on November 18th 2013, you can view that piece here.
Below is a recent chart of the BDIY with an overlay of DryShips Inc. (NASDAQ:DRYS) and Genco Shipping & Trading LTD.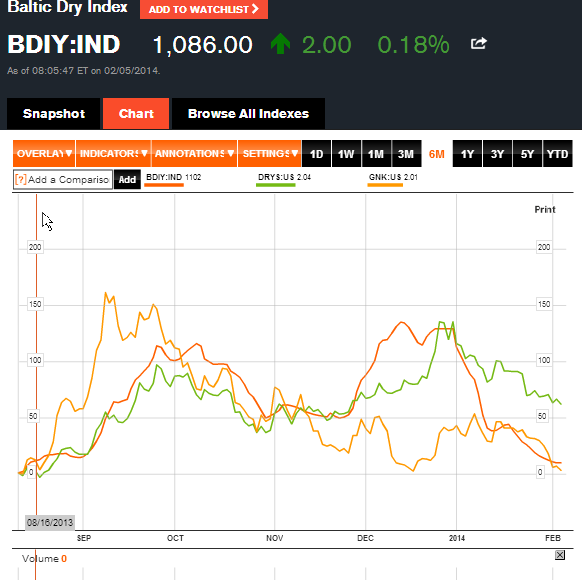 To make matters worse, Genco Shipping has 380 off-hire days coming up for dry-docking.
Below is a clip from the 10Q.

The estimated cost for dry-docking is rising nearly 7 times to $14.4M. The company can ill afford to pay for these expenditures, let alone lose 380 days of revenue. This is going to destroy their cash flow. They will surely be negative EBITDA. In my opinion, lenders have no interest in going down that road.
What would happen if DryShip's CEO George Economou, made a run for Genco Shipping & Trading LTD? Genco has a relatively newer fleet consisting of 53 vessels.
Let's look at some simple math. 53 vessels X $32M = 1.696B. I believe that everyone can agree that these are conservative numbers. Now, take the current float of 43.231510M shares X $3.36 = $145,257,907. The price of $3.36 a share reflects an 80% premium from the current share price of $1.87. Next, add in the 1.54B in debt for a total of $1.685B. Throw in another $110M in executive pay and lender fees and you have yourself a deal! Shareholders will be relieved to get anything, Genco's CEO gets a small severance, lenders make their money and everyone wins. Yes, it can be as simple as that.
George Economou has excellent relationships with the various banking syndicates. He could literally make a play for the company, negotiate a 1.6B to $1.8B financing package and BOOM, DryShips could be the proud owner of 95 vessels and still have Ocean Rig UDW (NASDAQ:ORIG). Better yet, have Ocean Rig UDW buy them both. Is that possible? With banks and creative minds, anything is possible.
Conclusion
In my opinion, time is running out for Genco Shipping & Trading LTD; there upcoming capital expenditures and $1.54B in short term debt is too much to handle. George Economou's DryShips, or another larger player is likely looking at acquiring these 53 vessels and the enterprise itself. The world of finance and business is cutthroat, and I for one can feel some type of consolidation in the air. The world is full of energy and ideas; here is yet another idea that could create a possible win situation for some.
I urge you to do your own research, read a 10K and a few 10Q reports before making any investment decisions with your hard earned capital. Always have an exit strategy in place before buying any stock or bond.
Disclosure: I am long PBR, DRYS, KWK. I wrote this article myself, and it expresses my own opinions. I am not receiving compensation for it (other than from Seeking Alpha). I have no business relationship with any company whose stock is mentioned in this article. I have no intention of buying Genco Shipping & Trading LTD in the near future, I do not suggest investing on the basis of this article.