After introducing Kenya, Ivory Coast, Nigeria and Ghana as the African KINGs, we hereby extend the discussion to the 4Cs industries and companies summarized under the KINGS' index, a universe of 35 value and growth companies from the KINGs, mixed with 15 liquid, large size South/pan African companies.
From previous analyses, we note that the African KINGs closely track the MSCI Frontier Africa index. Although past performance is not a good indicator of future returns, we believe that the KINGs offer a better representation of Frontier Africa's opportunities in a smaller yet diversified sample set.
Sweet spots
In recent history, Nigeria, Kenya and Ghana have been attractive investment destinations. Dedicated Frontier investors are familiar with this trio and less so with Ivory Coast as the West African giant has been held back due to a decade of civil war.
Following Qatar and the UAE graduation into Emerging Market status this year, Nigeria will soon become the second biggest weight in the MSCI Frontier Market index behind Kuwait. This not only highlights its potential, but also positions the country to Emerging Market status in the medium term; a move that will increase visibility and liquidity as more capital flows in. This is an appeal to gain first mover's advantage.
Kenya will continue to be attractive in the near and medium terms, as the successful elections held last year have paved a way to an enabling socio political environment that supports its dynamic economy, which has been boosted by the recent oil discoveries.
Ghana is known for its democratic institutions and conducive business environment. Despite macro economic challenges in the near term, the country remains an attractive destination despite short-term macro economic concerns over widening deficits and double-digit inflation.
The case for Ivory Coast featuring in the KINGs is not just a formality, but is appealing for several reasons. The country is not only UEMOA's hub but also its newly found growth engine since the end of post election violence in 2011. Economic activity has resumed, driven by key sectors such as: agriculture, consumer-related sectors and public spending on infrastructure. From 2012 to date the BRVM has gained over 66% of which 7% occurred at the beginning of this year! Government gross debt has gone from nearly 95% in 2011 to an estimated 39% this year.
Performance summary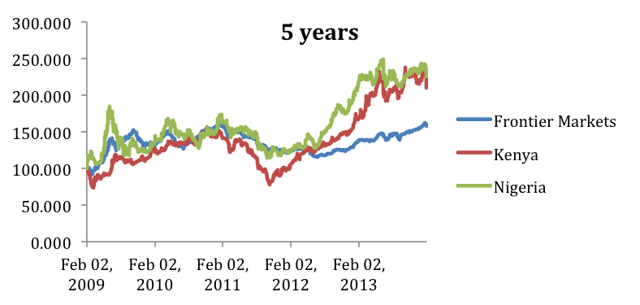 Source: MSCI indices, Phase One Associates
Going forward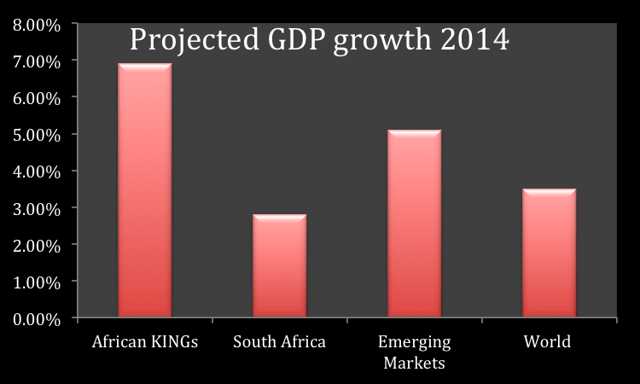 Source: IMF databases, Phase One Associates
Key Highlight
Whether referring to MSCI country indices or local stock market indices, the KINGs posted a 39% USD adjusted, price returns in 2013. That is above all other MSCI leading indices and the S&P 500. More importantly, the combined 5-years Sharpe ratio of Kenya, Nigeria and Ghana MSCI country indices is equal to that of the MSCI Frontier Africa over the same period.
We note however that this performance has been highly volatile. Such volatility is not significantly different from that observed in most Emerging Markets, therefore dedicated Emerging and Frontier Market specialists are expected to build-in and manage this downside risk.
The collapse of prices observed in various KING countries during the 2008-2009 period reminds us that these markets are vulnerable to external shocks partly because a considerable number of investors are foreign-based. As an example, foreign investors are estimated at 51% in Nigeria. Despite the value and growth opportunities they represent, Frontier markets including the African KINGs are reactive to market sentiment and externalities.
Industries: the 4Cs sectors
By the 4Cs, we attempt to summarize sector opportunities in Consumer-related including FMCG, retail, banking and breweries; Communications, mainly telecom and ITC listed companies, Construction including cement companies and Commodities encompassing soft and hard commodities.
Overall, the key drivers of the 4 Cs sectors leverage on strong commodities prices and domestically, a growing trend of consumerism supported by a rising middle class and rapid urbanization. These dynamics coupled with better politics and policies and improved corporate governance all contribute to strong corporate earnings, thus they are attractive investment targets. After rolling out mobile banking, telecom companies have entered a new wave fueled by mobile data and broadband penetration and the fast adoption of social media among the youth.
Industry Fundamentals
| | | | | |
| --- | --- | --- | --- | --- |
| | P/E | P/B | D/E | Current ratio |
| Banking | 9.29 | 2.75 | 6.61 | - |
| Brewing | 22.6 | 11.65 | 1.42 | 1.05 |
| Consumer | 53.93 | 16.22 | 1.91 | 1.3 |
| Retail | 28.56 | 2.85 | 0.9 | 1.22 |
| Telecom | 34.64 | 12.42 | 0.81 | 0.77 |
| Agriculture | 9 | 1.53 | 0.92 | 2.22 |
| Construction | 13.5 | 2.87 | 0.48 | 1.74 |
Source: Phase One Associates, October 2013
Industry P/E ratios compared to world averages
| | | | | | | | |
| --- | --- | --- | --- | --- | --- | --- | --- |
| | Banking | Telecom | Breweries | Consumer | Retail | Construction | Agriculture |
| World | 12.42 | 24.89 | 15.92 | 61.52 | 27.34 | 16.83 | 25.91 |
| Sub S Africa | 9.29 | 34.64 | 22.6 | 53.93 | 28.56 | 13.5 | 9 |
Source: Reuters, Phase One Associates, October 2013
Under served sectors
In our opinion, the healthcare sector is underestimated as we see opportunities growing across the value chain from supply of drugs and equipment to treatment and health insurance. More importantly, the culture of health (including life) insurance is gaining momentum. In the medium term, we expect governments to increase incentives for private investments into the sector and early private equity investors to seek exit through IPOs.
Moreover, we view logistics in general and transportation companies in particular as attractive targets. In the latter, we believe that tomorrow's winners are companies with a good management, able to execute ambitious plans that leverage on agriculture development and infrastructure improvement to deliver superior returns.
Sweet stocks? The KING index
Based on size and liquidity criteria, we have built the KING index, a universe of listed companies with a market cap above 100 million USD and a 30 days traded value exceeding 50,000 USD.
As of Jan 15th 2014

Symbol

in Million USD

Local

US / DRs

Company

Country

Sector

Market cap

DANGCEM

Dangote Cement

Nigeria

Construction

24,550

NB

Nigerian Breweries

Nigeria

Brewing

7,860

NESTLE

(OTCPK:NSRGY)

Nestle Nigeria

Nigeria

Consumer

5,835

SCOM

Safaricom

Kenya

Telecom

5,370

GUARANTY

Guaranty Trust Bank

Nigeria

Banking

5,175

ZENITHBANK

Zenith Bank

Nigeria

Banking

4,917

SNTS

Sonatel

Senegal

Telecom

4,435

FBNH

First Bank Nigeria

Nigeria

Banking

3,287

EABL

(NYSE:DEO)

East Africa Breweries

Kenya

Brewing

2,665

GUINNESS

Guinness Nigeria

Nigeria

Brewing

2,245

ETI

ECOBANK GROUP

Togo/SSA

Banking

1,698

KCB

Kenya Commercial Bank

Kenya

Banking

1,592

EQTY

Equity Bank

Kenya

Banking

1,414

FLOURMILL

Flour Mills Nigeria

Nigeria

Agriculture

1,302

UNILEVER

(NYSE:UL)

Unilever Nigeria

Nigeria

Consumer

1,270

OANDO

Oando

Nigeria

Mining, Oil & Gas

1,141

PZ

(OTCPK:PZCUY)

PZ Cussons

Nigeria

Consumer

938

BAMB

(OTCPK:LFRGY)

Bamburi/Lafarge Cement

Kenya

Construction

889

EBG

Ecobank Ghana

Ghana

Banking

701

NMG

Nation Media Group

Kenya

Media

690

BAT

(NYSEMKT:BTI)

BAT Kenya (Tobacco)

Kenya

Agriculture

681

SLBC

Solibra

Ivory Coast

Brewing

680

FO

Forte Oil

Nigeria

Mining, Oil & Gas

582

GCB

Ghana Commercial Bank

Ghana

Banking

561

GGBL

Guinness Ghana

Ghana

Brewing

549

UNIL

Unilever Ghana

Ghana

Consumer

474

SPHC

SAPH Cote d'Ivoire

Ivory Coast

Agriculture

336

FML

Fan milk

Ghana

Consumer

327

ICDC

Centum Investment

Kenya

Diversified

305

STBC

SITAB

Ivory Coast

Agriculture

222

PAFR

Pan Africa Insurance

Kenya

Insurance

210

JHK

Jubilee Holdings

Kenya

Insurance

210

UNLC

Unilever CI

Ivory Coast

Consumer

153

NTLC

Nestle CI

Ivory Coast

Consumer

153

EGL

Enterprise Group

Ghana

Insurance

100
Index Summary
| | |
| --- | --- |
| # Companies | 35 |
| Total Market cap (M USD) | 83,517 |
| Average market cap | 2,386 |
| Median Market cap | 889 |
| Max: Dangote Cement | 24,550 |
| Min: Enterprise Group | 100 |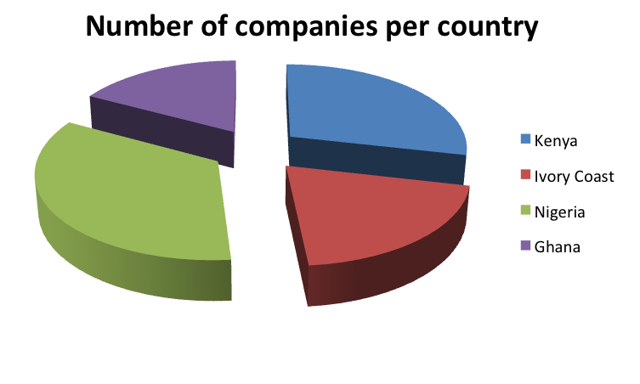 Value weighted, this equilibrium is distorted by the large dominance of Dangote Cement with a market value 10 times above the mean and over 20 times above the median of other KING index constituents. This is graphically represented below: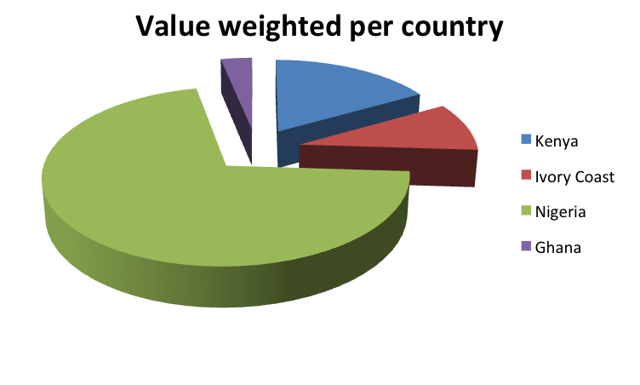 Note that we include the Togo-based pan African Ecobank Group (ETI) and the Senegalese-based Sonatel in BVRM/Ivory Coast.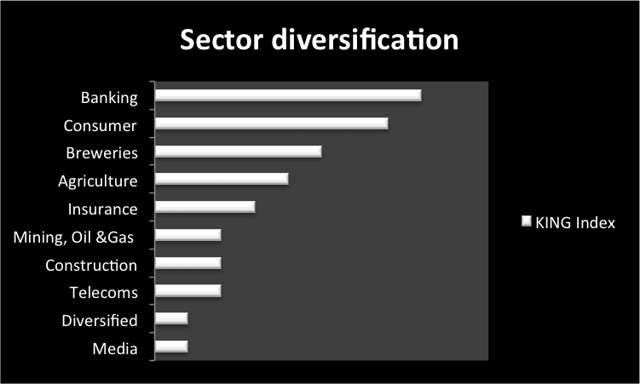 Source: Phase One Associates
Country-Sector Matrix
Kenya

Ivory Coast

Nigeria

Ghana

Banking

Equity, KCB

ETI

GUARANTY, FBNH, ZENITH

EBG, GCB

Consumer

NTLC, UNLC

NESTLE, UNILVER, PZ

UNIL, FML

Breweries

EABL

SLBC

NB, GUINNESS

GGBL

Agriculture

BAT

SPHC, STBC

FLOURMILL

Insurance

JHK, PAFR

EGL

Telecoms

SCOM

SNTS

Construction

BAMB

DANGCEM

Mining, Oil &Gas

OANDO, FO

Media

NMG

Diversified

ICDC
Different levels of liquidity
We note that value traded highly varies across geographies and sectors. Intra market liquidity ranges from 1 million USD average weekly traded value for top tier Nigerian and Kenyan companies to 100,000 USD for other listed companies. Average weekly liquidity is estimated around 100,000 USD for Ghana and 50,000 USD for Ivory Coast/BRVM with the exception of SONATEL with transactions above 200,000 USD weekly.
With regard to turnover ratios, this figure is estimated at 9% for Nigeria, 7% for Kenya and 3% for Ghana and Ivory Coast compared to a 45% turnover in South Africa according to the ASEA 2013 fact book.
A useful investment universe
Unlike the Global X Nigeria Index (NYSEARCA:NGE) and the van Eck Market Vector Nigeria index (LGOS), the KINGs index is not yet tradable. Through the KING index, our aim is to present a diverse universe of companies across East and West Africa that sets a foundation for building diversified portfolios across Frontier Africa, represented by the KINGs. However, this strategy has a bias on size and depth, as these are all blue chip companies that dominate liquidity in their geographies and sectors. Therefore, the ability to mix these blue chips, liquid stocks with value and growth stocks is the key differentiating parameter between high and poor performing Frontier Africa portfolios.
Dig deeper
Value is often found at the bottom of stock exchange listings, with "neglected," illiquid stocks outperforming large caps. In Nigeria, small cap stocks grew by 56%, followed by mid-cap 53%, whereas large cap stocks grew by 31% in 2013, according to the Nigerian Stock Exchange.
In the table below, we highlight some "neglected" stocks outside the usual suspects presented above that made it to the top 5 stocks (price returns) across the African KINGs in 2013.
| | | | |
| --- | --- | --- | --- |
| Kenya | Ivory Coast | Nigeria | Ghana |
| Carbacid Investments (298%) | Uniwax (579%) | Evans Medical (385%) | Enterprise Group (217%) |
| Pan African Insurance (128%) | Bollore Africa Logistics (138%) | Champion Breweries (278%) | CAL Bank (109%) |
Source: local stock exchanges, investinginafrica.net
An alternative strategy could seek companies that are leveraging on regional integration to tap into high growth (neighboring) countries beyond the KINGs. This applies to Kenyan companies operating or expanding within the EAC common market the like of Equity Bank, Uchumi, EABL, Kenya Airways; Nigerian companies within ECOWAS, most tier 1 banks in this case then Ivorian companies within UEMOA and/or non-Ivorian companies listed in Ivory Coast, the likes of ONATEL (Burkina Faso), Bank of Africa (Benin and Niger) etc.
Pan African companies and the KINGS
For those investors challenged by regulatory requirements that restrict their abilities to invest directly into the African KINGs, or for those who may be looking to mix liquidity alongside value and growth found in the KINGs, we provide below a summary of leading South/pan African companies operating in Frontier Africa.
As of Jan 15th 2014

Symbol

in Million USD

Local

US / DRs

Company

SSA country presence

Sector

Market cap

SAB

(OTCPK:SBMRY)

SABmiller plc

11

Brewing

79,550

BGA

(OTCPK:AGRPY)

ABSA Group*

10

Banking

53,100

NPN

(OTCPK:NPSNY)

Naspers

n/a

Media

43,820

MTN

(OTCPK:MTNOY)

MTN Group Ltd

16

Telecom

36,915

SBK

(OTCPK:SGBLY)

Standard Bank Group

19

Banking

18,794

VOD

(OTCPK:VDMCY)

Vodacom Group Ltd

6

Telecom

17,530

NED

(OTCPK:NDBKY)

Nedbank Group

3

Banking

9,500

SLM

(OTCPK:SLLDY)

Sanlam Ltd

10

Insurance

8,872

SHP

(OTCPK:SRGHY)

Shoprite Holdings Ltd

16

Retail

8,310

MPC

(OTCPK:MRPLY)

Mister Price Group

5

Retail

3,649

TRU

(OTC:TRUWY)

Truworths International

9

Retail

3,304

MSM

(OTCPK:MMRTY)

Massmart Holdings

9

Retail

2,575

PIK

(OTCPK:PKPYY)

Pick n Pay Holdings Ltd

8

Retail

2,229

TKG

(OTCPK:TLKGY)

Telkom SA

38

Telecom

1,559

ILV

(OTC:ILOVY)

Illovo Sugar

5

Agriculture

1,062
Source: compiled by Phase One Associates
* Now Barclays Africa
| | |
| --- | --- |
| # Companies | 15 |
| Market cap (M USD) | 290,768 |
| Average | 19,385 |
| Median | 8,872 |
| Max: SABmiller | 79,550 |
| Min: Illovo Sugar | 1,062 |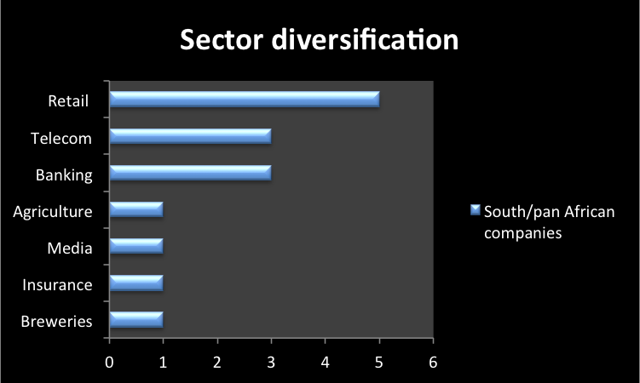 Source: Phase One Associates
About half of these pan African companies are featured in the iShares South Africa ETF (NYSEARCA:EZA), the SPDR S&P Middle East and Africa (NYSEARCA:GAF) and the Market Vectors Africa ETF (NYSEARCA:AFK). Most of these companies often begin expansion within the Southern Africa Development Community (SADC) countries before gradually moving up to the East African Community (EAC), both communities being members of the broader Common Market for Eastern and Southern Africa (COMESA).
For these companies, West Africa remains untapped with only few players (MTN, SHP, SBK) having a significant footprint in the sub region. Despite having a presence in only 3 countries outside its stronghold South Africa, we believe Nedbank's pan African presence is considerable, on the assumption that it convert its ECOBANK loan to acquire 20% stake in the pan African giant, present in over 32 countries.
Country presence and diversification: what exposure?
Despite having a significant geographic presence across the continent, most of these companies with the exception of the MTN Group still generate the majority of their revenue in South Africa. As an example, Shoprite is present in over 16 Sub Sahara African countries yet it generates only 12% of its top line outside South Africa, according to its 2012 financial report. Other retailers and banking groups often refer to their "country presence" by pointing out to one or two local branches in the capital city of a Frontier African country, in contrast to hundreds of stores within South Africa.
This so-called "marginal contribution per country" is fast growing, yet still low to justify full exposure to Frontier Africa. A trend we note however is that margins' variation is increasingly tributary to revenue growth generated in Frontier Africa.
Concluding remarks
In sum, we believe that Kenya, Ivory Coast, Nigeria and Ghana presented as the African KINGs best represent investment opportunities in Frontier Africa. Through the KING index, we aim to provide readers with a universe of 35 large cap, liquid companies across the KINGs added to 15 South Africa-based pan African companies. Blended, these 50 companies form the KINGS index including South Africa. We note however that beyond liquidity, long-term value investors should spend additional time and resources in their pursuit of golden stocks in Frontier territories. Understandably, this implies rigorous research and risk management strategies.
Disclosure: I have no positions in any stocks mentioned, and no plans to initiate any positions within the next 72 hours. I wrote this article myself, and it expresses my own opinions. I am not receiving compensation for it (other than from Seeking Alpha). I have no business relationship with any company whose stock is mentioned in this article.